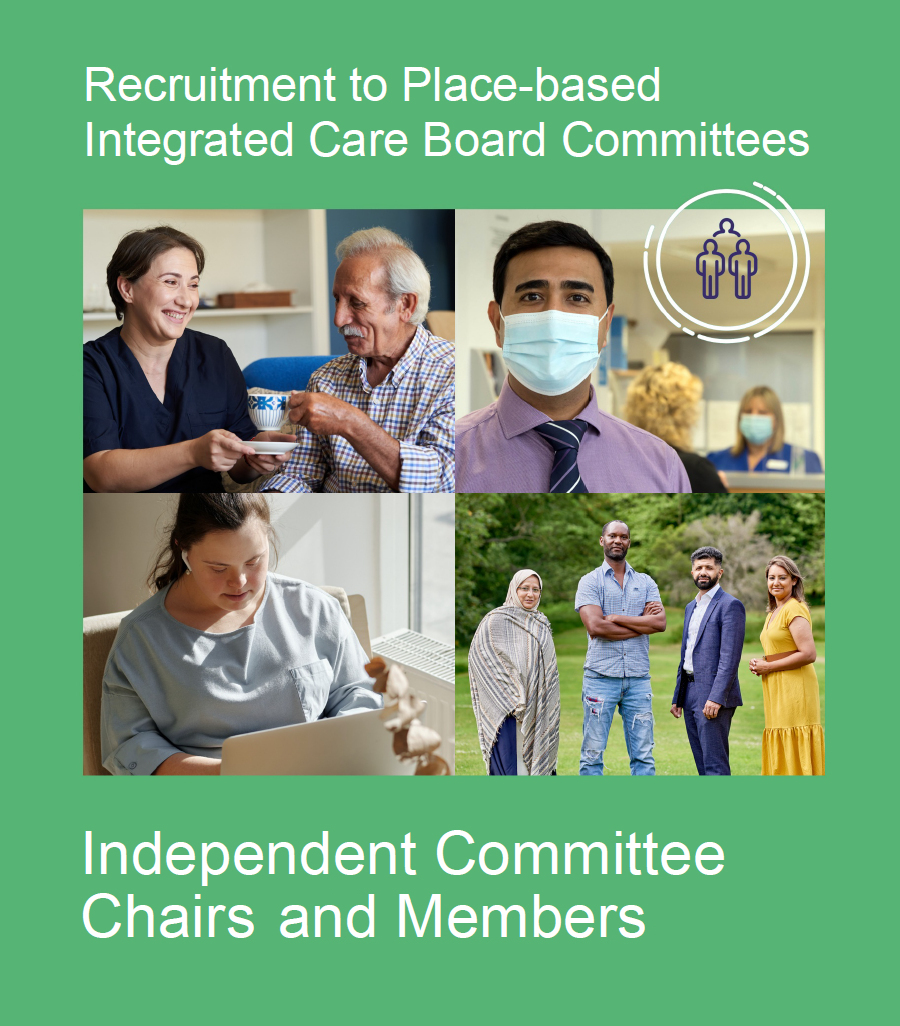 Thank you for expressing an interest in an independent role on one of the new place-based committees of the West Yorkshire Integrated Care Board (ICB) in Bradford District and Craven, Calderdale, Kirklees, Leeds and Wakefield.
The ICB is a new statutory organisation that, subject to legislation, is expected to be established on 1 July 2022. It will be part of the West Yorkshire Integrated Care System (ICS) – known as the West Yorkshire Health and Care Partnership (the Partnership).
Our principles of subsidiarity and our scale mean that the ICB will primarily discharge its duties through delegation to each of our five local places, alongside work that is delivered at a West Yorkshire level. Most decisions will be made at place level, in support of local Health and Wellbeing Board priorities and multi-agency partnerships working in communities, including NHS, local authority and voluntary community social enterprise sector partners.
Each of our places (Bradford District and Craven; Calderdale, Kirklees, Leeds and Wakefield) is establishing an ICB Committee with delegated authority from the ICB to make decisions about the use of NHS resources in that local place, including agreeing a plan to meet the health and healthcare needs of the population, allocating resources to deliver the plan and arranging for the provision of health services.
Place committees will be made up of senior leaders including those from the local authority, NHS provider trusts, primary care and the voluntary community social enterprise sector. Place committees will operate in similar ways, but their composition will vary in line with local needs. Applications are now invited for independent roles on these committees to play a key role in bringing constructive, independent and respectful challenge to the plans, aims and priorities of each committee.
Subject to agreement by the ICB Remuneration and Nomination Committee, indicative remuneration for an anticipated time commitment of 2 days per month is:
Independent Chairs: up to £13,000 per annum
Independent Members: up to £10,000 per annum
Information about the opportunities available in each place, including contact details, can be found in the applicant packs.
Bradford, District and Craven
Applicant pack (PDF)
Applicant pack (Word document)
Contact: James Drury james.drury@bradford.nhs.uk
The closing date for applications is 5pm on 29th April 2022
Leeds
Contact: Sam Ramsey samantha.ramsey2@nhs.net
The closing date for applications is 5pm on 12 April 2022.
The recruitment process for Calderdale, Kirklees and Wakefield has now ended.
We encourage applications from people of all backgrounds and welcome applications from under-represented groups, so we bring diversity of perspectives to our thinking and are inclusive of the population
All applicants should send a completed Equal Opportunities Monitoring Form and Fit and Proper Persons Monitoring Form with their application.