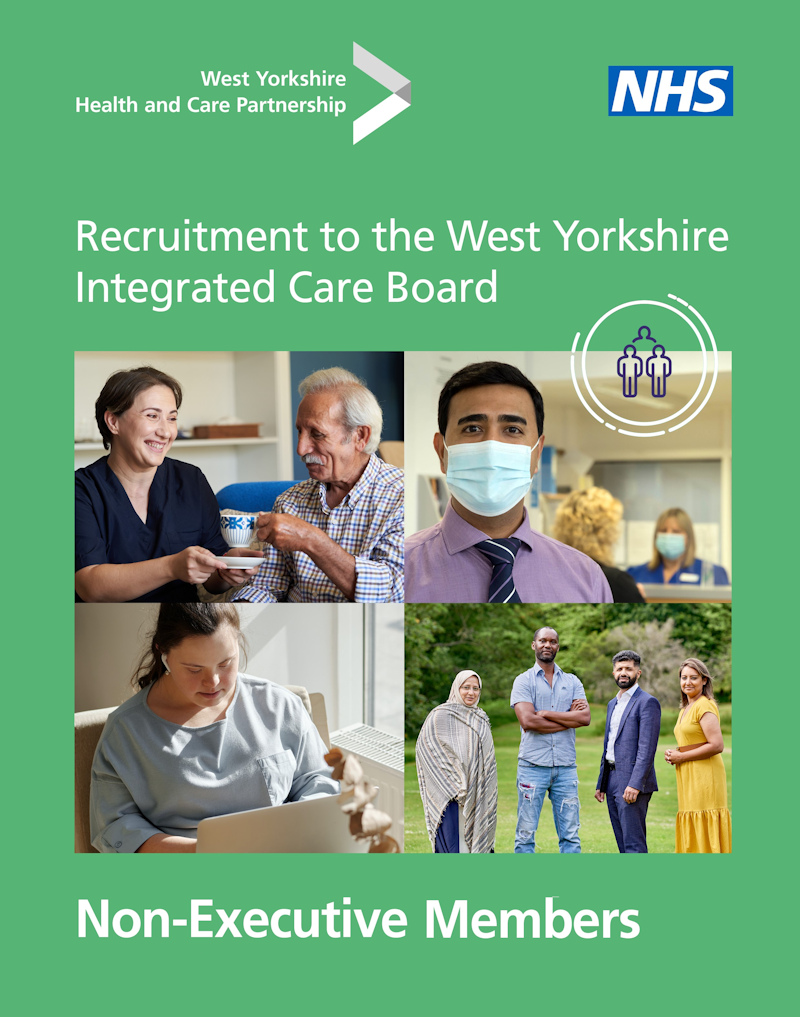 Thank you for expressing an interest in an exciting opportunity to become a Non-Executive Member for the NHS West Yorkshire Integrated Care Board (ICB).
We would be pleased to receive applications from people from a variety of backgrounds and sectors who have in common a commitment to tackling health inequalities and achieving equality, diversity, and inclusion for and with the population and health and care workers of West Yorkshire. We are very committed to increasing the diversity of our leadership so that it is representative of the population we serve in West Yorkshire and particularly welcome applications from people from an ethnic minority background.
We are looking for two people who have transferrable skills and bring their connections and networks within West Yorkshire. You should have a set of values aligned to those of the West Yorkshire Health and Care Partnership (also known as the Integrated Care System – ICS) which are built on over five years of system working. We welcome applications from people who bring board level experience in a variety of sectors, not necessarily directly in the NHS, demonstrating governance experience that is relevant and transferable.
The successful candidates will join our team of leaders who strive to improve the health and wellbeing of 2.4 million people living in Bradford District and Craven, Calderdale, Kirklees, Leeds, and Wakefield District. We are especially seeking someone who can bring experience of specialising in finance and performance, quality and safety culture in a regulated environment, and/or workforce planning and transformation, with diversity of experience, background and thinking to work alongside our Integrated Care Board Directors and two other recently appointed Non-Executive Members.
As we enter the next period for our health and care system, we are seeking two individuals with the humility, skills and professionalism required to lead in West Yorkshire, bringing diversity of thinking to our new Board. This means being able support the system to make an impact on people's health outcomes and address some of the most significant inequalities in England. As non-executive members, key to this is ensuring that equality, diversity and inclusion remain at the forefront of our agenda.
If appointed, you will facilitate the use of the system's resources to ensure the biggest difference can be made from our investments, including the social and economic value of the money we spend.
As a non-executive member, you will also help set the tone in our system. You will help shape a new team that leads in a very different way from any predecessor organisation - in a system built on a partnership between the NHS, local government, Healthwatch, hospices, the voluntary community social enterprise sector (VCSE), business and communities. We have a model of diverse and distributed leadership that embraces all the talents in the Partnership. Together we are proud to be the West Yorkshire Health and Care Partnership.
The deadline for applications is 23:59 on 5 June 2022 via the recruitment agency Odgers Berndtson. Applicants taken forward to the next stage will be notified by the week of 13 June 2022. Shortlisted applicants will be invited to attend a virtual stakeholder panel during the week of 20 June 2022 and a virtual interview on 27 June 2022. Successful applicants will be invited to join the ICB from this Summer.
More details on the role, how to apply and our West Yorkshire Health and Care Partnership are provided in the following pages. Please do get in touch if you would like to have an informal conversation because if you think these roles may be for you, we want to talk.
We look forward to receiving your application and building the diverse leadership of our Board.
The closing date for applications is 23:59 on 5 June 2022.
We encourage applications from people of all backgrounds and welcome applications from under-represented groups, so we bring diversity of perspectives to our thinking and are inclusive of the population
All applicants should send a completed Equal Opportunities Monitoring Form and Fit and Proper Persons Monitoring Form with their application.
Supporting information for applicants - about our integrated care system and integrated care board (this information was originally published in December 2021)