About the Health and Care Champions project
Our Learning Disabilities Health and Care Champions project brings the expertise and lived experience of people with learning disabilities into the heart of our programme work, enabling us to benefit from their advice and recommendations. This is an approach supported by councils and NHS organisations.
The project is funded by our programmes and we have also funded the appointment of a co-lead project worker with Learning Disabilities for a 12 month period.
Health and Care Learning Disability Champions - what we want to do
Case study - our Health and Care Champions
We welcome new recruits to the group - contact susan.crowe@btm.org.uk for more information on how to become a Champion.
Activity reports
You can read an update from September 2021 here.
You can read the latest quarterly activity report (June 2021) from the Champions here.
You can read an update for July and August 2021 here.
You can read an update for May 2021 here.
You can read an update for April 2021 here.
Health and Care Champions presentation April 2021
Health and Care Champions project report 2020
Visit the BTM project page here
Click here to see more of the work Bradford Talking Media (BTM) and our Health and Care Champions have done with us
Our project co-lead
Our commitment to involvement extends to the funding of a part-time project worker with learning disabilities, a position recently taken up by Kelly Hartley. Here's some more information about Kelly: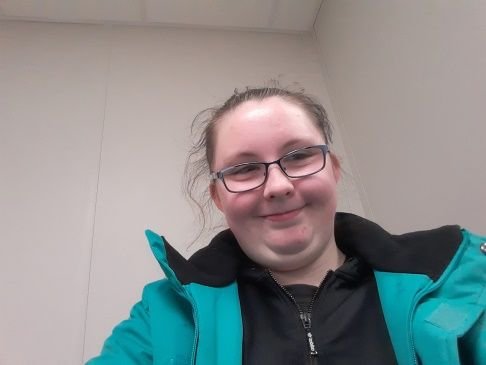 My name is Kelly Hartley, and I am 21 years old. My job role is a Learning Disability and Autism Health and Care Champions Development Coordinator. I started in February 2021 and I am here to help advocate for people with disabilities by teaming up with other people with disabilities to help change and adapt hospitals to their needs.
I work with my colleagues to find different ways to communicate with people with disabilities and help build and deliver training for people that work within hospital trusts. The part of the job that I enjoy most is research and sharing what I learned; by talking to people I can show understanding in different conditions and I also enjoy the responsibility.
The most recent projects I have been asked to do is to do presentations and interactive activities about Coronavirus, Vaccines and Diabetes.
I was most nervous about how to talk to people with disabilities to be able to show understanding and adapt to others needs. However I am doing my best and have even come up with ideas like a quiz on Diabetes which all the members enjoyed.