West Yorkshire Suicide Prevention Strategy 2022-2027
The West Yorkshire Suicide Prevention Strategy 2022-27 is now published. The Strategy aims to make suicide prevention everyone's business and is based on a long-term vision for zero suicides in West Yorkshire. This strategy makes suicide prevention everyone's business. In order to bring the suicide rates down and prevent death, we all have a part to play. This includes citizens, organisations, the NHS, local authorities, employers, blue light services, and others.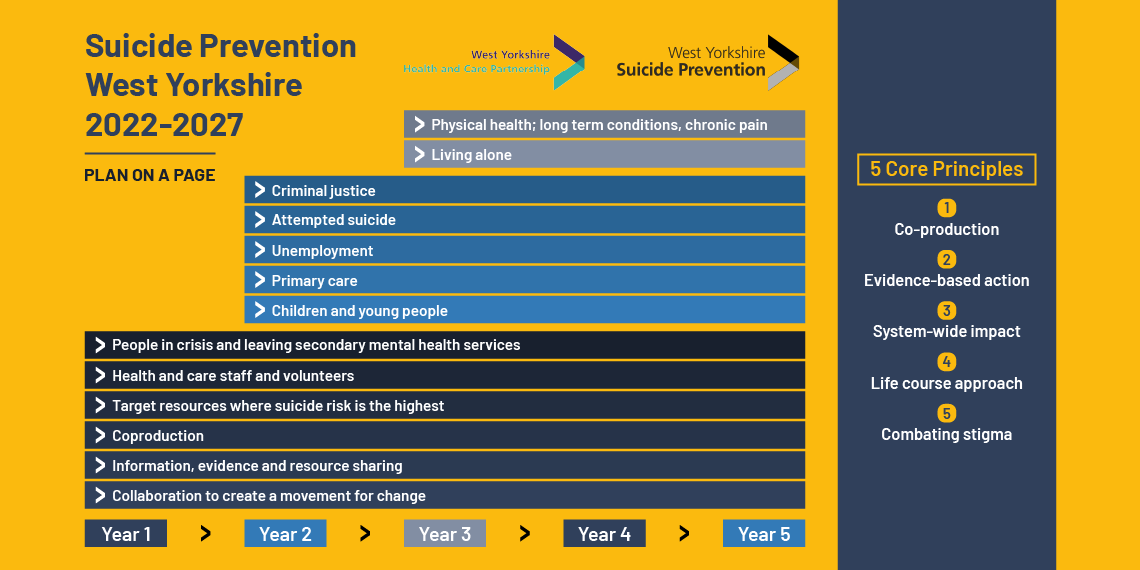 Key takeaways from the strategy are that:
Every death is a death too many – a "zero suicide" philosophy underpins the Strategy.
The ICS aims to achieve a minimum 10% reduction in the suicide rate across West Yorkshire over the next five years. This is one of our Partnerships' "10 Big Ambitions".
Grief and loss, money worries, alcohol, relationship breakdown and mental health problems are significant factors that may cause someone to take their own life, and more men than women die by suicide.
Download the 2022-2027 Suicide Prevention Strategy
Read more about our suicide prevention work and the Strategy on our Suicide Prevention website.
Click here to view a PDF version of the West Yorkshire Suicide Prevention Strategy 2017-2022.
Click here to view a PDF infographic of the West Yorkshire Suicide Prevention Strategy 2017-2022.
Text version of suicide prevention plan on a page infographic
Years one to five:
People in crisis and leaving secondary mental health services
Health and care staff and volunteers
Target resources where suicide risk is the highest
Coproduction
Information, evidence and resource sharing
Collaboration to create a movement for change
Years two to five:
Criminal justice
Attempted suicide
Unemployment
Primary care
Children and young people
Years three to five:
Physical health; long term conditions, chronic pain
Living alone
Five core principles:
Co-production
Evidence-based action
System-wide impact
Life course approach
Combating stigma
---
West Yorkshire Suicide Prevention website

The West Yorkshire Suicide Prevention website is a dedicated information portal to help people with suicidal thoughts and those concerned for the mental wellbeing of anyone who lives in West Yorkshire. It has been coproduced by a group of organisations including voluntary, NHS and local authorities who are all working to reduce death by suicide in the region. Key content includes:
Details of organisations that support people who are feeling suicidal in each area of West Yorkshire
Information about the Leeds and West Yorkshire Suicide Bereavement Services, which offer 1-to-1 and group peer support to anyone who has lost a friend, family member or colleague to suicide
News and information about suicide prevention partners locally and nationally, including specialist support for men.
Visit Suicide Prevention Resources for West Yorkshire (suicidepreventionwestyorkshire.co.uk)
---
Commissioned ICS services
West Yorkshire Suicide Bereavement Service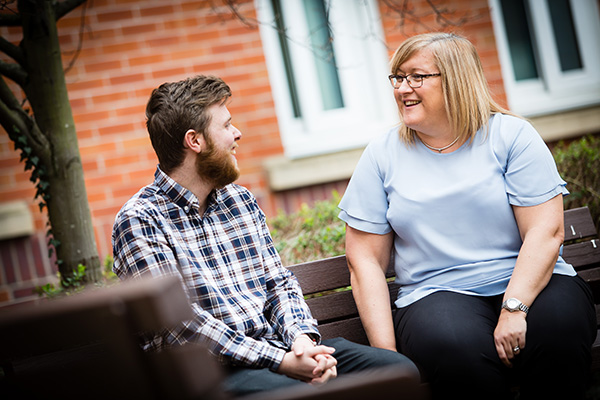 The West Yorkshire and Harrogate Suicide Bereavement Service provides support through one to one peer support, peer support groups and advocacy.
The service was developed because people bereaved by suicide are more likely to suffer from severe depression or post-traumatic stress disorder, or even adopt suicidal behaviours themselves.
You can find out more information about the bereavement service and others on offer, by visiting the West Yorkshire Suicide Prevention Website.