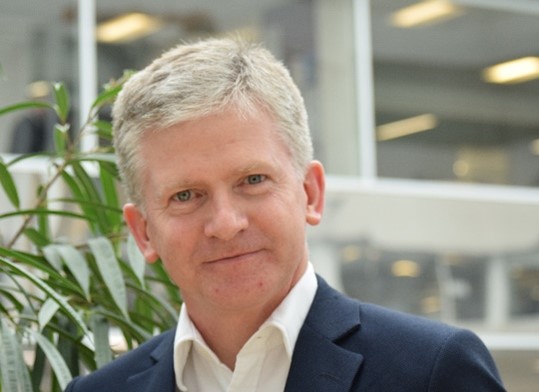 Hello, my name is Anthony.
I am the Locality Director for West Yorkshire in NHS England and NHS Improvement.
My team and I work as part of the West Yorkshire Health and Care Partnership. We support its members to develop and implement effective plans to achieve our overall ambitions to improve health and care services for the people of West Yorkshire. We act as a link between the partnership and the NHS regional team.
Over the past few weeks, we have been focusing as a system on ensuring that we have the right plans in place to prepare for the surge in COVID-19 cases associated with the spread of the omicron variant of the virus. I'd like to use this blog to explain the work that our teams have been doing in all our organisations to cope with this surge.
Every year partners in each place in West Yorkshire develop plans to manage pressures on the health and care system caused by winter illnesses. The pandemic has created even greater pressures compared to a 'normal' winter, and we have had to consider what additional measures could be taken to keep people safe.
By early December it became clear that omicron was highly infectious compared to earlier variants and was likely to result in many more people becoming ill and needing hospital care. The NHS returned to a nationally controlled incident response mode, and we were asked to do everything possible to ensure that our services had the capacity to provide the care that people needed. In West Yorkshire the Local Resilience Forum, which brings together the NHS, Councils, blue-light services, and other partners, also stepped up its work on putting in place contingency plans.
One of our main priorities has been to offer booster vaccinations to everyone eligible by the end of December, a month earlier than originally planned. This has required a huge effort by colleagues from all our organisations and many volunteers. It has given thousands of people the best chance of avoiding serious illness from COVID-19. The vaccination programme has continued beyond Christmas, with over 25,000 people receiving a booster job in the last week alone.
Another major development has been the introduction of new anti-viral treatments for vulnerable people who have COVID-19. We opened a new service at St James's Hospital in Leeds in December which has now seen well over 1,000 patients. Similar services are now being rolled out across West Yorkshire in Bradford District and Craven; and one for Calderdale, Kirklees, and Wakefield. They will be a vital part of our ongoing response to COVID.
One of our biggest concerns this winter has been the capacity of the social care sector to provide the care that people need. Longstanding issues with pay and competition for staff from other sectors have come to a head, leading to recruitment and retention difficulties. As a result, more people have struggled to access social care, including patients awaiting hospital discharge. To help tackle this the West Yorkshire Health and Care Partnership agreed a £12 million funding package to support staff in the independent care sector. Additional national funding has also been provided and our Councils have agreed with NHS partners how this money should best be used to improve the availability of social care.
Karen Jackson, Chief Executive of Locala Community Partnerships, has now taken on a leadership role for the partnership to help ensure that patients can be discharged from hospital in a timely way when they no longer need to be there. We aim to reduce the number of patients who have no clinical reason to remain in hospital by 30% over the month of January. This will be a huge challenge for hospitals, social care, and community services, but it will be better for patients and free up more hospital beds for people who really need them.
Hospitals have been working on plans to open up additional beds beyond their normal 'surge' plans if required. As part of this work a new temporary Nightingale hub has been built at St James's Hospital in Leeds. This 70-bed facility will provide additional capacity to support patients whose condition has improved and are getting ready to return home if we see a further steep increase in covid patient numbers.
Another focus has been on making more services available in the community to support people who have COVID-19 and prevent them having to go into hospital. Thea Stein, Chief Executive of Leeds Community Healthcare Trust, is leading our work across the partnership to expand our provision of covid virtual wards and the pulse oximetry at home service. This provides people with the technology and support to monitor their blood oxygen levels at home and seek help if they deteriorate.
All health and care providers in West Yorkshire have been affected by high levels of staff sickness and absence because of staff having COVID or having to isolate because of contact with an infected person. This has put increased strain on staff who are able to work, and we are hugely grateful for their hard work and commitment. Brendan Brown, Chief Executive of Calderdale, and Huddersfield NHS Foundation Trust, leads our workforce programme for the partnership. He and his colleagues have been working to put in place a workforce hub to support all organisations with managing these workforce pressures.
As we expected, the number of COVID-19 cases in West Yorkshire increased sharply after Christmas. The number of people with the virus needing hospital care increased from under 200 to almost 800. However, as a result of the collective actions we have taken, such as those outlined above, our services have not been overwhelmed. There are now encouraging signs that the covid infection rate in West Yorkshire may have peaked and the pressure on health and care providers is beginning to ease. This does not mean that the pandemic is over, or that we can let down our guard. There is still a long period of winter ahead. However, all the hard work that has gone into planning and preparing for the omicron surge, and managing its impact, has gone a long way towards keeping people safe.
Let's hope things continue to improve over the weeks ahead. In the meantime, have a good weekend.
Anthony
What else has been happening this week?
Let's Keep West Yorkshire Going!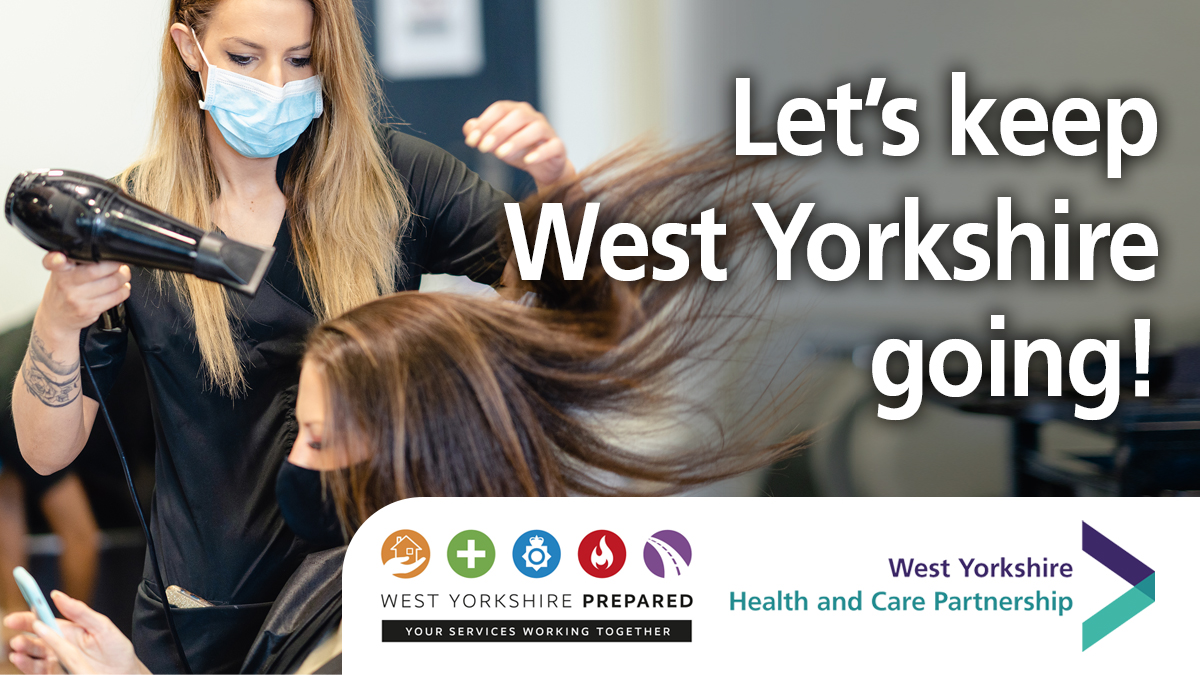 Given the current volume and complexity of information around Omicron, and the rapidly evolving position, it is crucial that we make any asks of the public as clear and simple as possible and that they resonate. We are therefore focusing on encouraging three key actions: get vaccinated; work from home if you can; and wear a mask. People just want to 'get back to normal' so having positive images of people being able to work and provide services or doing the things they want to do such as enjoying time with family and friends, being able to go shopping or to the hairdressers, or accessing leisure services for example.
You can download the free assets from the West Yorkshire Health and Care Partnership website, or read the media release to find out more.
Innovation and Improvement Programme Board
Chaired by Rob Webster, our CEO-Designate, colleagues from the Yorkshire & Humber Academic Health Science Network (AHSN), West Yorkshire Association Acute Trusts, and community sector, and others came together to discuss progress made on innovation and improvement. This included an update on preeclampsia growth factor testing, which has helped 1100 women to have healthy pregnancies across Yorkshire and Humber. Adoption and spread are key to how we help more women and families. Terms of reference for the group are being updated to include more community voices and additional voluntary sector colleagues. For more information, visit www.yhahsn.org.uk/news/protecting-pregnant-women-from-pre-eclampsia
Thrive by Design have started early discussions about using inclusive co-design approaches to ensure people and communities who are disadvantaged and seldom heard are thoughtfully and purposefully invited to be involved in the design, delivery and assurance of the innovation and improvement work programme. We believe that inclusive co-design leads to better quality and more efficient services, better health and wellbeing outcomes and greater engagement and experience. The work will link into the health inequality academy as well as the Partnership's work to become a trauma informed system.
The new innovation and improvement hub will be embedded within our Partnership and will feed into the board with insights and intelligence as well as connecting into related work programmes for example digital. The aim is to make the most of research, and adoption of good practice, whilst setting out joint leadership working, and having shared board meetings, where appropriate. An audit of work will also take place to map out existing work and to ensure all connections are made within the health tech space.
NHS England / Improvement Directors of Innovation, Research and Life Sciences visited Yorkshire & the Humber Academic Health Science Network in early December as part of a series of visits to understand how each AHSN works and, especially, how innovation is spread in real life. The visit featured the work on Healthy.io (to support people with diabetes) and Pinpoint Cancer Diagnosis. Feedback was positive, not only about the work and relationships, but also about the understanding of the working arrangements between YHAHSN and our Partnership, which are effective.
Board members also discussed the MedTech Funding Mandate products, with some coming on board from April 2022. This includes supporting the uptake of new innocations, such as those to help people with sickle cell disease, cluster headaches, and heart flow concerns. All products follow NICE guidelines, and local clinical engagement will take place as the work progresses before putting forward our recommendations nationally.
Communication and engagement network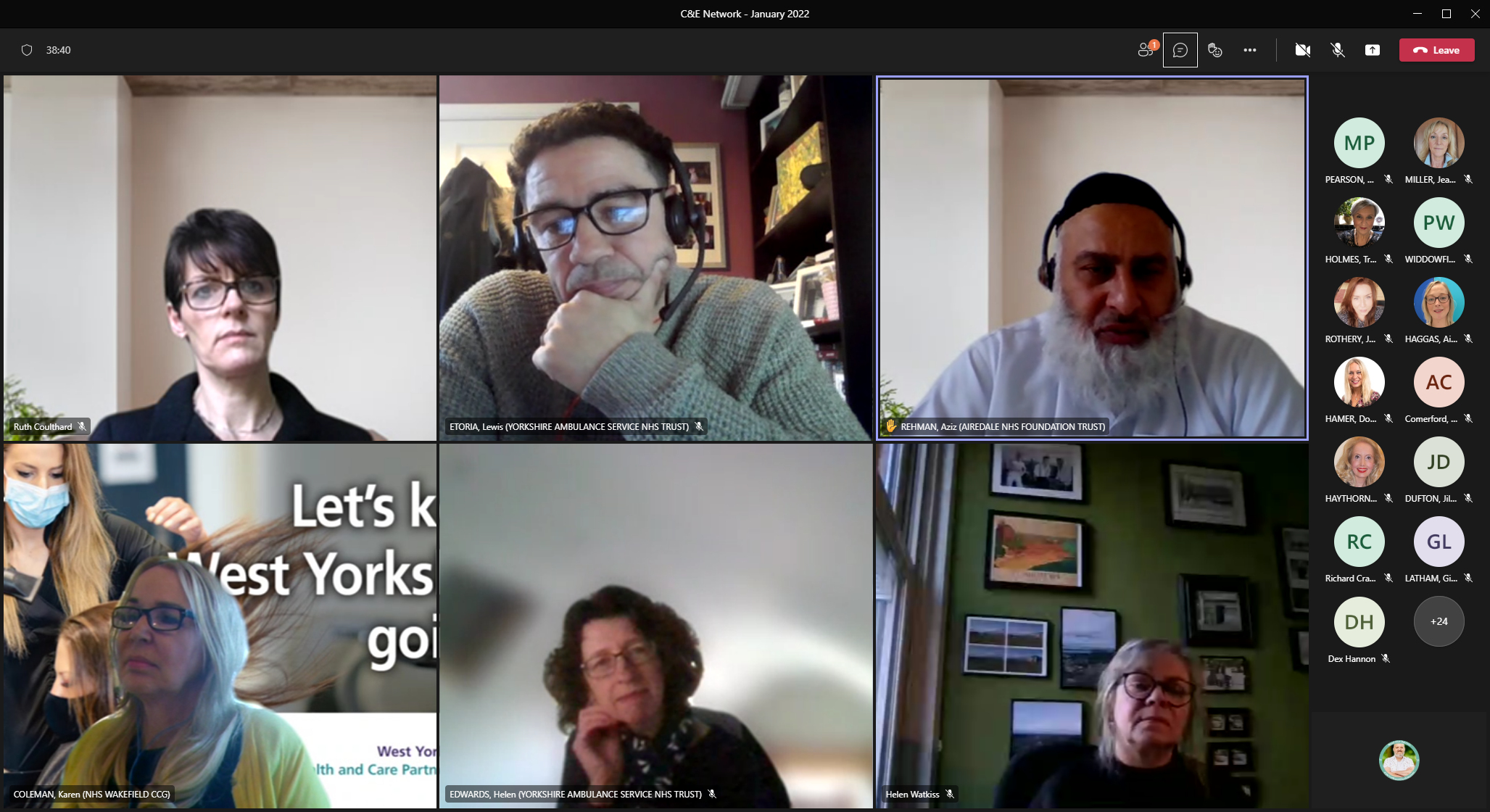 Over 50 communication and engagement colleagues from across West Yorkshire met virtually on Thursday. The session included an update on the Health and Care Bill, an overview on the West Yorkshire Mayor's Office, engagement strategy from Yorkshire Ambulance Services, as well as an update on the development of a new patient experience dashboard and NHS England public involvement work.
Supporting young carers
Our carers programme is raising awareness and supporting the importance of identifying young carers by working in partnership with the Children's Society and NHS England to deliver three fully booked training sessions to 150 attendees starting this week. The sessions provided the opportunity to share the Young Carers Support App and Let'Cook.
There are over 1500 'registered' young carers across our area. This number is most likely an under-representation because many young carers are hidden and do not receive formal support.
New Year job seekers welcomed our second virtual recruitment fair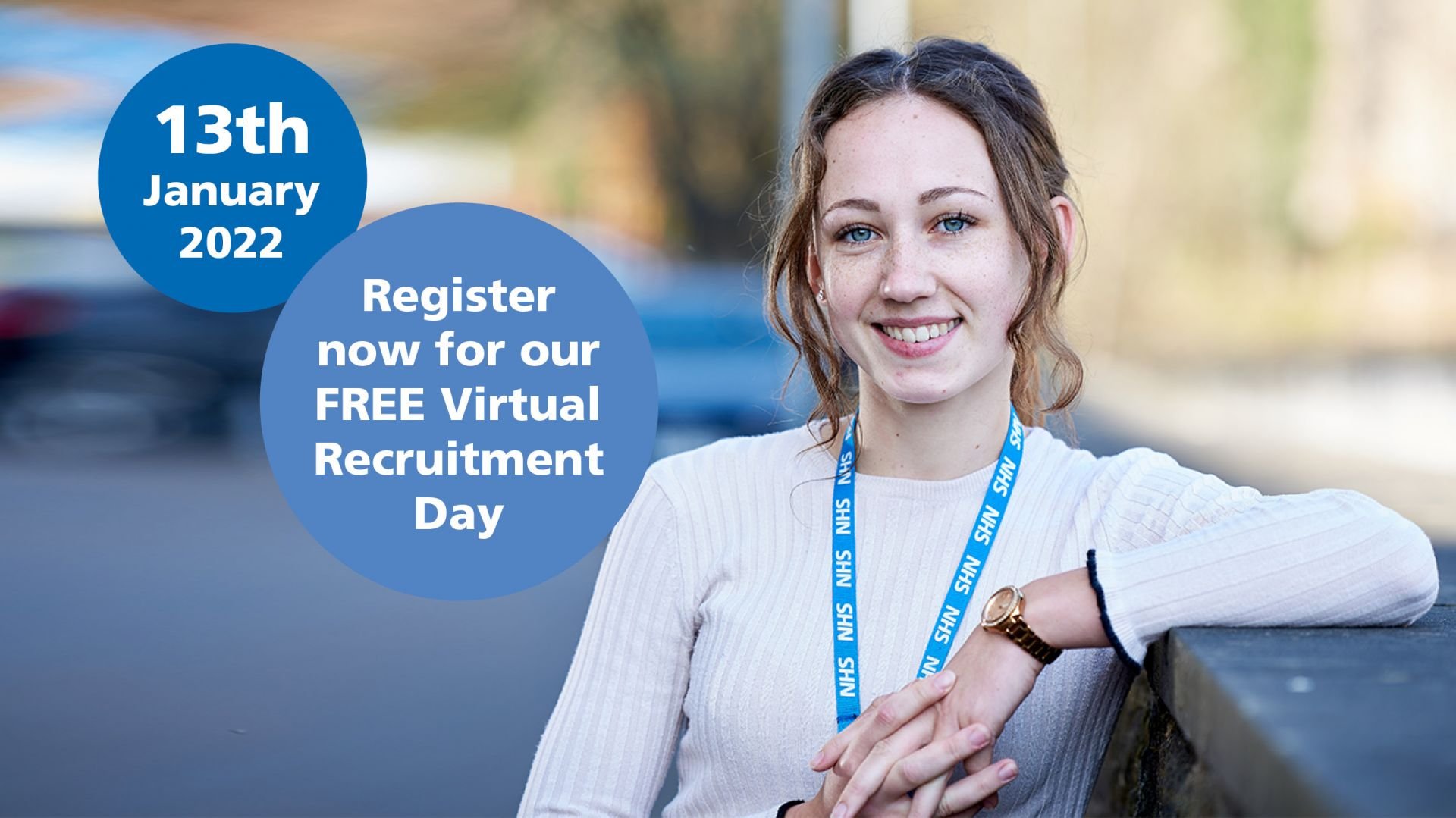 People seeking a new job or looking to boost their career in 2022 turned out in force at the second West Yorkshire Mental Health Collaborative NHS virtual recruitment fair.
South West Yorkshire Partnership NHS Foundation Trust, with Leeds and York Partnership NHS Foundation Trust and Bradford District Care NHS Foundation Trust and numerous external partners, delivered the event which was attended by over 400 delegates.
The COVID-safe, virtual event was a perfect platform for people to get a better understanding of the diverse roles available within mental health and learning disabilities. The event also allowed prospective volunteers to hear directly from the Jane Milner, head of volunteering at South West Yorkshire Partnership Trust, about opportunities. Jane commented: "It was a pleasure to connect with aspiring volunteers at the virtual recruitment fair. There was a lot of interest in the range of volunteering opportunities we offer, and it was great to answer queries directly and engage in a meaningful way with the event delegates. The Trust is a great place to work, and it is our staff and volunteers who create the wonderful working atmosphere and culture."
Such was the success of the last two recruitment events that we are planning another virtual recruitment event in April 2022. The target audience for this event will be school leavers. As young people make their way into the world of work it is our pleasure to help them secure meaningful and rewarding work.
More information about the next recruitment fair, in April 2022, will be shared shortly. In the meantime, check out the presentations and resources from the event which are live here for 30 days.
Night OWLS pilot extended until 30 June 2022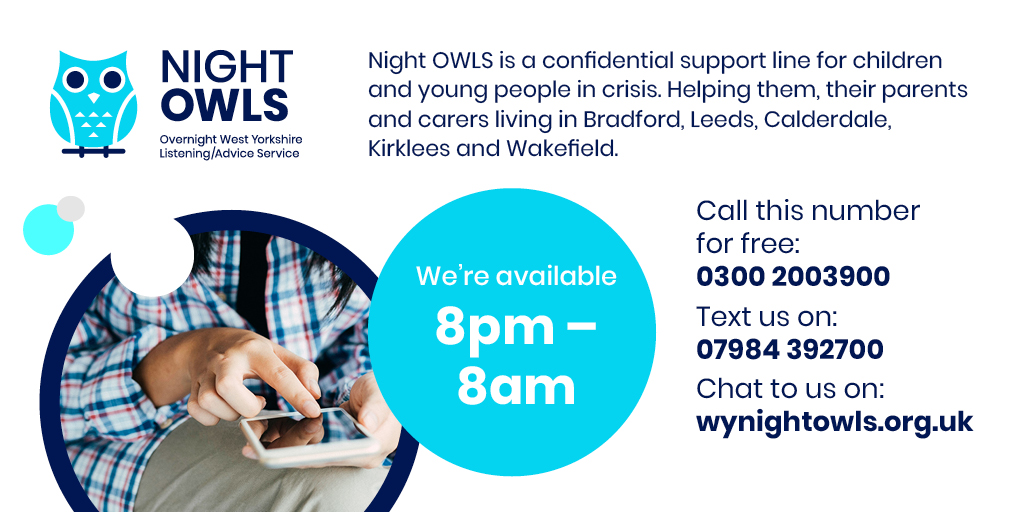 Night OWLS is a confidential overnight support line for children, young people, their parents, and carers who live in Bradford, Leeds, Calderdale, Kirklees, and Wakefield. If a child or young person is struggling with their mental health, in a crisis or needs someone to talk they can phone, text, or use the online chat 8pm – 8am.
This is a pilot scheme funded until 30 June 2022 and an evaluation of the service offered so far will be carried out in the next few months. If you are interested in contributing to the evaluation, please email bdh-tr.mhlda@nhs.net with your contact details.
Helping more people keep warm and well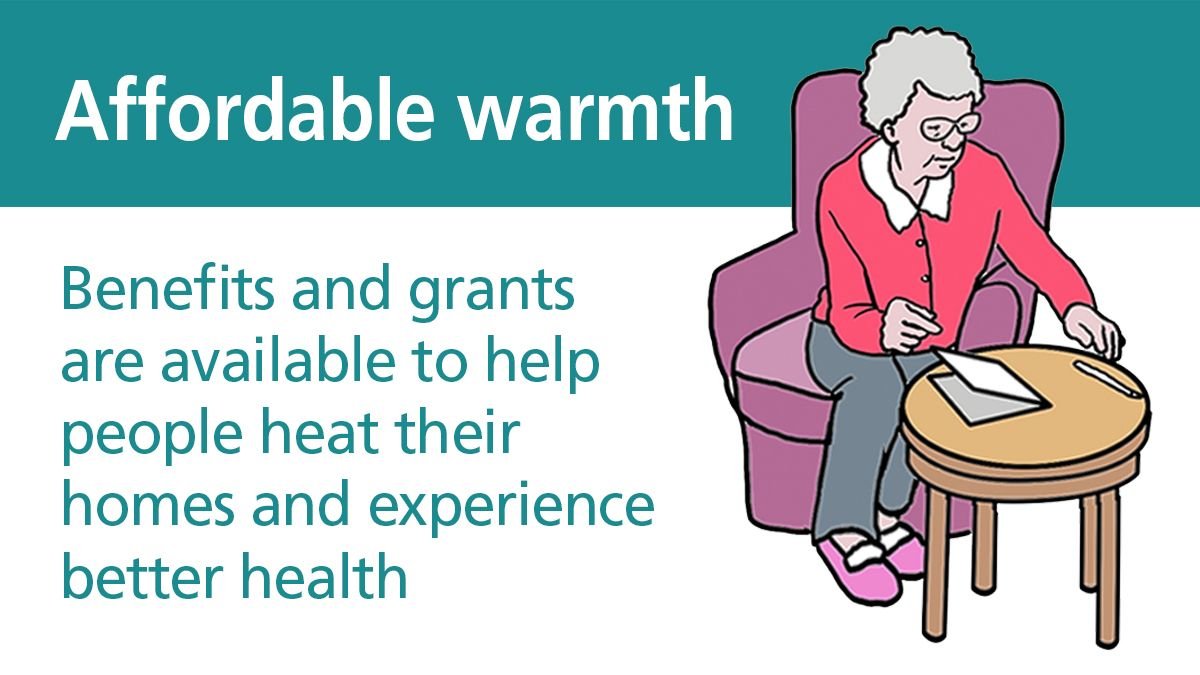 We have updated the affordable warmth and affordable warmth affecting children leaflets on the improving population health pages of our website. Following the announcement that we are investing £1million funding to help keep people warm this winter we are distributing funding to the West Yorkshire local places so they can increase resource allocations for specific targeted winter warmth initiatives. That includes increasing energy efficiency rating in low-income households, giving advice on reducing energy bills, and helping people access the additional support they are entitled to.
Suicide prevention
The West Yorkshire Suicide Prevention Oversight Group on behalf of the West Yorkshire Health and Care Partnership, and Kirklees Council Public Health, is looking for a provider of suicide prevention training. The two-year investment aims to:
Improve knowledge of risk factors for suicide
Enable people to have conversations with those who are feeling suicidal
Help more people find local sources of support
Contribute to our collective aim of making suicide prevention everyone's business in West Yorkshire
The application deadline is 18 February 2022. Find out more here. You can read the tender information here.
Future-Focused Finance Towards Excellence Accreditation at Level 1

We are delighted to be able to let you know that all five clinical commissioning groups in West Yorkshire have now successfully achieved Future-Focused Finance Towards Excellence Accreditation at Level 1.
A tremendous amount of work has gone into reviewing, updating, and developing the ways in which we support professional and personal development in our teams. Really importantly, this has been led by a joint project team comprising of leads from all five CCGs, to share good practice and ideas, to support each other, and to ensure common arrangements as move into the ICB arrangements.
We hope that this it signals a commitment to make the West Yorkshire Partnership finance team a great place to work, with a very strong focus on promoting a development culture and an environment of professionalism and initiative.
We will start to develop our plans for accreditation at the next level, but for now, we wanted to let you know and to thank all the people who were involved in supporting the submissions and gathering the supporting evidence A great team effort!
NHS staff can sign up to the NHS Digital Weight Management Programme
The Digital Weight Management Programme is a new service for staff working in the NHS who would like to lose weight and improve their health and wellbeing. It's for NHS staff living with obesity - whose BMI is greater than 30 (or over 27.5 or more for staff from Black, Asian and other minority ethnic groups).  Staff who are interested can find out more information and self-register on the NHS website.