Posted on: 1 October 2021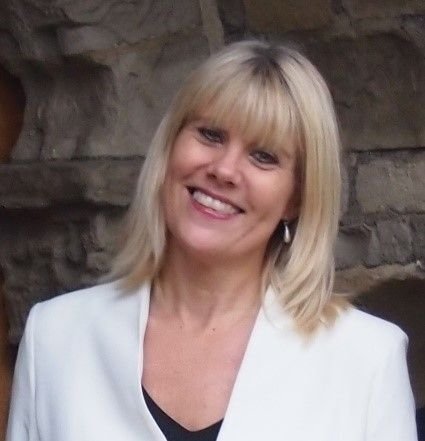 Hello, my name is Jo.
As we celebrated International Day of Charity on 5 September, it seems fitting to think about all the inspiring work of charities and community organisations across West Yorkshire and Harrogate.
The International Day of Charity was established with the objective of mobilising people and organisations all around the world to help others through volunteering and philanthropic activities. We all know that charitable work and volunteering build social connections and the sense of belonging in communities and contribute to the creation of inclusive and more resilient societies.
Charity can alleviate the worst effects of humanitarian crises, supplement public services in health care, education, housing, and child protection. It assists the advancement of culture, science, sports, and the protection of cultural and natural heritage. It also promotes the rights of the marginalised and underprivileged and spreads the message of humanity in conflict situations.
Here in West Yorkshire and Harrogate we are home to a diverse and dynamic voluntary, community, and social enterprise (VCSE) sector making a difference every day to those experiencing inequalities, those communities least likely to be accessing mainstream services and support and those who are isolated and have long term health conditions.
Indeed, the NHS itself was founded on the nationalisation of 1,143 charity hospitals in 1948!
So, to mark International Charity Day, and in recognition of all the great work of the VCSE, we were excited to launch new research which seeks to understand better the economic and social value of the sector in our region.
Commissioned by the Harnessing the Power of Communities Programme (West Yorkshire and Harrogate Health and Care Partnership) alongside our partners Humber, Coast and Vale Health and Care Partnership, West Yorkshire Combined Authority, Yorkshire Sport Foundation, and Community First Yorkshire, the research led by Professor Tony Chapman, St Chads College, Durham University, considers the structure, dynamics, and impact of the Voluntary, Community and Social Enterprise (VCSE) sector.
The commissioners of the report were of the view that the economic and social value and scale of the sector has been hiding in plain sight and wanted to bring this much more clearly into view. The particular interest of the commissioning HCPs has been to align the work of the sector more systematically with the energies of the public and private sectors, and in recognising its inherent and unique shape, dynamics, and value, invest in the sector to enhance health and well-being outcomes for communities and individuals in the region. The report also aids understanding of the investment and support required by the VCSE to strengthen its ability to respond as part of the system as a whole.
The research highlights the contributions made to the economy and the health and well-being of people who live in West Yorkshire and Harrogate, which are bigger and more varied than might have been imagined.
It is a sector made up of around 14,900 registered and unregistered groups and with a workforce of around 43,100 full time equivalent posts, and an estimated 147,000 regular volunteers.
The sector is larger than the finance and insurance industries, and larger than the arts, entertainment, and recreation sector.
But what is really striking is the significant contribution made by the VCSE sector to people's health and community health and well-being.
The sector not only contributes to financial savings for the NHS and other public services but produces immediate benefits for many thousands of people accessing their help and support.
The estimated direct and indirect economic and financial value of the sector (including robust valuations of sector expenditure, volunteer time and in-kind support) in WYH is £4.6 billion a year.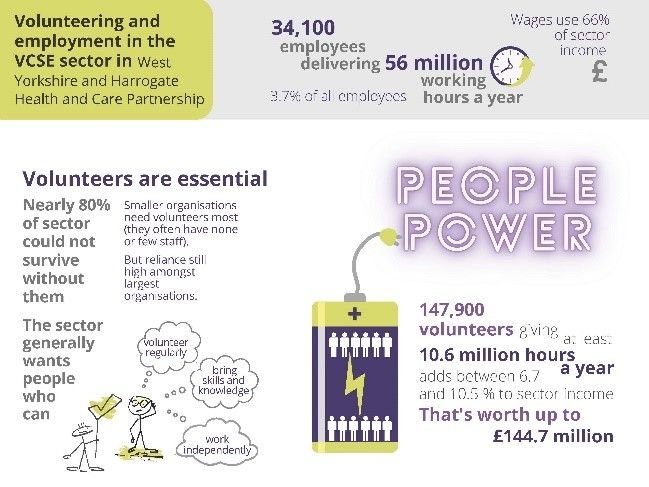 On top of this, when you consider the benefits to people's health and wellbeing and the wider social impact, the total value of the VCSE sector is around £6.2 billion a year in West Yorkshire and Harrogate.
This research challenges historical perceptions that the VCSE is not as professional as other sectors and isn't a resilient sector. Its size has stayed much the same for at least two decades. It has survived austerity, financial crashes and most recently the covid 19 pandemic. It is here to stay. And indeed, the sector is a critical player in meeting the health and care needs of our population.
It is flexible and adaptable to changing population needs as we have seen through the covid pandemic. Which of us has not actively witnessed the sector at work in supporting vaccination delivery, food banks, helplines, mutual aid groups, or supporting people at home as they struggled to cope with lock downs and losing their usual routine and support networks?
As we celebrate International day of Charity, let's all think about how we value, respect, and invest in our local voluntary and community organisations which do so much for the people who live in West Yorkshire and Harrogate.
Let us also not forget the role of charities and civil society in driving change and campaigning against injustice through the years. Looking at many of the major social advances it's been relentless and effective charity action that have delivered, from clean beaches and protected woodland, on mandatory seat belts and no smoking in public buildings, access to abortion, gay rights, disability reform ...on a plethora of issues, charity lobbying has driven public sentiment and government reaction.
From the local sports club to famine relief. Saving lives to life saving medical research. Campaigning for disability rights to manning the lifeboat station. Making tea in the local community hall to running a rehabilitation centre. And being there at the end of life or its beginning.
Let us value what we have and ask – where would we be without the VCSE?
Have a good weekend everyone,
Jo
What else has been happening this week?
Ambitious plans could see three new hospitals for Bradford district and Craven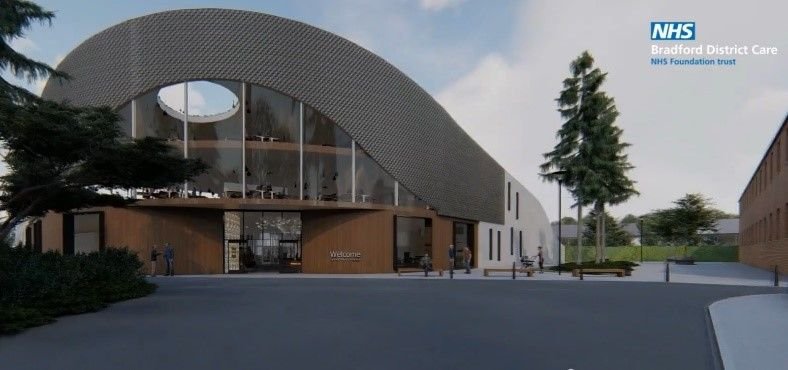 Europe's first carbon neutral hospital, a mental health hospital replacing a Victorian era building and a single hospital site bringing two hospitals together form part of an ambitious proposal submitted to the Government on 9 September.
The joint bid asking for over £1.7billion in funding has been submitted by the Act as One health and care partnership that covers Bradford District and Craven, serving a population of over 647,000 people.
The combined bid is in addition to three individual proposals submitted by Airedale NHS Foundation Trust: Bradford District Care NHS Foundation Trust and Bradford Teaching Hospitals NHS Foundation Trust. The proposals are being backed by NHS Bradford District and Craven Clinical Commissioning Group, Bradford Council and the West Yorkshire and Harrogate Health and Care Partnership.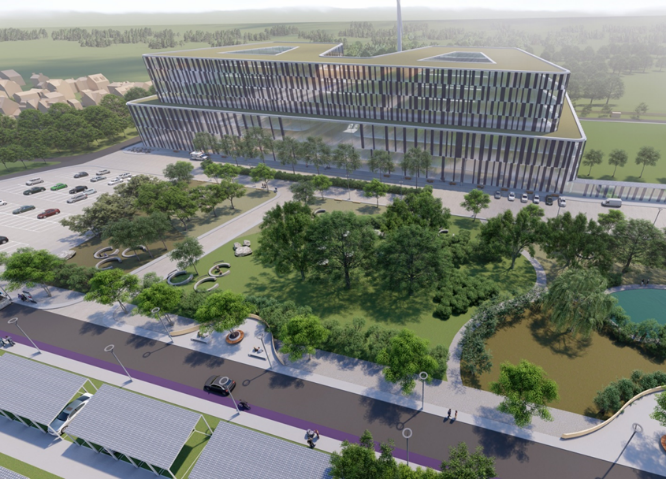 Building on extensive work involving a range of partners, community groups, health and care staff and feedback from citizens on current health and care facilities, the proposals would see state-of-the-art facilities being developed over the coming years.
The new hospitals would go beyond providing hospital care and include options that would encourage wider community use of the buildings to support people live well and contribute to the wider economic regeneration of the district and wider region.
The bid links to broad-ranging plans that are considering how other buildings and community assets – such as health centres, GP surgeries and community centres, can help deliver the health, care, and wellbeing services to meet future needs. You can read more about the hospital proposals on the Bradford and Craven Clinical Commissioning Group website.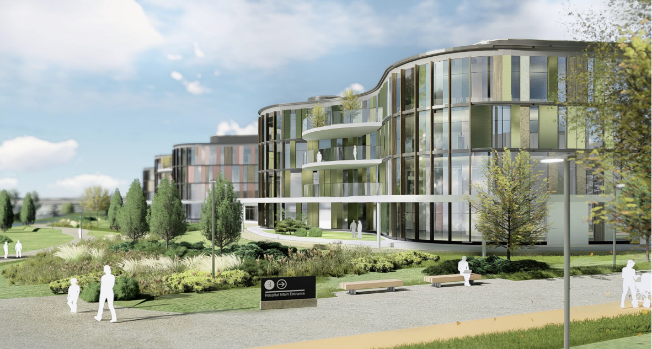 The Chairs and Leaders Reference Group
The Chairs and Leaders Reference Group includes council leaders and hospital trust chairs. The group meet monthly to discuss the proposed changes to integrated care system legislation and development work underway. Cllr Tim Swift, Leader of Calderdale Council and Cathy Elliott, chair of Bradford District Care NHS Foundation Trust are the co-chairs. The group discussed leadership and organisational development and commissioning work programme. The values and culture of our Partnership is very important to us all and this was discussed.
News from the staff mental health and wellbeing hub
Self-referral into the Hub now available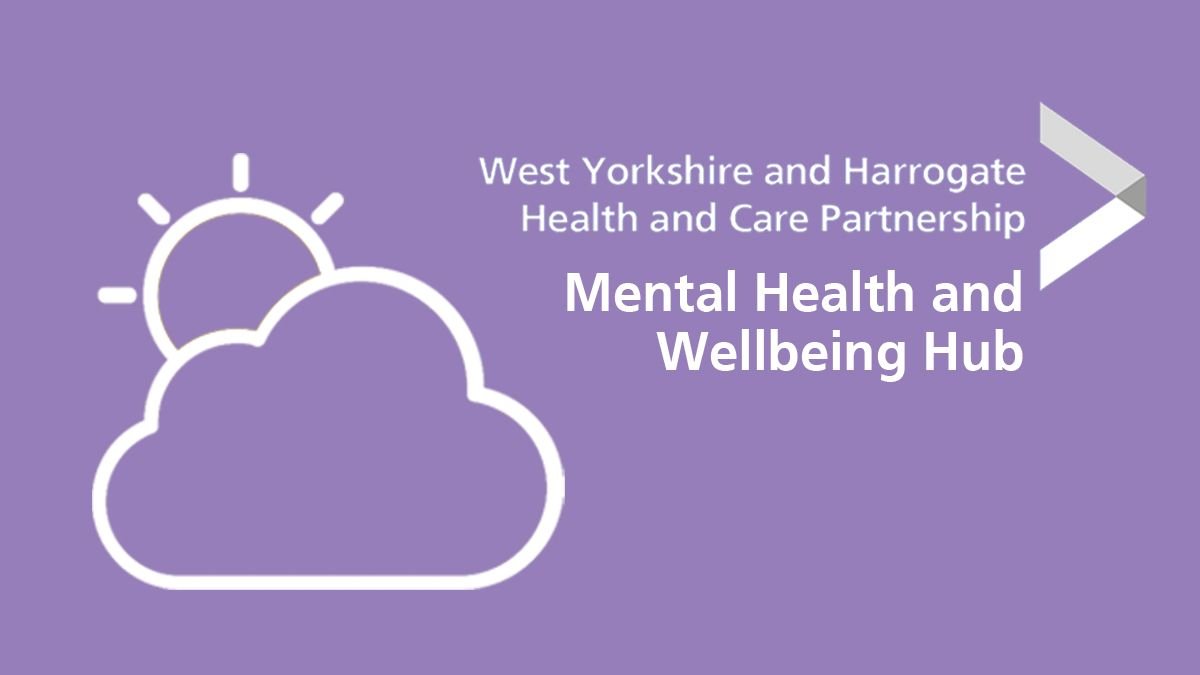 Anyone in any role, working or volunteering, in health and social care services in West Yorkshire and Harrogate who are experiencing difficulties with their emotional or mental health can now self-refer into our one-to-one therapeutic service by simply completing a form on our website. This is an important step in helping many more of our 100 000 health and care workers to access the help they need for their emotional and mental wellbeing, quickly and free of charge.
Please share the link to the form with your networks – this service is for everyone. Find out more about the Hub.
Find out about Schwartz Rounds
The Staff Mental Health and Wellbeing Hub is offering an online event for colleagues from all sectors in the Partnership to find out more about Schwartz Rounds and how they can help people feel more supported in their jobs, allowing them the time and space to reflect on their roles. Evidence shows that staff who attend Rounds feel less stressed and isolated, with increased insight and appreciation for each other's roles. They also help to reduce hierarchies between staff and to focus attention on relational aspects of care.
The free event takes place via Teams on 20 October and places can be booked via this Eventbrite link. People from all sectors, including VCSE, care homes, hospices, primary care, and providers of support services can join. Anyone who would like more information can contact the Hub on bdcccg.wyh.mentalwellbeinghub@nhs.net.
Coaching skills course for voluntary and community sector workers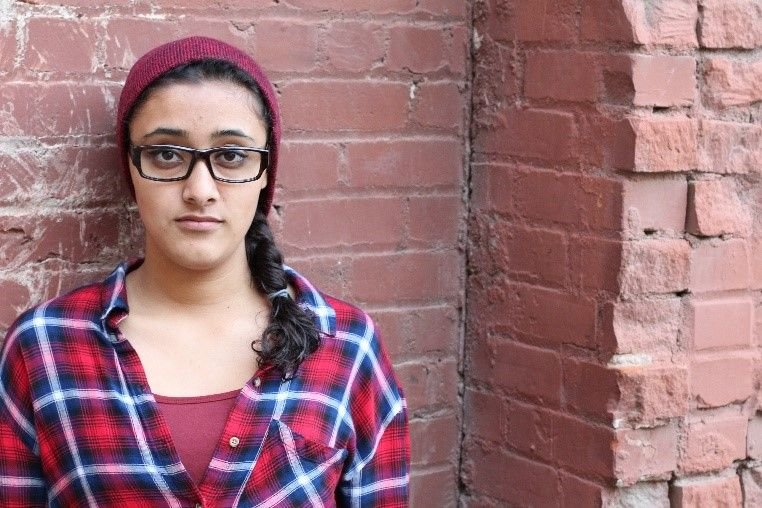 Following successful feedback from our current group of participants we are looking to run the training programme again and continue to widen the coaching talent pool across the Partnership. If you applied last time but did not secure a place, please just email to the address below to say you are still interested.
We know there are few coaches from ethnic minority backgrounds and from the voluntary and community sector, so we are keen to attract participants from these diverse backgrounds. You do not need to have had any previous coaching experience but if you want to find out more and start to develop your skills this course is for you.
Commitment is two days in four half day sessions. Participants must be able to attend all four sessions across November/ December 2021.
Dates are:
Session 1 Monday 15 November 9:15am to 12.45pm
Session 2 Tuesday 23 November 1.15pm to 4.45pm
Session 3 Monday 29 November 9:15am to 12.45pm
Session 4 Tuesday 7 December 1.15pm to 4.45pm
To enrol or find out more email bdcccg.wyh.mentalwellbeinghub@nhs.net with name, role, organisation, and contact details. Deadline for registrations is Friday 29 October midday.
You can read and share this flyer if helpful.
Inclusion, Innovation, and Improvement Programme Board
The Inclusion, Innovation, and Improvement Programme Board met last week, chaired by its new senior responsible office, Rob Webster, who has taken over following Martin Barkley's retirement from Mid Yorkshire NHS Trust Hospitals. Rob is pleased to be taking over the role with innovation, improvement and research being critical for the delivery of better health and wellbeing outcomes for people.
The Board discussed how innovation, research and improvement fit into work underway on establishing integrated care systems if the bill passes through parliament as a statutory body and considered areas that might be ripe for joint working with industry under a proposed memorandum of understanding with the Associated Body of Pharmaceutical Industries.
Members heard from the new Heath Foundation Funded Bradford-based Innovation Hub, which led to a discussion on how the Board can support the wider sharing and learning from our Partnership activity, and from the Regional NHS England and Improvement team on priorities for transformational recovery with the members agreeing to support collaborative working and understanding of the infrastructure. Finally, the Board addressed issues with uptake of the MedTech Funding Mandate products, providing solutions to ensure uptake of innovative products that improve patient care and/or reduce costs.
Our Partnership Health Inequalities Grant Fund Showcase Event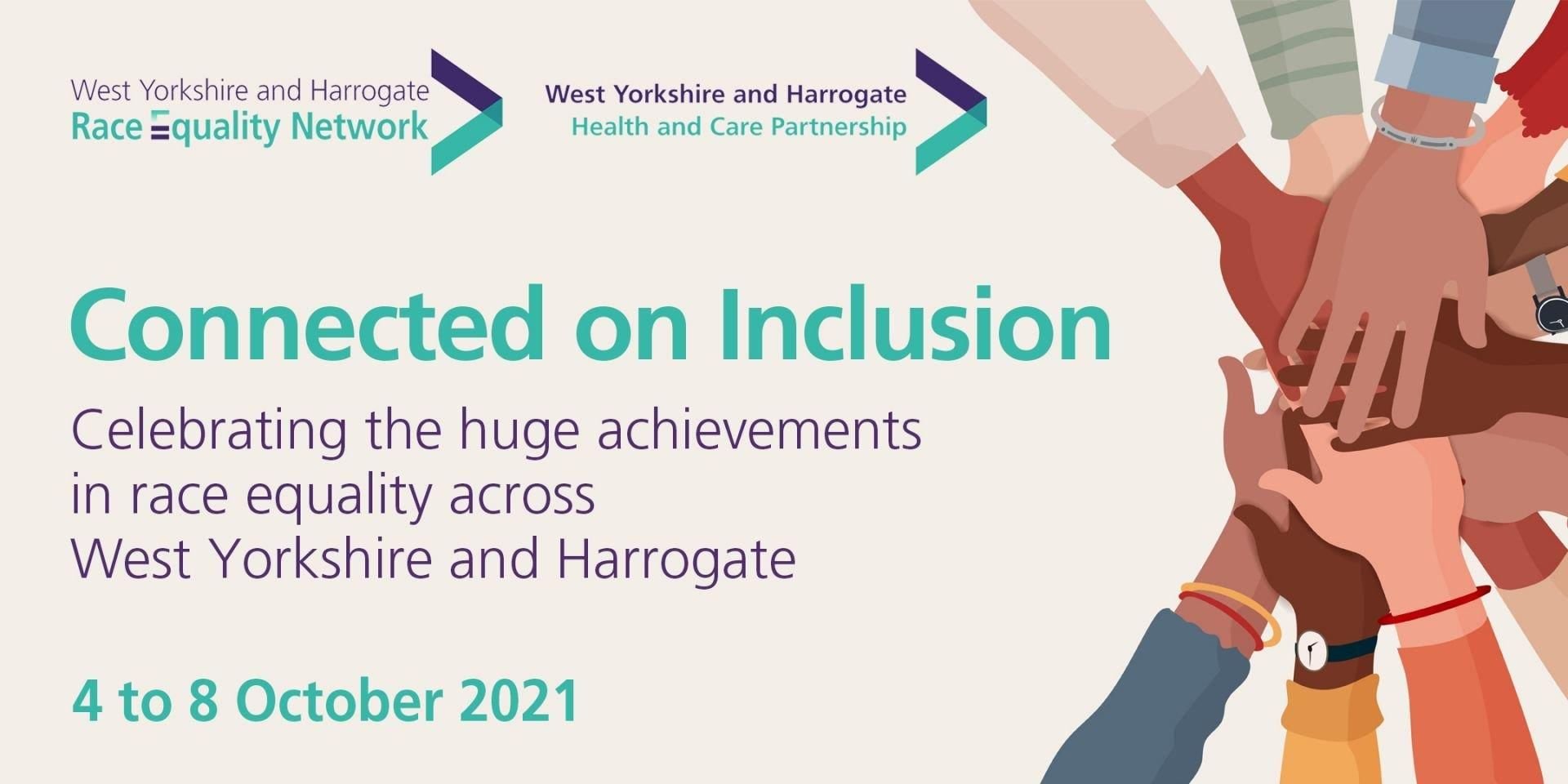 Last summer, West Yorkshire and Harrogate Health and Care Partnership awarded a total of £500,000 in health inequality grant funding to a total of 13 voluntary and community groups.
This funding was used to facilitate a diverse range of projects hosted by community organisations, working in partnership with local health providers, all of whom represented areas which had been disproportionately affected by the COVID pandemic. We held a showcase event on Wednesday to showcase the successes of these innovative projects, delivered by communities, for communities. There were lots of opportunities to share good practice and to be inspired by the stories from our grant funded projects. You can read more about the positive difference being made on the Partnership website.
#WYHRootOutRacism
The anti-racism project group met on Tuesday to discuss the evaluation of the movement. An initial evaluation survey was shared this month. 33 organisations filled in the survey. Over half (17) people said the number of organisations/supporters and bringing people together was the most memorable part of the movement.
Comments included:
'For me personally feeling included and a sense of belonging. The incredible launch events reaching communities far and wide children, young people and adults, professionals, and celebrities.

Over a third of survey respondents thought the collective voice and cross section of those involved is the most effective thing about the movement

'The concerted effort. More voices = better chance of success'

'The number of organisations working toward a common goal, to make life better and equal for so many people'

When asked why people wanted to take part in the movement, almost half said it was because it's something they believe in, and aligns to their individual/company value

'Our council leader was also very keen to support this movement and it's a subject he's passionate about'

'The desire to promote diversity and inclusion, not just for staff but also patients. We need to address inequality, stand up to bigotry and support those who face these problems daily'.
A report will be shared soon ahead of the second part of the evaluation taking place later this month. You can still join the movement and get involved. More information is on the Root Out Racism section of the Partnership website.
Launch CREST, Changing Systems: Women and Girls Literature Review
Our Partnership and West Yorkshire Violence Reduction Unit will be launching several commissioned reports in early November 2021. These reports have been commissioned to understand the root causes of Adversity, Trauma, Serious Violence, and multiple disadvantages, with a specific focus on inequalities, women, and girls and how we can respond by building the protective factors and changing the environments, systems that impact on negative outcomes.
The findings and recommendations from the reports will underpin the West Yorkshire Strategy for Adversity and Trauma and our ambition to be a Trauma informed and Responsive system by 2030 and will inform commissioning and delivery undertaken by the West Yorkshire Violence Reduction Unit.
The reports will be available for all organisations across West Yorkshire to support and inform practice.
The reports include:
Addressing the root causes of serious violence and exploitation of young people in West Yorkshire: Summary of key findings and recommendations: June 2021, CREST
Adversity Trauma and Resilience in West Yorkshire – a review of life-course evidence, approaches, and provision to support the transformation to a trauma informed health and care system by 2030: September 2021, Mark Crowe, Jim Devereaux and Molly Jobson on behalf of Humankind
Violence Against Women and Girls: A literature Review, September 2021, Megan Bennett
Further information about the launch will be provided in due course, if you would like further information please contact emmerline.irving@nhs.net
Looking out for each other update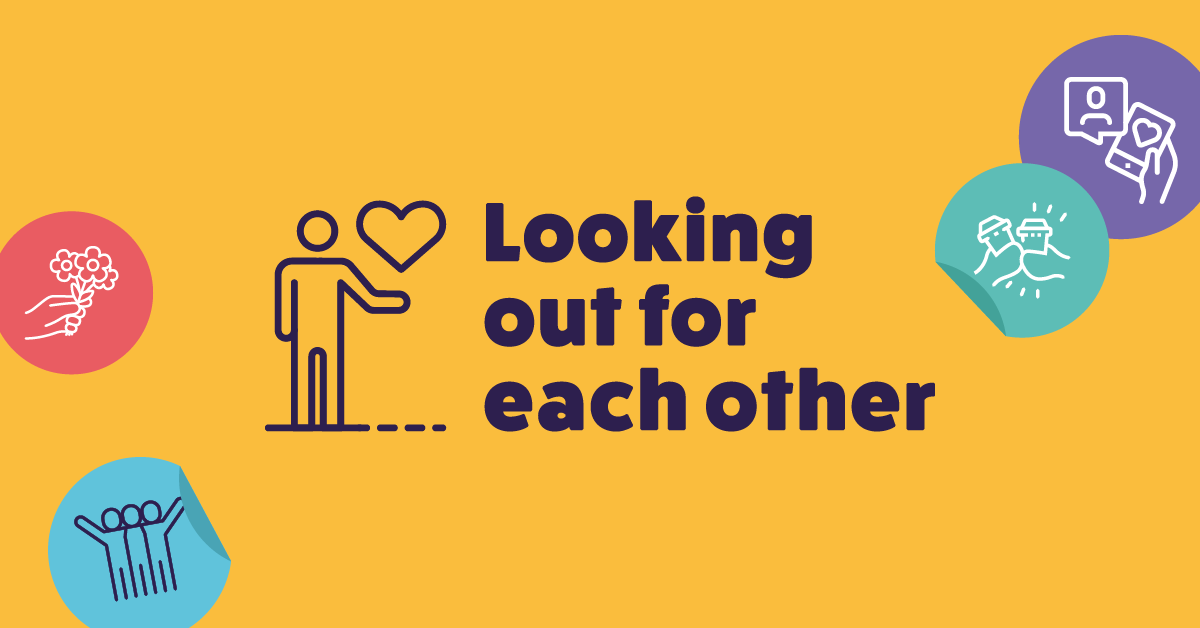 Since the #SpreadTheKindness campaign launched on 13 September the campaign ambassadors have produced two TikTok style videos to raise visibility about the campaign. You can view video 2 the student edition at https://youtu.be/A0yV4QtSL1E
The next video will be a point of view (POV) style vlog with a seven days of kindness theme. Our campaign ambassadors will also be out and about capturing content about young people volunteering and young carers over the coming weeks.
Alongside the campaign ambassadors creating videos we are also encouraging campaign supporters to work with young people to create and share their own content. The LGBT youth group from The Brunswick Centre have created a video that can be viewed by clicking here . A big thank you to the young people involved and The Brunswick Centre that provides a number of community-based services across Calderdale and Kirklees. We are looking forward to sharing more of these videos with you soon.
There are now 18 local organisations working alongside young people signed up as supporters of the campaign and more continuing to sign up at ourneighbours.org.uk/eachother
#SpreadTheKindness supporters include: Coop Member Pioneer and Calder community cares, North Yorkshire County Council, The Brunswick Centre, Wakefield Youth Justice Services, Kirklees Council, Good News Yorkshire, Healthy Futures Calderdale, Leeds University Union, Barca-Leeds, 12th Leeds Boys: Brigade, Joint Activities and Motor Education Service (JAMES), Newground Together, The Holy Family Catholic School, The Youth Association, Calder Community Cares, Leeds College of Building, Young Lives Consortium and Healthwatch.
Thank you for championing and elevating the campaign through your channels and inspiring young people to #SpreadTheKindness.
For more information visit ourneighbours.org.uk/eachother or you can contact vicky.caunt@nhs.net