Hello, my name is Steve...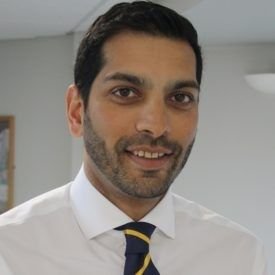 I hope you're all coping well in the heatwave we've been experiencing this week! It's certainly been a challenge at Harrogate and District NHS Foundation Trust (HDFT) and as the mercury rises it's been humbling to see colleagues step up and continue to provide high quality patient care despite the circumstances and discomfort to themselves.
A couple of weeks ago I marked my 100th day here as part of #teamHDFT. I'm new to Yorkshire in a professional capacity, although I did grow up in Sheffield so I do know this beautiful area reasonably well.
I've met many colleagues across the West Yorkshire and Harrogate Health and Care Partnership already, and thank you for the warm welcome you've given me. You've helped make my first Chief Executive role that little bit easier to settle into. Given that I'm relatively new; this is more of a 'hello' than a leadership message!
I thought it may be helpful to briefly introduce myself. Before coming back north my most recent job was Regional Director for London at NHS Improvement, and prior to that I had been Chief Operating Officer at South London Healthcare NHS Trust and Deputy Chief Executive at Barking, Havering and Redbridge University Hospitals NHS Trust. I originally started my NHS life in 1997 as a trainee in Northumbria Healthcare, where I worked for 11 years.
So, this is my first Chief Executive role which of course brings with some interesting and exciting challenges!
I've said to colleagues at #teamHDFT that I'm not coming in with a plan or a blueprint and that most of the ideas and answers reside with them. People who do the work are the experts, they know what works and what doesn't in their areas, and they know how to improve what they do for themselves, their colleagues and the people they care for. I think my job is to encourage and enable colleagues to share, debate, refine and improve their ideas so that together we can make the Trust a great place to work and an outstanding place to receive care – whether in the community, in one of our hospitals or online.
I've been in the privileged position of being able to visit teams right across our patch which has given me a really good understanding of what we do and how we work. It's worth noting that we're not just a hospital in Harrogate – our services stretch all the way up to Gateshead and Sunderland and across to the east coast (hence Harrogate and District). We are fairly evenly split between acute and community services in terms of staff numbers.
It's been a really positive experience to hear from colleagues with lots to consider, and that is now shaping our future direction.
We care about the health and wellbeing of our population through people and relationships between people (whether they work in HDFT or not) and one of the things that stands out the most is the work we need to do to enhance what we do to look after each other. I think that this is built on really strong relationships and our behaviours and we are trying to emphasise five things at HDFT.
Firstly, that one of the most important jobs of anyone in a leadership role is to care about the health and wellbeing of their colleagues – so that people feel safe, supported and happy in the work that they do.
Secondly, that every role is of equal importance and that there isn't a hierarchy of how important any one role is. Healthcare (and indeed pretty much any other area) is a team sport and we can't succeed without each other. Most people work in teams, both within and across organisations, and I see success as being when anyone in the team feels safe and encouraged to ask for help from their colleagues. Everyone has different experience and we should feel asking for help when we're not sure what to do is celebrated and not seen a sign of weakness.
Thirdly, we need to acknowledge up front that we will all make mistakes, and to create an environment where we celebrate learning from experience, not criticising people. Most mistakes happen because of the systems we ask people to work in and the processes we ask them to use - and not because of people themselves. We still focus too much on the 'root cause' with a lens of looking to see who didn't get it right, rather than the system and environment that didn't allow them to get it right.
The fourth thing is one of the most important which is about behaviour and how we behave with each other and I try to emphasis three things that I ask colleagues to try and reflect on. Being kind to each other, to people we work with and to people we are looking after. Being compassionate which means recognising that what becomes normal to us as we do our work every day is not normal to people who we look after or those we work with from other organisations. And valuing different perspectives and experiences, and encouraging different views, whilst ensuring that they're always expressed in a respectful manner, and that all of our many interactions are conducted in a civil manner.
The final thing is emphasising that people who do the work know how to improve it, and encouraging colleagues to see this as equally important as actually doing the work. Leaders don't usually have the best solutions, but we can create or hinder the opportunity to unleash the talent, energy, innovation and enthusiasm of the people who do.
Whilst this is what we've been talking about in respect of our work within HDFT, this also applies to how we work with others because to create the sort of health and care system that focused on healthy lives and reducing inequalities, we have to define success in a different way and apply all of those things (and more) to how we work with others. We're incredibly fortunate to have great colleagues in our local Borough Council, County Council, Clinical Commissioning Group and many others. We're relentlessly focusing on being a great partner and this is something we are trying to emphasise as the only way we do our work well, and that supporting others to do their work well is also part of our role. It's easy to say, but making sure we do it daily, and that lived experience matches intent for all is quite hard! And it's a bit like painting the Forth Road Bridge – it's a job that never ends, and is something that has to be part of our daily work.
Many of the teams our active or prospective patients and their families see are not limited to the teams we directly lead and part of our leadership role is to make the barriers and boundaries invisible to our staff because their lived experience will directly translate into the lived experience of people we're looking after. Boundaries create rules, handoffs and generate friction and can stifle improvement and innovation and now more than ever we need to reduce the friction caused by these boundaries.
I also wanted to just say a huge thank you to colleagues in the West Yorkshire and Harrogate Health and Care Partnership and West Yorkshire Association of Acute Trusts (WYAAT, also known as 'hospitals working together'). I think we're incredibly fortunate to operate in the environment that is created and fostered by the Partnership and by WYAAT. In my first 100 days or so it has felt as if that is an environment in which collaboration, respect, support and peer challenge are promoted and I think that's an incredibly important enabler for us to do our work in our places.
I won't say that it doesn't bring its challenges, but with challenge comes an equal offer of support and I think both of those are welcome as a dual approach.
The work in our place is exciting and there is lots going on as there is across all other places. We're just about to launch our provider alliance - the Harrogate and Rural Alliance, which sees us working with local health and social care partners to transform the way adult health and social care services are delivered in the district. It isn't a new or unique concept but in the work with teams who are coming together from health and social care it has again reminded me of the importance of creating trusting relationships, a common goal, widening what we've thought of as success before and that we have to work on that every day.
You've probably had quite enough of me, so I wanted to sign off by saying a very big thank you to Amanda Bloor (Chief Officer for the three North Yorkshire CCGs (Hambleton, Richmondshire and Whitby, Harrogate and Rural District and Scarborough and Ryedale) at who is a great colleague and a great friend and without whose help and support my first 100 days wouldn't have been nearly as much fun.
Finally, I really believe in agile sharing learning, knowledge (and the occasional cat photo) and what better place for that than Twitter? Please give me a follow at: https://twitter.com/steve_r76. It's a great way to see what is going on and I have probably stolen an idea from each of your organisations from there – so thank you!
I hope you have a great weekend, and the weather is a little bit kinder to us all!
Steve
What else has been happening this week?
Loneliness funds
You may recall that the Partnership allocated £1m last year to go toward supporting voluntary and community organisations through our 'Harnessing the Power of Communities Programme'. Community and voluntary partners were allocated additional resources through their partnership work with local councils and the Health and Wellbeing Boards to help tackle loneliness and social isolation which has a major impact on people's health and wellbeing. The money was distributed across our six local places (Bradford District and Craven; Calderdale, Harrogate, Kirklees, Leeds and Wakefield). Community organisations have made a tremendous difference in their areas. For example befriending support in Bradford and the benefit of befriending as a preventing ill health approach. In Calderdale, the money was used to support some of the Staying Well work which takes referrals and supports/signposts people into local support organizations and groups. The funding was used to harness local groups and organisations to enable even further reach into communities which either do not engage or have barriers to access.
In Harrogate the funds focused on what is strong locally and making the best use of existing community health assets, for example community health asset mapping and development of a district strategy and action plan to tackle loneliness and isolation.
Kirklees have brought together partners; Better in Kirklees, Barnardo's Young Carers Service, LAB Project and Support to Recovery to deliver an 'arts on prescription' approach to men over 40 with mental health issues experiencing depression and worklessness.
In Leeds, Health Impact Grants have been given to Leeds third sector organisations working on the areas of tackling loneliness, carer support in helping people to remain independent, reducing health inequalities and improving overall system performance.
Wakefield has invested in Age UK Wakefield District to further support short-term, overnight/day support in times of crisis for people over the age of 65 in their own home, when hospital admission is inevitable due to lack of available carer support, or when they are unable to be discharged from hospital due to a lack of support at home. You can read more here.
System Oversight and Assurance Group
The Partnership's System Oversight and Assurance Group (SOAG) met on Wednesday. This group has been established to take an overview of progress with our shared priority programmes, and to agree collective action to help tackle shared challenges. This week's discussion included updates on the programmes for urgent and emergency care, standardising commissioning policies, stroke services, capital and estates, and innovation and improvement.
The group discussed the financial position for the partnership at the end of the first quarter, and agreed an approach to some work that will be undertaken to ensure the longer term financial sustainability of the Harrogate system.
SOAG also discussed a range of performance concerns and reviewed progress with the development of a set of metrics that will provide an overview of how our places are performing in relation to health and wellbeing, prevention of ill-health and social care.
Richard Stubbs, CEO of Yorkshire and Humber Academic Health Science Network, attended the meeting to discuss the network's priorities for supporting West Yorkshire and Harrogate partners in 2019/20.
The group also received an update on progress with the Yorkshire and Humber Care Record programme and agreed a number of actions to ensure that it is fully aligned with other WY&H programmes.
West Yorkshire and Harrogate Public Health Management Programme
The West Yorkshire and Harrogate Population Health Management (PHM) Network met on Thursday. This included public health colleagues and those working in health services across our six local places (Bradford District and Craven; Calderdale, Harrogate, Kirklees, Leeds and Wakefield).
A key theme of the meeting was how we share learning across the partnership to expand our approach whilst making the most of information, research and intelligence available to us so we both locally and at a West Yorkshire and Harrogate level.
A pilot is taking place in Leeds around making the best use of information to support people living with frailty – an update on the work was shared alongside an overview of the support available from the Academic Health Science Network and Imperial Health Partners.
Colleagues also received feedback from Public Health England on a tool they have used to understand the Population Health Management analytical skills we have in our system which will help with future workforce planning.
West Yorkshire and Harrogate – Carers Programme
We are pleased to announce that the Alzheimer's Society has been chosen as the provider for the dementia national pilot engagement work. We had a really good response to the call for expressions of interest and the 'dragons den' style panel met on the 16 July where four applications presented their case. All presentations were of a very high standard and we would like to take this opportunity to thank all of our applicants and hope that they will link with the engagement work that the Alzheimer's Society will now take forward. As lead provider, the Alzheimer's society will be working in collaboration with local dementia and carer organisations across West Yorkshire and Harrogate to deliver engagement sessions to inform the development of advance care plans and guides coproduced with people living with dementia and their carers. We would like to congratulate the Alzheimer's Society and look forward to working with them in the coming months.
Improving planned care and reducing variation in commissioning policies
As you know, the Partnership's Joint Committee agreed to adopt the first phase of NHS England's Evidence Based Interventions (EBI) programme across West Yorkshire and Harrogate from 1 April 2019. The first phase of EBI includes 17 interventions - four that should not be routinely offered to patients unless there are exceptional circumstances and 13 interventions that should only be offered to patients when certain clinical criteria are met. There's more information about the 17 interventions on the Partnership's website here.
The commissioning policies for these 17 interventions require some slight amends but will be uploaded onto the Partnership's website shortly, along with links to these patient leaflets and videos developed by NHS England.
To support a joined up approach to communications around EBI, Christine Hughes will be joining an NHS England webinar on 15 August that will offer further guidance around how we can work together to communicate the EBI guidance to colleagues and patients across West Yorkshire and Harrogate.
The webinar will also provide us with an update on the EBI programme so far and the launch of the second list of EBI policies. We know that hundreds of procedures were considered for phase 2 of the programme which has been whittled down to a list of about 20 or 30. We can assume that it will be a bigger list than in phase 1 and we do know that the final list will be out for public consultation around September time, with the aim for the policies to be implemented from April 2020.
Christine will provide and update from the webinar via the Communications and Engagement Leads Weekly Update on Wednesday 21 August. In the meantime, if you have any questions please email Christine at: christine.hughes@wakefieldccg.nhs.uk
Supported self-management for cancer patients – new bursary scheme launched
Please spread the word about the £60,000 bursary scheme - launched this week by the WYH Cancer Alliance – to improve the experience of cancer patients and help them manage their condition more effectively at the end of treatment. Organisations or individuals working in GP surgeries or the community; in hospitals or specialist services, in voluntary and charitable organisations could be eligible to apply for one of six grants (or 'bursaries') up to a total of £10,000 each to help patients properly prepare for the end of the treatment phase of their cancer journey. More information about the bursary, and access to the application form, is available here Please share far and wide through your own communications channels.