Background
Asthma is the most common long-term medical condition in children in the UK, with around 1 in 11 children and young people living with asthma. The UK has one of the highest prevalence, emergency admission and death rates for childhood asthma in Europe. Outcomes are worse for children and young people living in the most deprived areas. NHS England and NHS Improvement's ambition is to reduce avoidable harm to children and young people from asthma and improve their quality of life. NHS England » National bundle of care for children and young people with asthma
Schools and education partners across West Yorkshire are a significant part of achieving this ambition and form part of NHSE/I 'National bundle of care for children and young people with asthma'. This work across West Yorkshire is delivered through the West Yorkshire Children Young People and Families Asthma Group.
Aims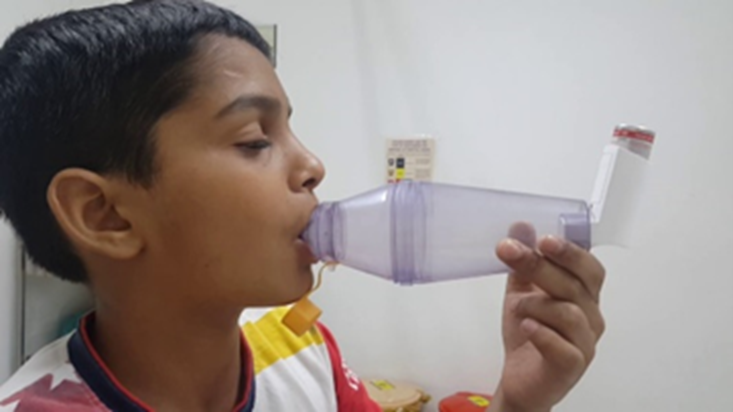 The West Yorkshire Asthma Friendly Schools Initiative aims to improve the care of pupils with asthma by raising awareness through information, training and support for school staff as well as pupils, parents and carers. The initiative builds on the work already undertaken across West Yorkshire by 0-19 Services and Paediatric Respiratory teams over many years. In addition to existing projects already currently taking place, Primary Care representatives have been working with several schools across West Yorkshire providing information and up to date training to better support children and young people with asthma in educational settings.
The benefits of becoming an Asthma Friendly School are:
'How do we become an Asthma Friendly School?'
To achieve the key objectives listed below and become an Asthma Friendly School in West Yorkshire you will need to start by doing two things:
1. Contact your local place team who are rolling out Asthma Friendly Schools (contacts below) to inform them you would like to become asthma friendly
2. Start to work through the key objectives using the recommendations in the supporting documents such as completing necessary training
Once your school has achieved the outlined objectives your local place team will present your school with our West Yorkshire Asthma Friendly Schools Certificate
Local place contacts for Asthma Friendly Schools
Contact your local place team who can talk to you about gaining the Asthma Friendly Schools Status and hear about how Asthma Friendly Schools is currently being rolled out in your area of West Yorkshire:
To achieve Asthma Friendly School status your school will need to meet the following key objectives:
Please access Tier one Training for school staff, and parents / carers. To note, please add your school postcode when you register for the above.
Supporting documents to help you achieve the key objectives:
Let's Talk About Asthma
It is important to start the conversation about asthma care in your school setting. Find out more by watching this short video and start to talk about asthma at your school. Dr Katherine Hickman, a GP in Bradford and Respiratory Lead for the Partnership takes us through the importance of the initiative and the supporting documents to get you started.
We look forward to your school joining many others and becoming Asthma Friendly.
We are also keen to collect case studies of schools who have become Asthma Friendly and what impact this may have had on pupils, parents and carers, staff members or the school community. Please contact us at wakccg.healthiertogether@nhs.net for information or further guidance.
Schools who have obtained the Asthma Friendly Schools Status
Killinghall Primary
Lilycroft Primary
Carlton Bolling
Our lady Victories (Keighley)
Victoria Primary
Denholme Primary
Merlin Top Primary
Green Lane Primary
Oxenhope Primary
Park Road Junior, Infant and Nursery School, Batley
Lydgate Junior and Infant school, Batley
Alwoodley Primary School
Cookridge Primary School
Dixons Unity Academy (formerly Swallow Hill Academy)
Gildersome Primary School
Hawksworth C of E Primary School
Hawksworth Wood Primary School
Hill Top Primary Academy
Ireland Wood Primary School
Manston Primary School
Pudsey Lowtown Primary School
St Francis Catholic Primary School Morley
Spring Bank Primary School
Weetwood Primary School
Westerton Primary Academy
Whingate Primary School
Ash Grove Primary Academy
Crofton Infants' School
Dane Royd Junior & Infants School
English Martyrs Catholic Primary School
Lee Brigg Infant School
Outwood Primary Academy, Ledger Lane
Purston Infant School
Rook's Nest Academy
Ryhill Junior, Infant & Nursery School
The Mount Junior, Infant & Nursery School
Townville Infants School
Willow Green Academy
West Bretton Junior and Infant School
Outwood Academy, Kirkhamgate
St Botolph's, Knottingley