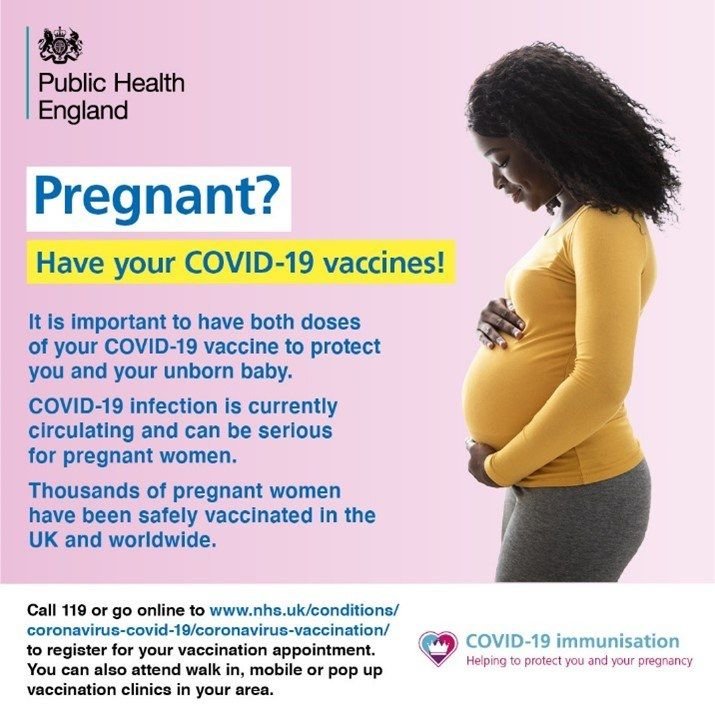 The Joint Committee for Vaccinations and Immunisations has updated its guidance and is now advising that pregnant women should be offered COVID-19 vaccines at the same time as people of the same age or risk group. They have said it is preferable for pregnant women to have the Pfizer/BioNTech or Moderna vaccine where available because they've been more widely used during pregnancy in other countries and no safety concerns have been identified. There is no evidence to suggest that other vaccines are unsafe for pregnant women but more research is needed.
You should speak to a healthcare professional before you have the vaccination to discuss the benefits and risks with you. You should also read the COVID-19 leaflet for childbearing, pregnant or breastfeeding women than can be found by clicking this link.
The Royal College of Obstetricians and Gynaecologists have also summarised the latest information and have answered a number of frequently asked questions that can be found by visiting this webpage.
Advice during pregnancy - knowing the risks and taking care of yourself - particularly for women from a black, Asian or minority ethnic background
We've created a series of films in community languages, delivered by clinicians, that aim to raise awareness among pregnant women about risk factors, signs and symptoms of coronavirus infection and how to protect themselves. The films advise women that if they, or a member of their household, develop any of the coronavirus symptoms it is important that they stay isolated at home and call their midwife or doctor. Local maternity units are open 24 hours a day to give advice and make care plans for affected women, which may include coming in to hospital. As well as in English, there are films in Arabic, Bengali, Dari, Polish, Punjabi, Romanian and Urdu. All the videos are available on our YouTube channel as well as on this page.
Leaflets about topics including planning your birth and caring for a newborn are available from the NHS England website.
Isolating at home
If you are pregnant or have recently given birth and have any concerns about your or your baby's health, or if you have any questions about how self-isolation might affect any of your appointments, please do not hesitate to contact your midwife or maternity team. If you do not have a midwife or maternity team call a GP or call 111 if you cannot get help. On page 6 of the leaflet below there is important information to help keep you safe while isolating at home.
Suspected coronavirus (COVID-19): Important information to keep you safe while isolating at home. View booklet here.
Information in English
Pregancy and coronavirus (COVID-19)
Information for our maternity workforce
Information for our health & care workforce
Most pregnant women who contract Coronavirus will experience only mild or moderate symptoms and will recover quickly. But we know that some women, especially those:
with BMI over 25
with diabetes or some other health conditions
and women from Asian, Black African Caribbean, Black African and some other ethnic groups
are more likely to become very unwell if they contract coronavirus and might need to be cared for in hospital.
Coronavirus has a number of symptoms and if you are infected with it, you may experience all, some of none of these:
Cold/flu like symptoms
New continuous cough
Sore throat
Wheezing
High temperature
Shortness of breath
Headache
Tummy upset or vomiting
Loss of sense of smell or taste
If you, or a member of your household, develop any of the coronavirus symptoms it is important that you stay at home and isolate. Please call your midwife or doctor to tell them. You can contact your local maternity unit 24 hours a day, the number will be in your maternity record or card. You will then be given advice and a plan of care will be made with you. You may be offered a coronavirus swab test and will be told how this will take place. If you are invited to come into the maternity unit, please come; staff will be wearing protective clothing including face masks.
To help keep you and your baby safe from coronavirus we are advising all pregnant women to:
Wash your hands regularly
Use a tissue for coughs or sneezes, then throw it away and wash your hands immediately
Avoid contact with someone who has symptoms of coronavirus
Avoid using public transport, where possible
Work from home, where possible
Avoid large and small gatherings in public spaces
Avoid gatherings with friends and family
Use telephone or online services to contact your midwife, GP or other essential services
Take Vitamin D every day during your pregnancy as this helps your baby develop strong bones, teeth and muscles – and is especially important if you are dark skinned, cover your skin when outside your home or you are isolating and not getting much sunlight.
If you have a coronavirus test, either by post or at a walk in centre, and it is positive please tell your midwife or maternity service straight away so that they can give you extra support and advice whilst you are isolating at home.
During your isolation at home your routine antenatal appointments will be postponed, but you should keep in contact with your midwife. If you start to feel unwell or you notice a change in your baby's pattern of movements do not delay in telling your midwife or maternity unit.
Please remember that your maternity unit is open 24 hours a day and the midwives and doctors are available to hear from you if you are worried about yourself or your baby.
For more general information about COVID-19 in West Yorkshire and Harrogate, visit our Coronavirus (COVID-19) information and resources page.