Grief and Loss Support Service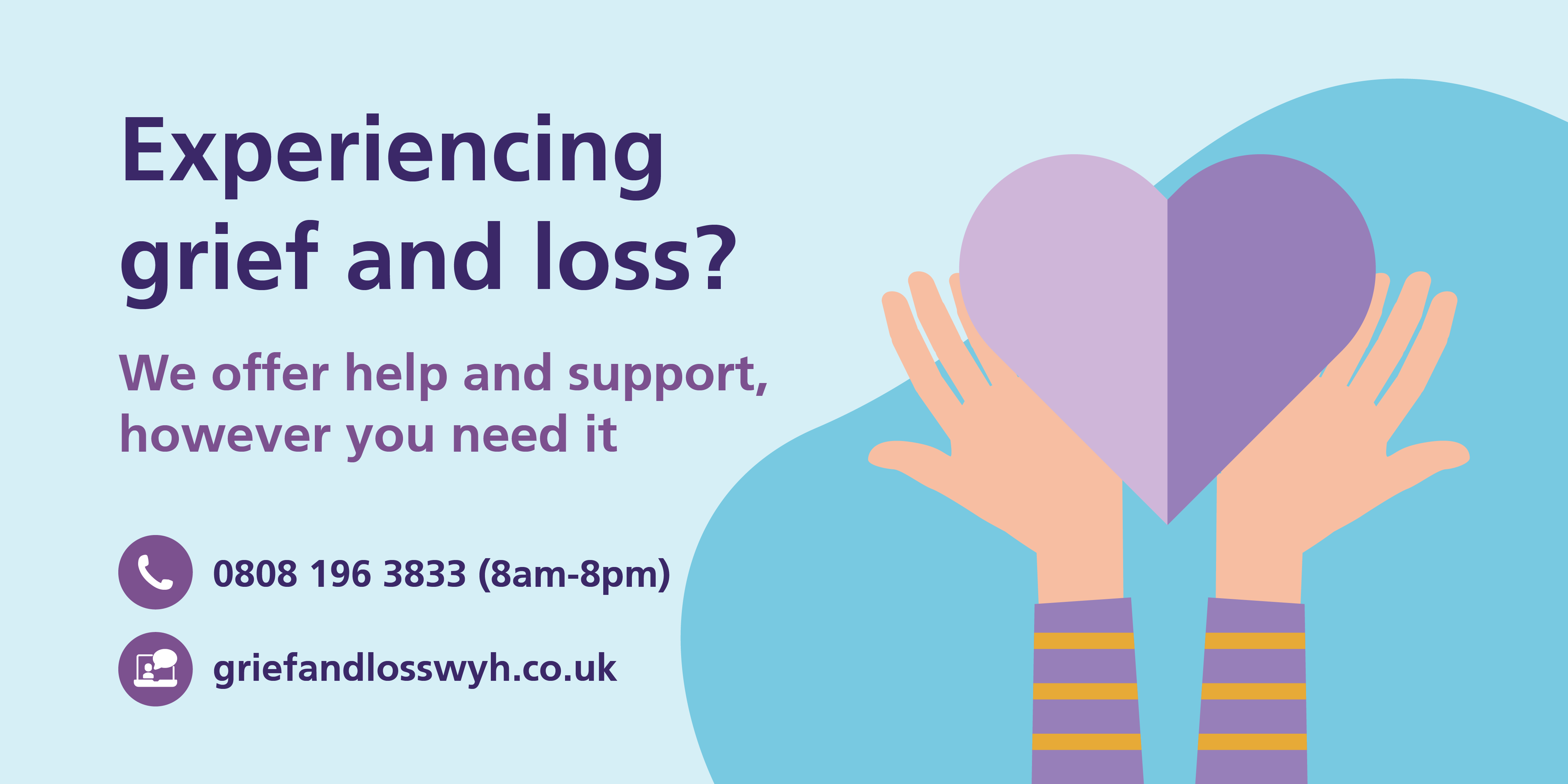 The West Yorkshire and Harrogate Health and Care Partnership Grief and Loss Service offers information and advice to anyone struggling with feelings of loss, whether as a result of bereavement or other loss such as loss of a way of life, normal contact opportunities, social and work interactions. Pandemic restrictions may also mean that the usual practical and emotional support people can physically get from family, friends, faith groups, community groups during difficult times may not be there.
The service is a free telephone helpline that operates 8am-8pm, 7 days a week and online chat facility. Specialist advisors will offer practical advice and emotional support, and where appropriate, can signpost people to local place based services for specific counselling or other support.
The service is commissioned by West Yorkshire and Harrogate Health and Care Partnership and is delivered by West Yorkshire and Harrogate Independent Hospices Consortium, Bradford Bereavement Services Consortium and Leeds Mind.
Video: information about the grief and loss service in British Sign Language (BSL)
The collaborating partners
The partners working together to support the Grief and Loss Service are:
West Yorkshire and Harrogate Health and Care Partnership
West Yorkshire and Harrogate Independent Hospices Consortium (as lead provider) - this group of hospices is comprised of;
Bradford Counselling Collaborative - Bradford District and Craven CCG established the Bradford Counselling Collaborative so agencies and commissioners could work together to help increase the impact of counselling and psychotherapy for the health population. The group, made up of more than 10 counselling agencies across the Bradford District and Craven area, enables local agencies to work together with the CCG to develop a coherent offer of evidence based support across the population and yet maintain the responsiveness for local communities. For more information on the collaborative, contact Alex.Church@bradford.nhs.uk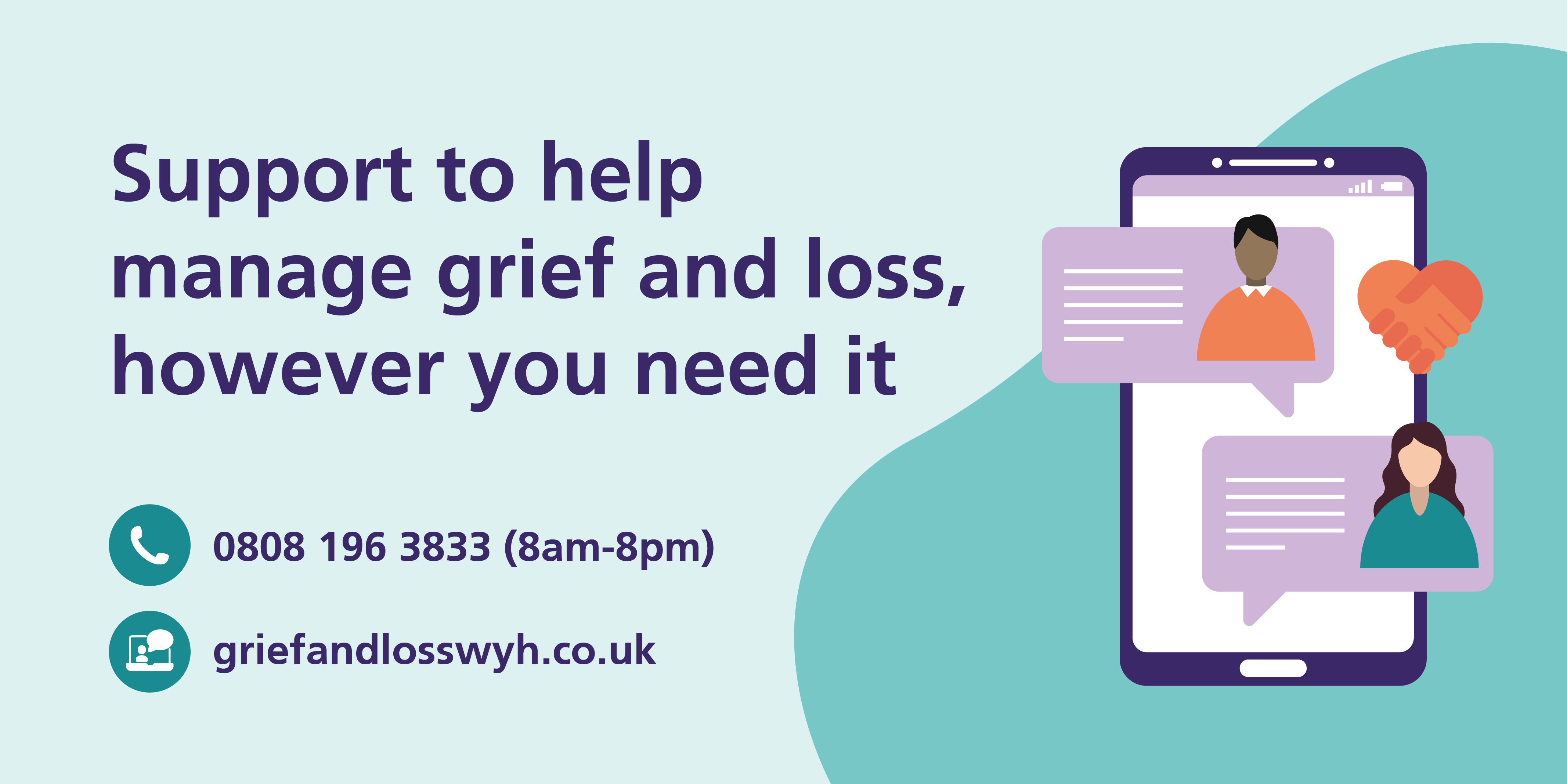 Feedback on the service
July 2020
Carole called our Grief and Loss Support Service and kindly took the time to give us some feedback.
'I had my call with your service yesterday and all went well. The member of staff (she didn't give her name) was kind, listened and gave me some helpful suggestions. It's very good to know that I can get back in touch with the service at any time.
I think it's made me realise that I need some specialised help. Writing to you both has helped to clear my head a bit. Seeing things written down in black and white like that has shown me that the counselling, the call yesterday etc. that I've had, though all very good and helpful, haven't been enough for me.
Yes, I'll always love my twin sister to pieces and will miss her every single day, but I can't go on like this where it's still affecting me so much for such a lot of the time and is still impacting on my whole life to such a degree 25 years on.
So I will be trying to find someone who specialises in helping someone with long-term grief like mine.
Thank you for your help, kindness and compassion. It's meant the world to me and has really helped me such a lot.
The service is so much needed and I feel sure that it will help a great number of people in West Yorkshire. We are very fortunate to have you all'.