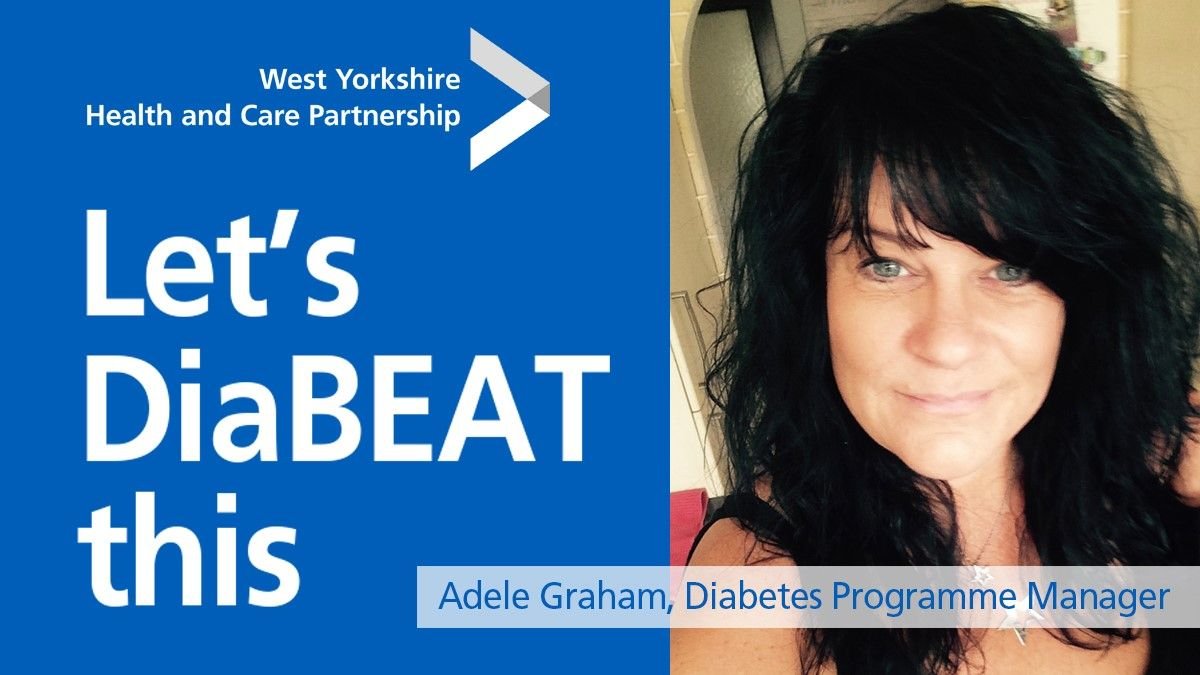 Hello, my name is Adele.
It's an absolute pleasure to be asked again to share with you what's been happening in the Partnership's Diabetes Programme since our last blog almost a year ago. The answer is lots!
Did you know that someone is diagnosed with diabetes every two minutes in the UK?
As it does every year, 14 November marks World Diabetes Day. A stark reminder of the extraordinarily challenging times we are living in, and where people with diabetes face additional health threats.

Although some of us are more at risk than others because of our age, ethnicity, family history, body shape or lifestyle, as with the pandemic, diabetes does not recognise any regional, national or international boundaries.
It now affects an estimated 350,000 in West Yorkshire, 5 million in the UK - with 12 million more at risk - and a staggering 460 million globally – which is set to rise by around 50% if left unchecked.
Every week in the UK there are around 170 amputations, 650 strokes and 500 heart attacks as a result of diabetes and around 500 people die prematurely.
A collaborative approach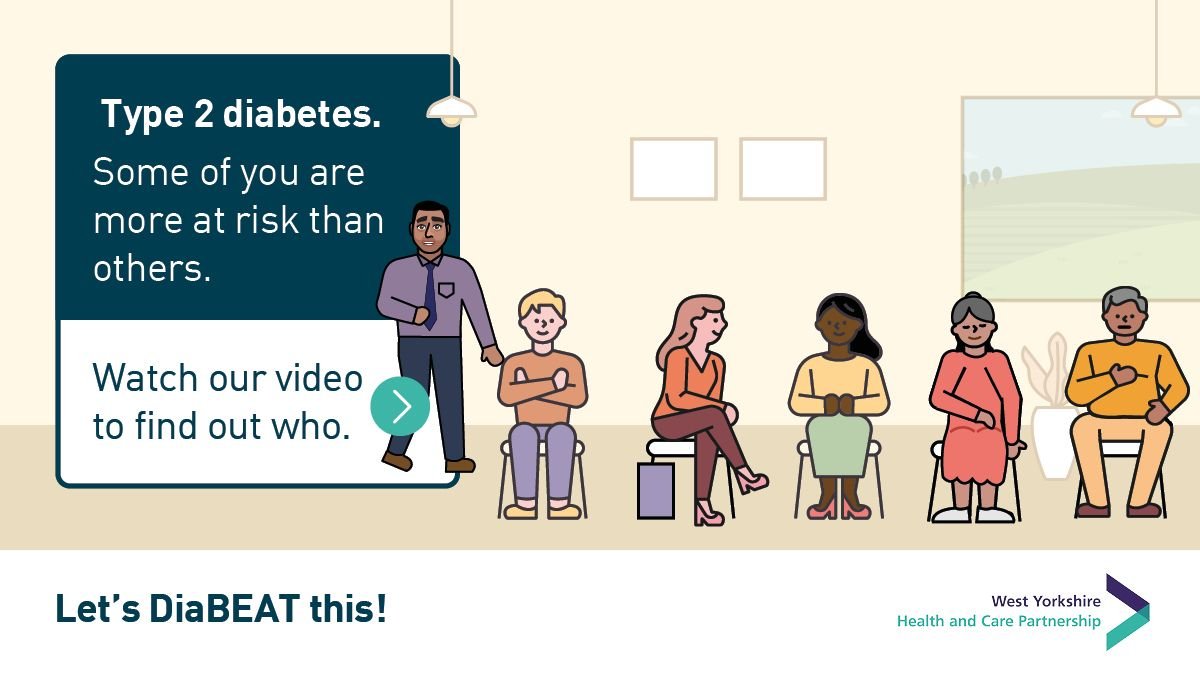 We cannot, and should not, work in isolation. Over the last 12 months we've exploited opportunities to work more closely with some of our other partnership programmes to implement system wide approaches to confront the causes and alarming rise in diabetes. This has included our Children Young People & Families, Harnessing the Power of Communities and Personalised Care programmes as well as our Health and Care Champions. Together, we are implementing initiatives and developing new projects to improve the lives of our patients living with diabetes. I'll talk about some of those initiatives in this blog.
Gold standard services
We've welcomed NHSE funding to support an expansion of diabetes in-patient specialist services (DiSN) and multi-disciplinary foot care teams (MDFT) under the Treatment and Care Programme. This has been used to set up two new gold standard services – one in Calderdale and Huddersfield, and the other in Wakefield. Recovery funding has also seen Calderdale CCG start a project to identify and review patients whose type 2 diabetes has worsened since their last review to make sure their symptoms do not exacerbate. We'll work closely with our Personalised Care Programme and fab Health and Care champions to deliver the reviews in partnership with GP practices keeping things as straightforward and convenient as possible. This might mean, for example, carrying out annual reviews at a time that is more convenient for the patient and providing information ahead of the review to encourage greater engagement. We'll also look to bring in family member or access interpreter services where language is a barrier to participation.
Diabetes and young people
Generally, our risk of diabetes increases when we hit 40 or over, or 25 for people with a Black or South Asian background. However, of late – and perhaps exacerbated by the pandemic - we have seen a disturbing upward trend in diabetes in younger people who are overweight.
In the same way we work across programme areas to support the delivery of projects, our small diabetes team along with Clinical Diabetes Lead Dr Waqas Tahir, also have an active role in supporting the new Healthy Weight, Nutrition and Food Resilience Programme. The ambition is to halt the trend in childhood obesity by 2024 and halve it by 2030 through a life course approach which prioritises reducing health inequalities between children from different communities. The programme aims to make sure we support communities to be a healthy weight, be active and have access to nutritious food along with trauma informed support to manage weight - no matter a child's age, background, circumstance or where they live.
There are two national programmes that link into this. The Digital Weight Management Programme, which offers remote access to weight management services for people with obesity and diabetes or hypertension. There's also the new and innovative Low-Calorie Diet which replaces usual foods with a micronutrient replete formulated diet for people with type 2 diabetes. This free service supports healthier lifestyle, weight loss and remission of type 2 diabetes and will be piloted in West Yorkshire commencing in early 2022 for two years.
Let's DiaBEAT this
We've been keeping our foot well and truly on the acceleration pedal with our Let's DiaBEAT this campaign to make sure diabetes is high on everyone's agenda. Thank you to all our partnership and communication colleagues for supporting and taking part in the various initiatives, including our social media activities, proving that we are stronger together.
Boosting referrals to the NHS National Diabetes Prevention Programme (NDPP) and preventing the onset of the condition in the first place has been one of our main priorities. That has seen the escalation of our work with CCG colleagues to enable primary care to begin to re-offer patient access to the NDPP including a guide for general practice with everything needed to invite eligible patients to the programme.
Along with our partners we've taken part in themed national diabetes weeks, ran a West Yorkshire wide billboard and shopping centre digital screen campaign, produced radio and printed media adverts and developed social media graphics. We've animated Dr Waqas Tahir in a video animation to help people recognise the early signs of type 2 diabetes and made a YouTube star of Dr James Thomas, Clinical Chair for the CCG and chair of the partnership's Clinical Forum who offers top tips to increase referrals to the NDPP. I am currently enjoying watching and being motivated by John Ebo's video diaries as he journeys through the NDPP and who is loving the difference it is making to his overall health and wellbeing. All these and more are available on our diabetes communications resource page set up especially for communication and other partner colleagues.
Making every contact count
Our events aimed at social prescribers and practice nurses have been extremely well attended and attracted great feedback and pledges to "refer, refer, refer" and "make every contact count." The sad reality is that type 2 diabetes is a largely preventable condition. Those events have really driven home how crucial it is to be vigilant and recognise the risk factors and support people in managing or preventing the condition. As healthcare professionals we're in a position to do just that whether that's signposting patients to the Diabetes UK Know Your Risk tool, making referrals to one of the available national or local initiatives such as the Healthy Living Programme and Digital Weight Management Programme to help people manage their diabetes or committing to take part in the Low Calorie Diet pilot when it starts.
We mustn't forget the impact that all our activities have on climate change too. Although the link might not be so obvious, by preventing diabetes we can reduce the risk of long-term conditions. That means fewer hospital trips and medications - cutting down on carbon emissions and packaging.
The future
These are exciting times for the programme as we are set to move into the partnership's Clinical and Professional Portfolio under the development of the new ICS. This will see the programme work alongside other cardiovascular programmes like stroke and cardiac as well as take advantage of expertise from within other programmes to support people in looking after their health and wellbeing and being the best, they can be.
Have a good weekend,
Adele