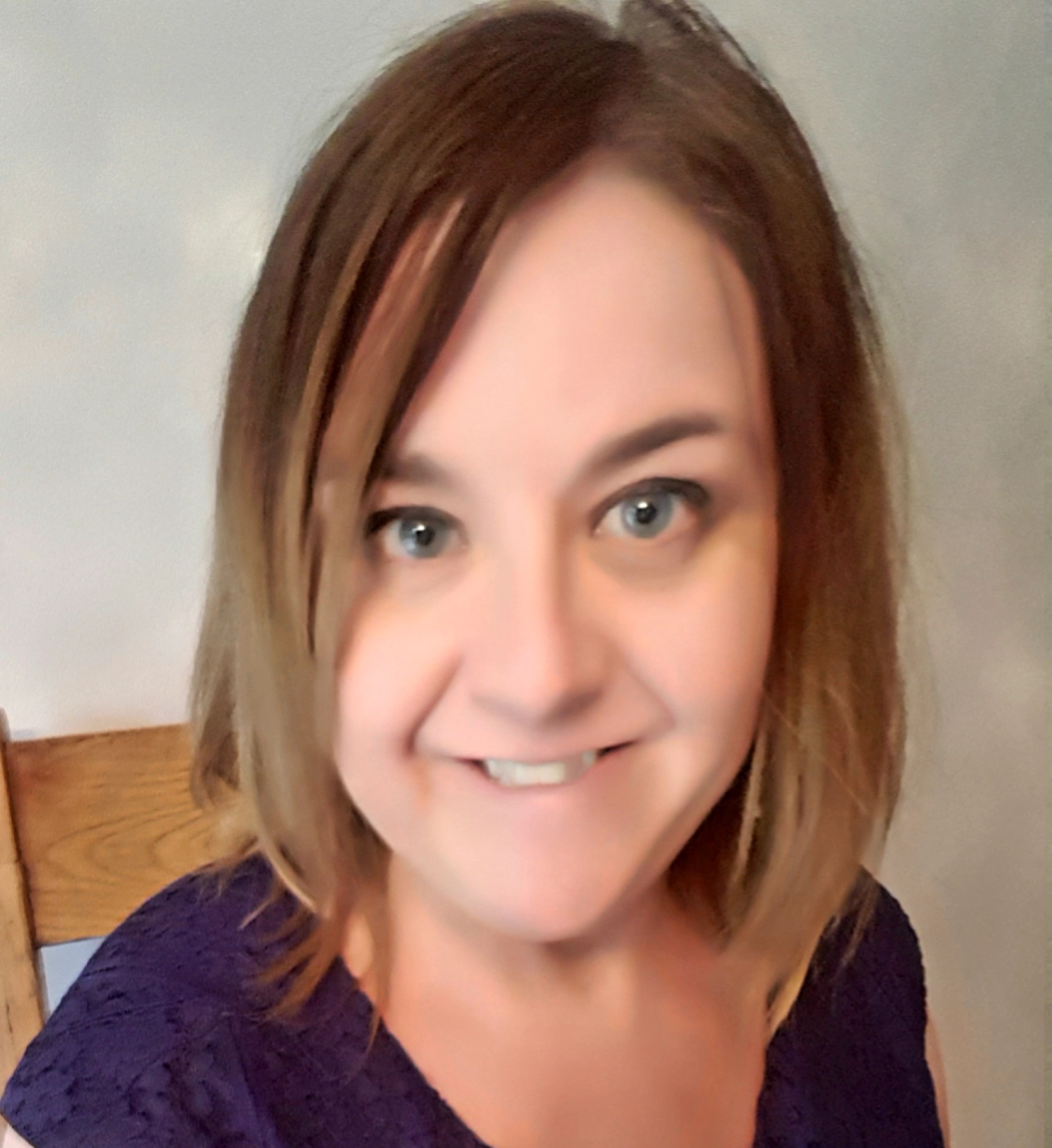 Hi I'm Sarah
It feels like now is the time for some reflection and some refocusing on what we must prioritise in this next year. As we enter the phase of living with COVID-19 (albeit it's fair to say that it doesn't feel like that from where I am in our health and care system), pressure is still significant for our hospitals and for many of those who work to keep people healthy and well in our care sector.
With a move away from COVID-19 testing, it will mean less opportunity to anticipate increases in demand and without the ability to plan for it there will no doubt be more periods of uncertainty for front line services, and others.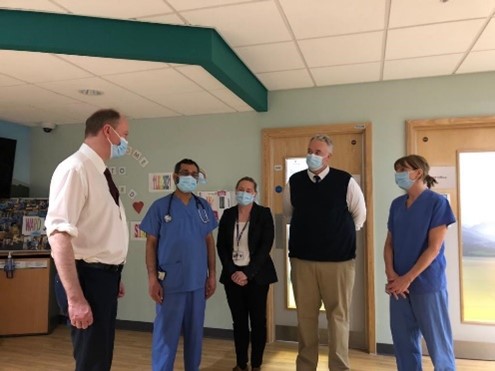 Professor Sir Chris Whitty recently visited Bradford and I was pleased to accompany Mel Pickup, CEO for Bradford Teaching Hospitals NHS Foundation Trust and Place-based Lead for Bradford District and Craven, in meeting some colleagues in one of our busy Bradford hospitals. I felt honoured to say hello and listen to their experiences.
I learnt a lot about the challenges hospital colleagues have faced over the past two years and more. Having been a nurse myself I thought I already had a good understanding and a grasp of the basic challenges this kind of respiratory illness brings but I in no way understood how ill people were, how much hospital services had to be reorganised and delivered in different ways and how even more complex and challenging delivering care and treatment became. They have gone above and beyond what anyone would have expected, I was full of admiration.
COVID-19 has been an experience where the local, regional, and national systems (and communities) have had to come together to take collective action to minimise and reduce the risks to people in a way that I have never seen before in my public health career. Everyone was affected at the same time and as professionals we all had to look at how we could use our expertise and experience while dealing with a different way of living our lives with family and friends.
Being one of many health and care leaders, COVID-19 often made me feel as though I wasn't doing enough. It made me question whether I was getting it right – we became obsessed with numbers (It was the first thing people asked me everywhere I went, even my dad who has never really understood what I do) including the number of people and families impacted by this horrible virus.
In the beginning of the pandemic, I remember as though it was yesterday, people began to be really concerned when we hit 50 cases of COVID for every 100,000 people in the Bradford District, not knowing at that point, that cases would eventually reach more than 1000 per 100,000 people. At every point the focus remained on the actions we must collectively take to keep communities safe and our essential services functioning. We were so focused on tracking the virus because that is how we reported whether we were succeeding in our efforts to reduce COVID-19 and most importantly save lives, but it was still important to check in with partners and understand the impact on the local system, the numbers couldn't tell us everything.
I remember being in an outbreak control board meeting expressing relief that our cases were coming down because we had been under the scrutiny of National Government, whilst recognising that for our acute hospital trusts, the picture remained bleak and for them in their working environments things were getting worse, not better.
Similarly, I realised that implementing social distancing rules in Council buildings had much broader implications than you first think, as everyone automatically thinks of offices – but for schools there were huge implications and lots of questions. What seemed like a simple task for some was the opposite for others and there were issues to consider that I hadn't even thought of in terms of impact on different working environments. Yes, there was much to think about, and often with flight of foot.
Chris Naylor from the Kings Fund recently wrote in his blog that integrated care systems are intended to be a fundamental departure from previous structures with a different type of leadership based on partnership, in which local partner organisations hold collective responsibility for resource use and outcomes. COVID-19 pushed us out of our comfort zones in so many ways and we often had to use different types of leadership to take on the scale of the challenge we were faced with. It challenged our assumptions, we built new or stronger relationships and we thankfully increased our understanding about different parts of the jigsaw that make up our local, regional, and national systems.
My examples of learning are small, but the impact on me has been tremendous. The number of people who lost their lives, the families, and friends it affected will live with me, like so many others, for the rest of my life. My personal learning has also reminded me of the challenges of system leadership and that each one of us bring something special to this complex West Yorkshire system. Everyone is equally important, and everyone has an essential role. Everyone in equal measure is needed if we are going to get this right for local people's health and wellbeing.
While I hope COVID-19 will not dominate our thinking and our actions for much longer the lessons we learnt about ourselves, and our leadership shouldn't be lost. We have lots of challenges that will benefit from us continuing to come together in the same way to tackle complex problems and it's really important that we roll this forward for future experiences when and should they be needed (which they most probably will).
The first that springs to mind is health inequalities – there is no better example of an agenda that impacts on us all and requires everyone's expertise to do what we can in our organisations to get it right and collectively address the health inequalities we know exist. COVID-19 brought this back with a stark reality to the forefront of our minds – the desire to turn the curve is stronger than ever before. The time to act has never been more important and we must do so.
Recent feedback on our Partnership (integrated care system) was that our approach to tackling inequalities was strong but the challenge, as always, is how that translates our commitment into improving real outcomes for people. Let's use the lessons we learnt from coming together for COVID-19 to tackle something that has the potential to have a longer-term impact on far too many people's health and wellbeing – health inequalities.
Thanks for reading and have a good weekend
Sarah
What else has been happening this week?
Partnership encourages all to check in with their mates to prevent suicide
Our Partnership launched a new campaign on Monday to create awareness around male suicide across the area and is urging everyone to get involved. The campaign, which builds on the Partnership's national award-winning staff suicide prevention campaign 'Check-In', aims to promote a wellbeing culture by normalising the conversation around suicide and mental health as well as providing communication assets, links to credible sources such as the life-saving Zero Suicide Alliance training, and signposting to local support.
The campaign aims to raise awareness of the risk factors that may lead to suicide, inspiring people to start conversations about mental health with the men in their life at home, in the community and at work. It sets out practical help we can all give when checking-in. Messages include:
Is your sporty mate suddenly off his game?
Does your mate always want to have one too many?
Does your mate get down when he can't see his kids grow up?
Has your mate left service but he's still fighting?
Developed with local men and built from their experiences, the resources can be used publicly in various places – in person and virtually, such as What's App groups, on Facebook and Instagram, in workplaces, community groups and elsewhere at Check-in With Your Mate – Check-In (staffcheck-in.co.uk).
The Office for National Statistics (ONS) data shows that suicide is more common in West Yorkshire than in England as a whole, with significantly more men taking their own lives than women. The ONS data shows that there were 235 deaths registered by coroners as suicides in West Yorkshire in 2020, with an average of 4.5 people per week.
This priority area of work is one of our Partnership's ten ambitions set out in our five-year plan.
Kim Shutler is CEO at The Cellar Trust, and Senior Responsible Officer for our Suicide Prevention Network. In this short film, Kim asks us all to take time to check-in with our mates. Click on Kim's photograph on the right to watch her film.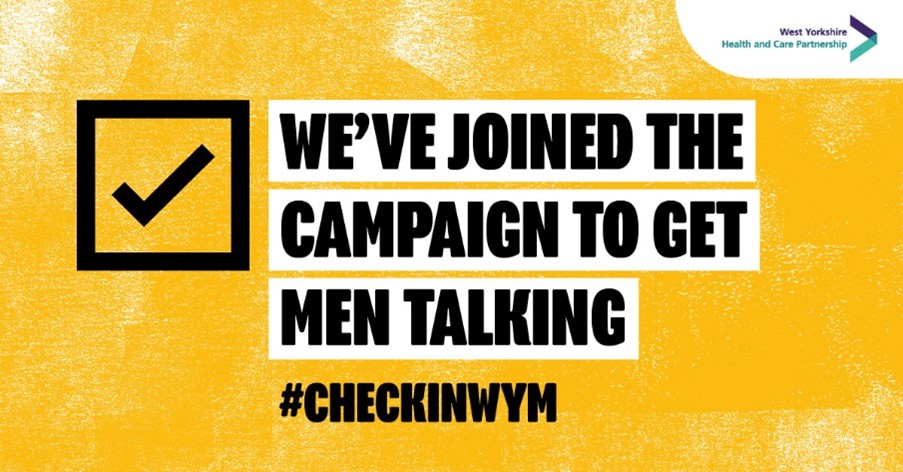 Improving population health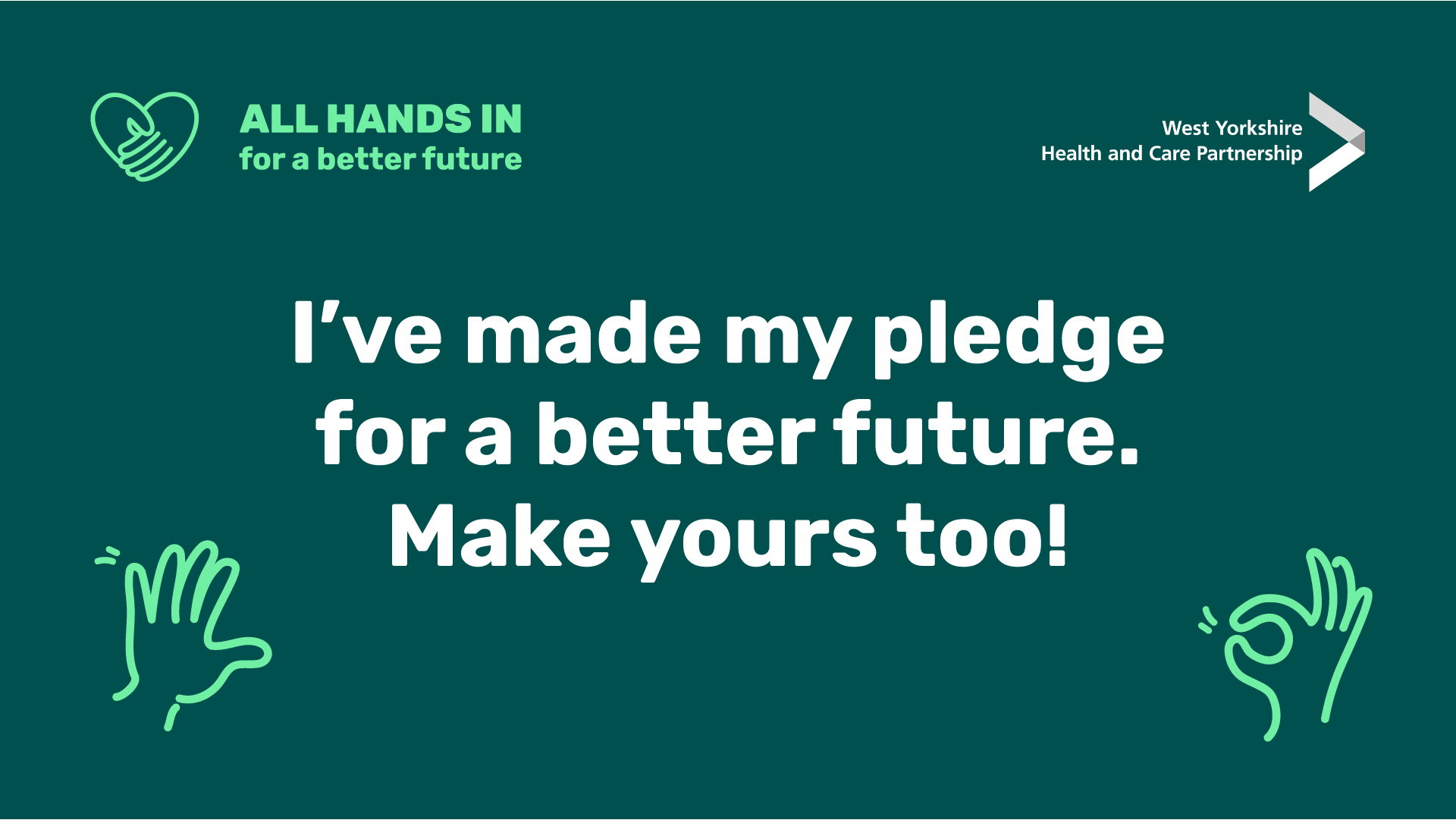 The Improving Population Health Programme Board met on 12 May with a packed agenda. There were updates around the Partnership's Green Plan 2022-2025 which describes the actions that we will take in the next three years as well as our new All Hands In campaign.
The Board committed to collaborative working between healthcare, affordable warmth and housing services to achieve our ambition to address the health inequality gap for children living in households with the lowest incomes with respect to children and young people with asthma.
An evaluation tool to assess the reach of the Health Inequalities Grant funding into deprived communities in West Yorkshire, already welcomed by voluntary and community sector colleague, was endorsed by the Board. Members also heard updates around initiatives being carried out by the Health Equity Fellows as well as the Core20PLUS Connectors programme to reduce health inequalities. Our Partnership was selected for funding to form part of the national wave 1.
Time was taken to reflect on all the other latest activities across climate change, housing for health, health inequalities, prevention, reducing violent crime and adversity, trauma and resilience - including the recent Knowledge Exchange. The Board is chaired by Dr James Thomas, Chair of Bradford District and Craven Clinical Commissioning Group and Robin Tuddenham, CEO for Calderdale Council and Chief Officer for Calderdale Commissioning.
NHS West Yorkshire Integrated Care Board (Shadow)
The 'shadow' board met in public on Tuesday. The board, which is part of West Yorkshire Health and Care Partnership (WY HCP), works together to join up health and care services, to improve the health and wellbeing of 2.4million people living across the area and to reduce health inequalities. The board won't be established formally, and all its members confirmed until 1 July 2022. It is meeting in 'shadow' to support the preparations for the integrated care board ready for when it becomes a statutory organisation from the 1 July. You can watch a recording of the meeting here.
The Snowdogs are coming to Kirklees
The bees buzzed in Manchester, the elephants paraded through Sheffield and the rockets landed in Leicester and the Snowdogs are coming to Kirklees. For eight whole weeks in Autumn 2022, towns and villages across Kirklees will be brought to life by a pack of dazzlingly decorated Snowdog sculptures, creating a spectacular event for our entire community to enjoy.
Each sculpture will be sponsored by a business and individually designed by an artist. A free event for all, Snowdogs Support Life - Kirklees will show off the very best creative talent from local, regional, and national artists. Our pack of Snowdogs will arrive next Autumn, with money raised throughout the event helping to support The Kirkwood, which provides vital care for people affected by any life limiting illness across Kirklees, every step of the way. You can find out more here.
Harnessing the Power of Communities (HPoC)
We are excited to have appointed a new Programme Manager for HPoC who will start in late June – we hope to share more details soon. And we are currently liaising on the recruitment of the voluntary community social enterprise sector (VCSE) integrated care board member and HPoC senior responsible officer which we hope will go out to advertisement in the next week or so.
Training was delivered earlier this month by HPoC and a range of VCSE organisations to 44 newly qualified GPs and general practice nurses with the aim of building understanding and connectivity with the sector early in their careers. This will be an annual event which we hope will lead to increased collaboration with the VCSE sector and better health and well-being outcomes for the population.
We are collaborating with West Yorkshire Combined Authority, South Yorkshire Integrated Care System and Humber, Coast and Vale Integrated Care System, to build on the research we completed last year with Durham University, strengthening our knowledge, and understanding of the VCSE sector in Yorkshire. The three integrated care systems are working together with Yorkshire Ambulance Service to gain feedback from some specific population groups, via VCSE organisations working with these groups, on their experience of using the ambulance service, with the aim of making it more accessible to them.
HPoC will also be continuing in their role as the West Yorkshire lead for Thriving Communities – the VCSE social prescribing network and programme of training, development, and peer support.
New provider for diabetes prevention
Ingeus has been awarded the contract to run the NHS Diabetes Prevention Programme (NDPP) in West Yorkshire for the next three years. This follows a procurement exercise led by NHS England in which the Partnership was involved. The contract will start from 1 August 2022 when the current one ends.
The Diabetes Programme Team will work closely with clinical commissioning groups and GP practices as well as the current and new provider to ensure a smooth transition. There should be no change for patients. For more information please contact adele.morris2@nhs.net, adele.brearton@nhs.net or jacob.mutsvanemoto@nhs.net.
Type 2 Diabetes Prevention Week 2022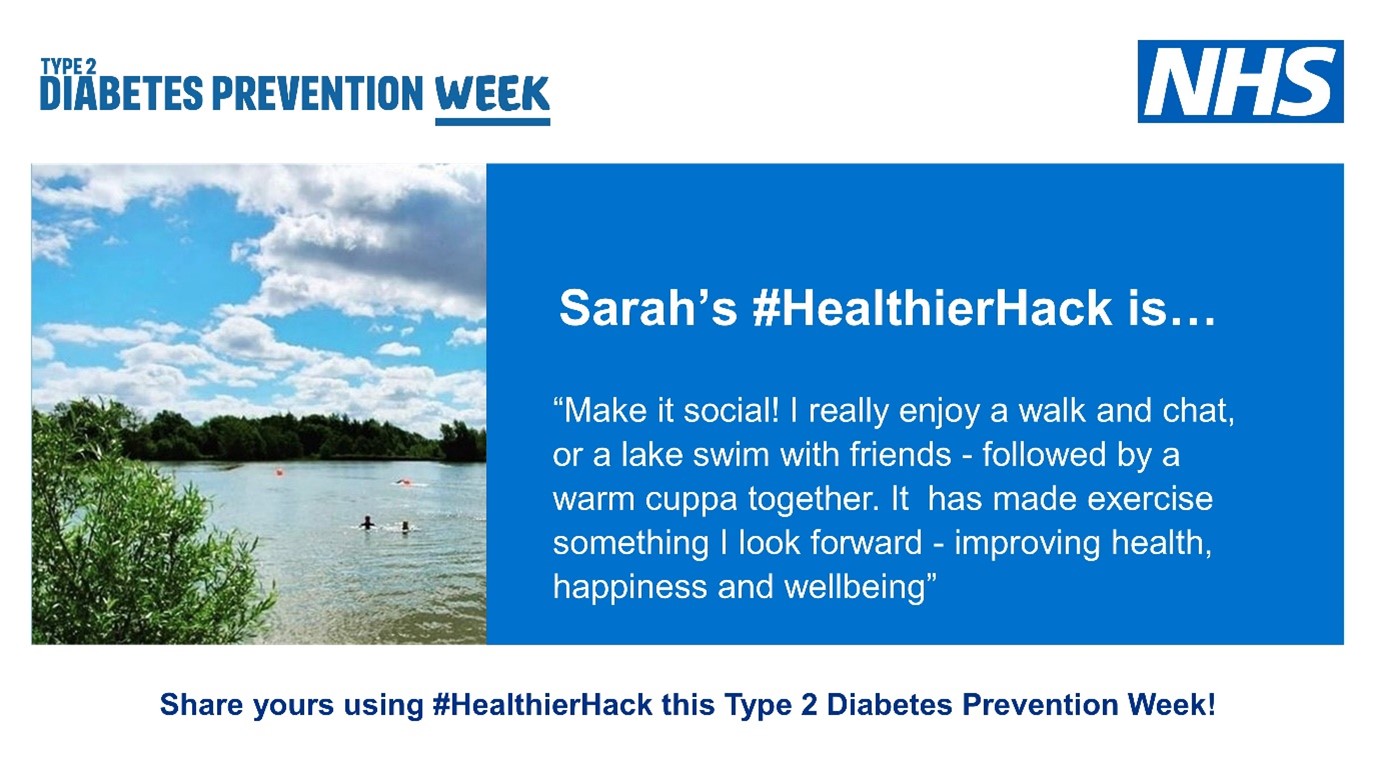 Next week, from Monday 23 to Sunday 29 May 2022, is National Type 2 Diabetes Prevention Week. Colleagues will be tweeting their Healthier Hack tips and we've shared a social media plan and activities with all communication colleagues across West Yorkshire.
For more information and ways to get involved, please see the Diabetes UK get involved page, the national campaign resource centre and our diabetes communications resource page set up especially for communication and other partner colleagues to use. If you struggle to access any of the resources, please email: donna.hamer1@nhs.net.
Getting ready for Carers Week in June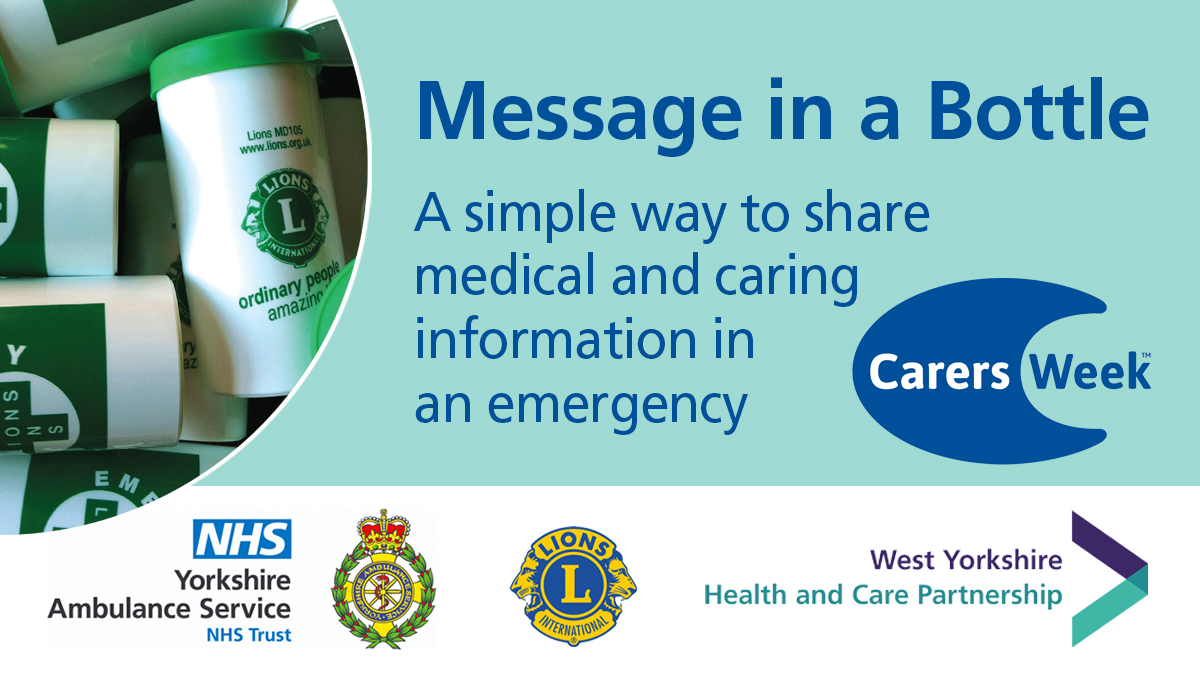 This year Carers Week runs from 6 to 12 June, with the theme Visible, Valued and Supported. As a partnership our aim is to increase recognition and support for approximately 400,000 unpaid carers living across West Yorkshire in Bradford District and Craven, Calderdale, Kirklees, Leeds, and Wakefield District.
Working with local caring organisations, we want to support them and local carers to encourage people to plan for the eventuality of an emergency so that those they care for receive the help they need. This includes promoting the 'message in a bottle' initiative, created by the Lions Club Charity, who encourage people to share important medical information in a green and white bottle in an easy to find location – the fridge.
New Partnership guidance for managers also aims to help employers have supportive conversations with employees who have unpaid caring responsibilities. 1 in 7 of our workforce is a working carer with 600 people stop working every day to care for a loved one. This means employers lose staff, knowledge, and skills. Evidence shows that allowing greater flexible working enables working carers to balance work and care successfully. The guidance document and working carer passport can be viewed on our unpaid carers webpage.
We are also working hard for young carers across West Yorkshire and will be launching the new Young Carers Education pack with resources to help support them.