The WY&H LMS Board is the mechanism through which we will collaboratively transform maternity services, with a focus of delivering high quality, safe and sustainable maternity services and improved outcomes and experience for woman and their families. The LMS Board provides oversight, and challenge to the delivery and implementation of the aims and priorities of the LMS.
Health and care services, councils, community organisations and families in West Yorkshire and Harrogate work together as the Local Maternity System (LMS), with all partners represented on the LMS Board and at working groups. This diagram illustrates the governance arrangements for those groups: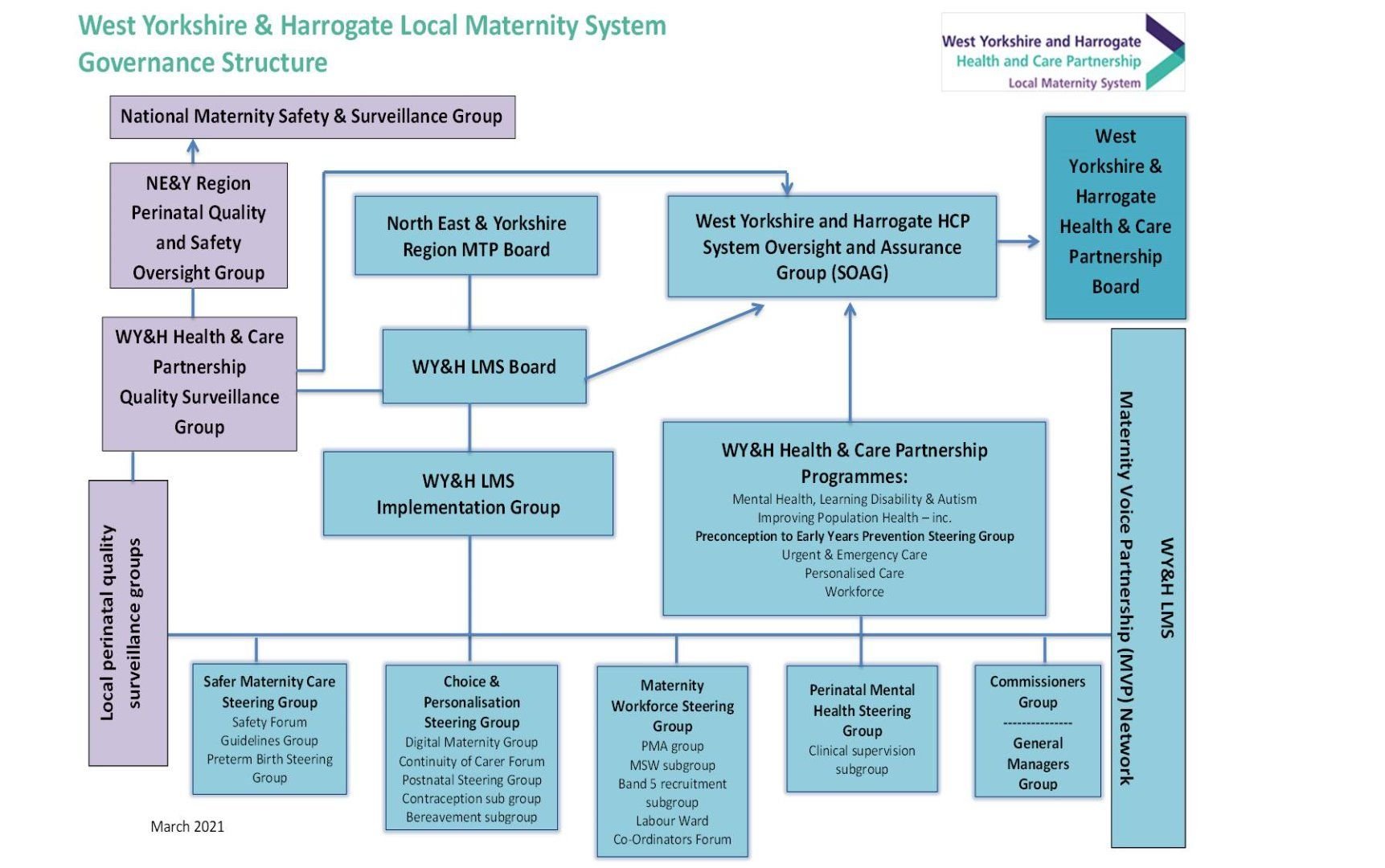 You can also download the attached image by clicking here.
The Senior Responsible Officers are:
Carol McKenna, Accountable Officer, NHS Kirklees CCG
Anne-Marie Henshaw , Director of Midwifery and Women's Health, The Mid Yorkshire Hospitals NHS Trust
Our Health Needs Assessment provides us with vital information around which communities and demographic groups will benefit most from out transformation work.
Our Equality Impact Assessment identifies the groups of people most likely to be affected by the transformation of local maternity services. This will be used alongside the Maternity Health Needs Assessment (HNA) to help the Partnership develop options to improve maternity care across the area. It will also inform future engagement with people across West Yorkshire and Harrogate.
In alignment with the HEE Maternity Workforce Strategy (2019), the WY&H LMS recognises that our workforce is our greatest strength, enabling maternity services to deliver more personalised and safer care.
Our vision is to ensure we support our workforce to be highly skilled and knowledgeable in all elements of the maternity and neonatal pathway. We will promote a culture of learning and continuous improvement to maximise quality and outcomes.
Our ambition is for maternity services in West Yorkshire and Harrogate to be where the maternity workforce chooses to work and wants to stay. In order to achieve this, the LMS has developed a workforce action plan. The key areas of focus for 2019-20 are;
Supporting newly qualified midwives by developing a standardised preceptorship programme to help them transition from their student role.
Improving the recruitment process for newly qualified midwives
Providing opportunities for leadership training
Supporting staff wellbeing during maternity transformation
Developing the Maternity Support Worker role