"If people are banging on your door to help, let them in"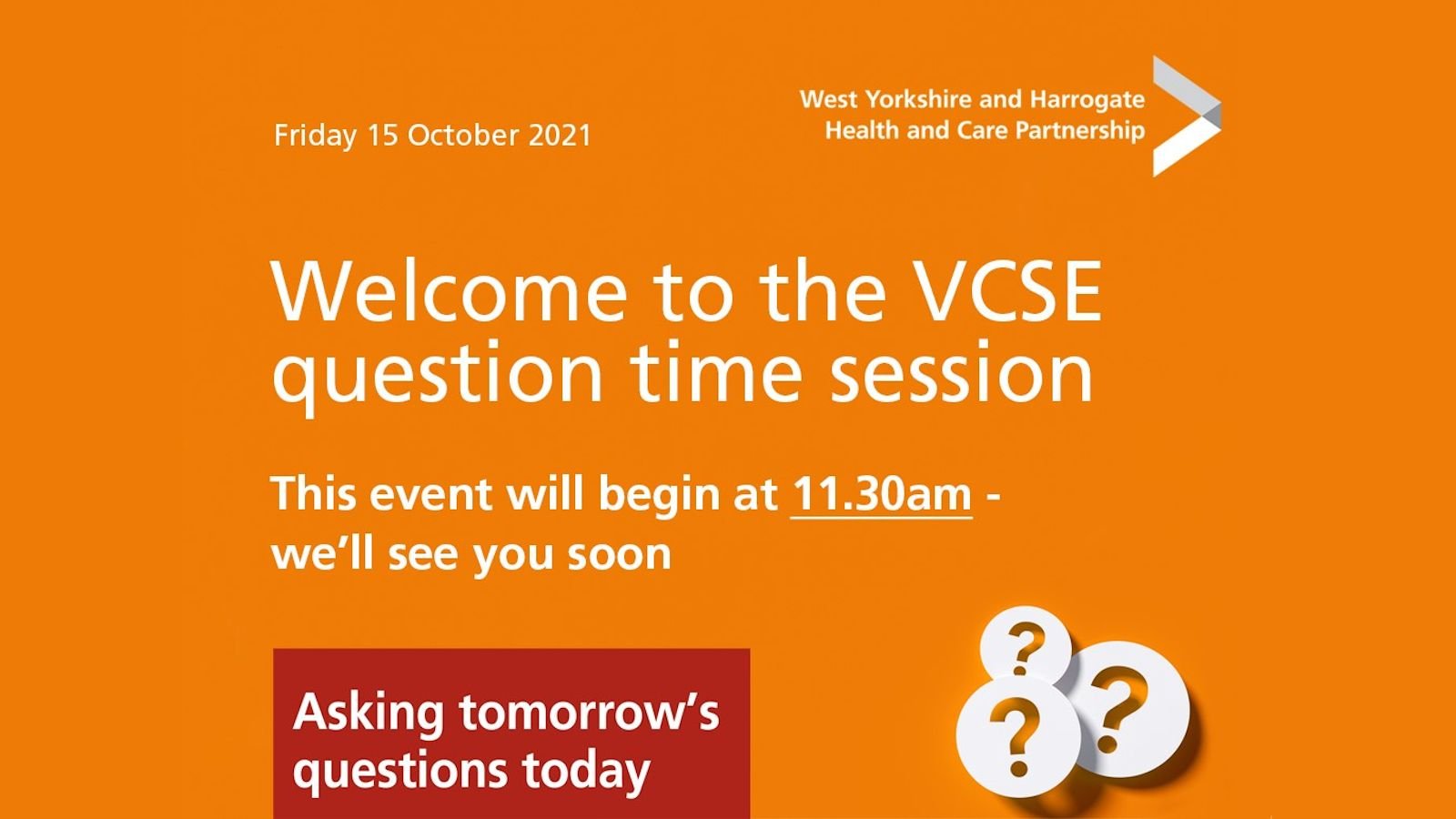 On Friday 15 October 2021 we hosted our latest community resilience event, which was the fourth in our 'Stronger, healthier, better together' series, and again it was a virtual production via webinar. Voluntary, community and social enterprise (VCSE) partners joined the session, with the aim of giving everyone the opportunity to ask questions directly and discuss the health and care developments which are taking place.
Did you know that…
There are over 14,000 VCSE organisations in our area
Together they employ 43,000 people which equates to around 4% of the total workforce.
We have 147,000 volunteers across all of the organisations and communities.
The webinar was hosted by Rob Webster, CBE, our Partnership CEO Lead and Hilary Thompson, Lead for Harnessing the Power of Communities.
The panel of six health and care leaders included:
Helen Hirst, Chief Officer for Bradford district and Craven Clinical Commissioning Group and WY&H HCP Lead for the Partnership's System Leadership and Development Programme
Brendan Brown, CEO for Airedale NHS Foundation Trust and WY&H HCP CEO Lead for the Partnership's Workforce Programme
Frances Newall, NHS England, Head of Engagement and Communications
Rachael Loftus, Head of Regional Health Partnerships
Nahid Rasool, Chief Executive for Shantona Women's and Family Centre, Leeds
Fatima Khan-Shah, WY&H HCP Programme Director for Unpaid Carers and Personalised Care.
The panel were joined by an audience of over 80 people with questions submitted prior to the event. They covered a range of issues and queries round the role of the VCSE sector within the Partnership, and how that may look going forward.
The people who make up the VCSE sector play a powerful and essential role and these events give our colleagues the opportunity to 'have their say' on health and care developments across the area, as well as the future of our integrated care system. It is, therefore, vital that we get to hear directly about what is important to them and the diverse communities which they support and represent.
By highlighting the areas that are important to the provision for health and wellbeing across the area we can look at new, innovative ways to design and deliver services and work more collaboratively to meet our shared goals.
The audience could also comment and ask additional questions via the live Twitter feed, which added more energy into a tremendous event.
Just some of the comments received
"You should never see the VCSE as being a cheaper alternative or something that you can't afford to invest in. You should recognise that, by not investing in the VCSE, everything becomes more expensive"
"It's our job as people who are paid to deliver better health and care to go out and listen, and really hear the voices of people, it's not their job to find us"
"As people have said this offers windows into different worlds and perhaps that statement shows how far apart the VCSE and statutory health services can be. Definitely a positive step towards integration, but there is a long way to go!"
"Lived experience of unpaid carers is crucial, but also a really important point that lived experience as a carer should be recognised as useful for career development in health & social care roles. Untapped potential when we have workforce shortages."
"We need to recognise the power of the very many small grassroots organisations and flip our approach to become bottom up" "we know what works in the ground"
"We have the inspiration, insight and expertise in our third sector partnerships, and if we match that with the right infrastructure and culture we can make our shared ambitious our reality".
Next Steps