My diabetes story - by Elise Featherstone
Originally from the North East, I moved to Leeds in 2015 to study Graphic and Communication Design at the University of Leeds. After graduating I decided to make the permanent move to West Yorkshire.
My diagnosis came at an early age in 2002 when I was just 5 years old.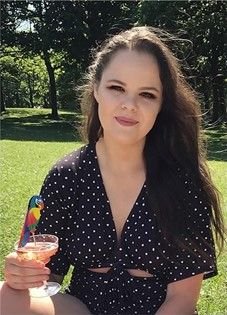 I became unwell with symptoms including weight loss and tiredness, I was eventually rushed to hospital by my GP where I was treated for a week at the Great North Children's Hospital Diabetes ward.
Although diabetes does not run in my family exactly one year after my initial diagnosis my twin sister was also diagnosed with type 1 diabetes. Having been through my ill health and diagnosis a year before my family were able to recognise her symptoms very early on - preventing initial deterioration of her health and could quickly adjust.
Growing up with diabetes at a young age is restrictive. As a child, it was difficult to understand why my eating and activities differed from other children but being able to grow through it with my twin was monumental in understanding I wasn't isolated.
After suffering a diabetic seizure during my sleep in 2012 due to a low blood sugar my confidence and control of my diabetes spiralled. I didn't want to be in that position again so ensured my blood sugar levels remained higher, an unhealthy and dangerous cycle. With the introduction of new glucose warning technology my control is now healthy and within target but I still occasionally experience anxiety around sleep and my blood sugar.
Today I don't allow my condition to define what I can or cannot do. I believe transparency and openness is essential in raising awareness and understanding for the million others like me living with the condition not to hide it, to embrace injecting in public and openly address any questions or advice around living with type 1 diabetes.The advancement of diabetic technology is truly life changing. After being prescribed the Freestyle Libre sensor-based glucose monitoring system in 2018, my HbA1c and health have dramatically improved. I feel more independent - and for the first time since being young, I am able to feel significantly more in my fingertips after switching from finger prick glucose monitoring to the sensor. I also feel far less anxiety around my sleep as the Libre sounds an alarm via my phone when my blood sugar is dropping through the night.