Digital is integral to delivering the transformation we need in health and care services
The NHS is undergoing digital transformation at pace. Covid-19 has also become a catalyst for speeding up digital transformation.
The digital strategy outlines how we will deliver digital transformation across the Partnership. We work collaboratively with the Chief Information Officers and Chief Clinical Information Officers from across West Yorkshire and Harrogate, as well as stakeholders within the Partnership including the System Leadership Executive Group, Clinical Forum and Partnership priority programme leads to develop the strategy.
A key component of our digital strategy supports the region's vision to connect care to improve people's lives. The Partnership's Digital Programme is leading the rollout by joining up health and care records to provide the right information, to the right person, at the right time to improve the health and wellbeing of people, safely and securely. West Yorkshire and Harrogate works in partnership with the central Yorkshire and Humber Care Record team.
The Yorkshire and Humber Care Record is a programme of work where we work closely with our neighbouring health partnerships – Humber, Coast and Vale and South Yorkshire and Bassetlaw. It started over two years ago when NHS England/NHS X awarded Yorkshire and Humber £7.5m worth of investment as an an exemplar to kick start a Local Health Care Record.
In July 2018, NHS England awarded Yorkshire and Humber £7.5m in funding, as an exemplar to kick start a Local Health Care Record over 2 years. NHS England launched the exemplar programme to reduce unnecessary patient tests, improve patient safety through better working between hospitals, GPs and social care and make sure relevant information was available to everyone involved in an individual's care and support.
Since then the Yorkshire and Humber Care Record has created a suite of solutions to facilitate information sharing across organisations in the region to improve care and patient experience.
The first set of Yorkshire and Humber NHS organisations are connected to the Yorkshire and Humber Care Record and a number of others are in the process of doing so. We are carrying out work to get a better understanding of current local set ups. This will make it easier to schedule the technical and non-technical work needed to connect all West Yorkshire and Harrogate health and care organisations as quickly as possible.
The Partnership's Digital Board has agreed the work to connect all organisations. Following a pause because of Covid-19, we've now restarted work. This includes:
Sharing 'alert' data - we are carrying out a technical readiness assessment with each organisation to understand the current state of readiness for connectivity
Each organisation that connects will provide a patient data set – defined by the Yorkshire and Humber Care Record Team - for other practitioners, who have defined needs and permissions, to view
Maternity data sharing - there is a national mandate to share data between maternity providers where multiple organisations are providing treatment to a patient. The hospital trusts in West Yorkshire and Harrogate are carrying out a project to use the Yorkshire and Humber Care Record technology to share a summary of maternity data between each organisation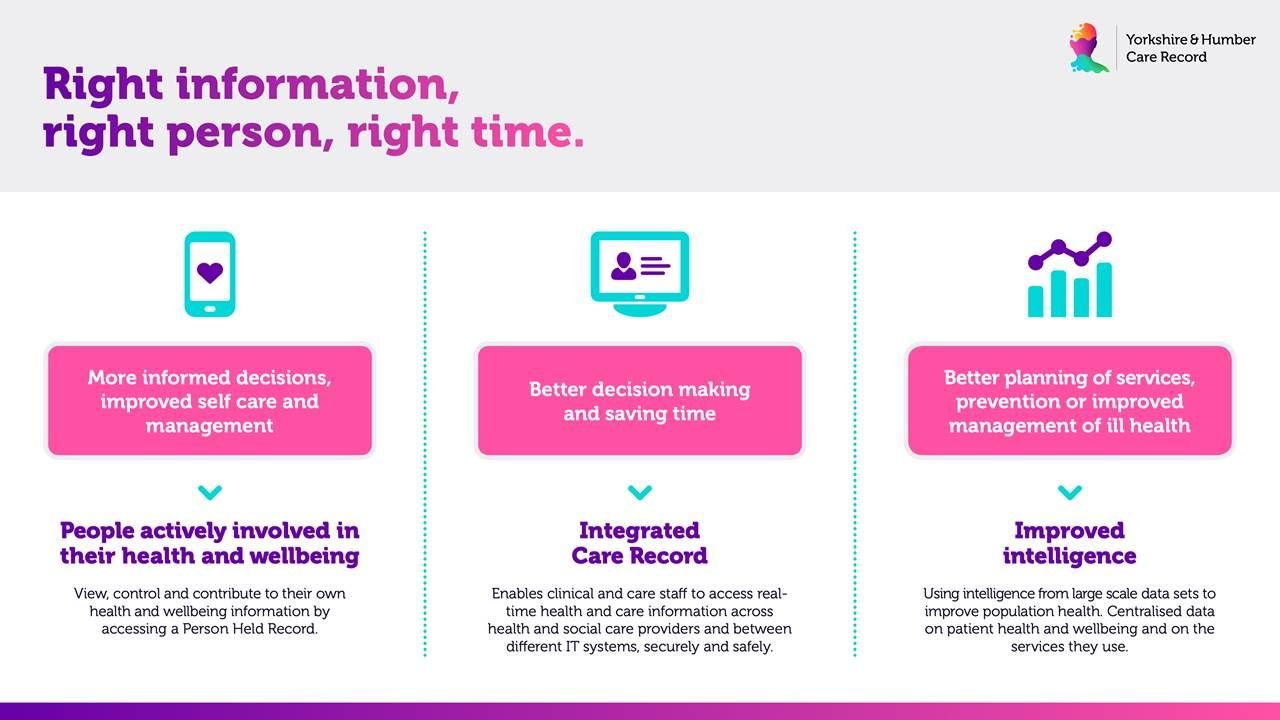 Yorkshire and Humber Care Record portal demonstration
The Yorkshire & Humber Care Record has recorded a five-minute video to provide an overview of how the Interweave Care Portal works. The care record provides an aggregated and secure view of information from multiple health and care settings in real time. No data is stored on the portal itself. The system retrieves information such as appointments, interaction between the patient and the healthcare setting, allergies, medications, observations and results. This allows healthcare colleagues to support patient care through more informed decision making.