Covid 19 Omicron update – Mental health services in West Yorkshire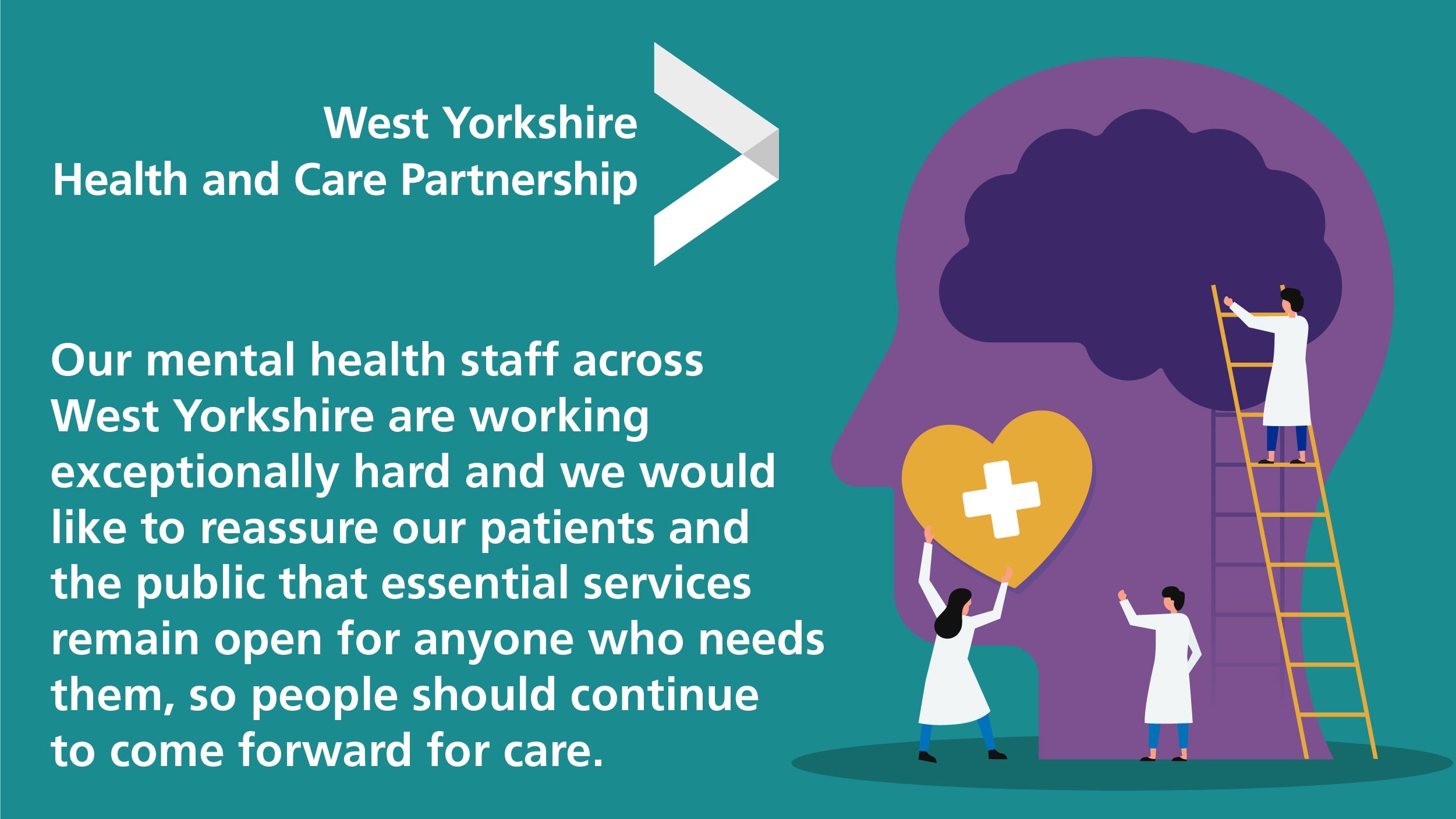 Mental health services across West Yorkshire are facing significant staffing issues due to absence related to usual winter pressures as well as Covid, and inpatient wards are under pressure. We don't yet know the full scale of rising Omicron cases and how this will affect people needing NHS treatment.
Our staff are working exceptionally hard and we would like to reassure our patients and the public that essential services remain open for anyone who needs them, so people should continue to come forward for care.
Your experience of care may be slightly different due to the changes we have had to make to manage the current situation, for example, your appointment may need to be rearranged. People whose appointments need to be rearranged by us will be contacted directly by our teams. If you are not contacted directly, please turn up for your appointment. If you need to rearrange your appointment, please contact the number on your appointment letter so it can be reallocated to another patient. We know that face to face care is important to the treatment and recovery of some patients and we are prioritising this care.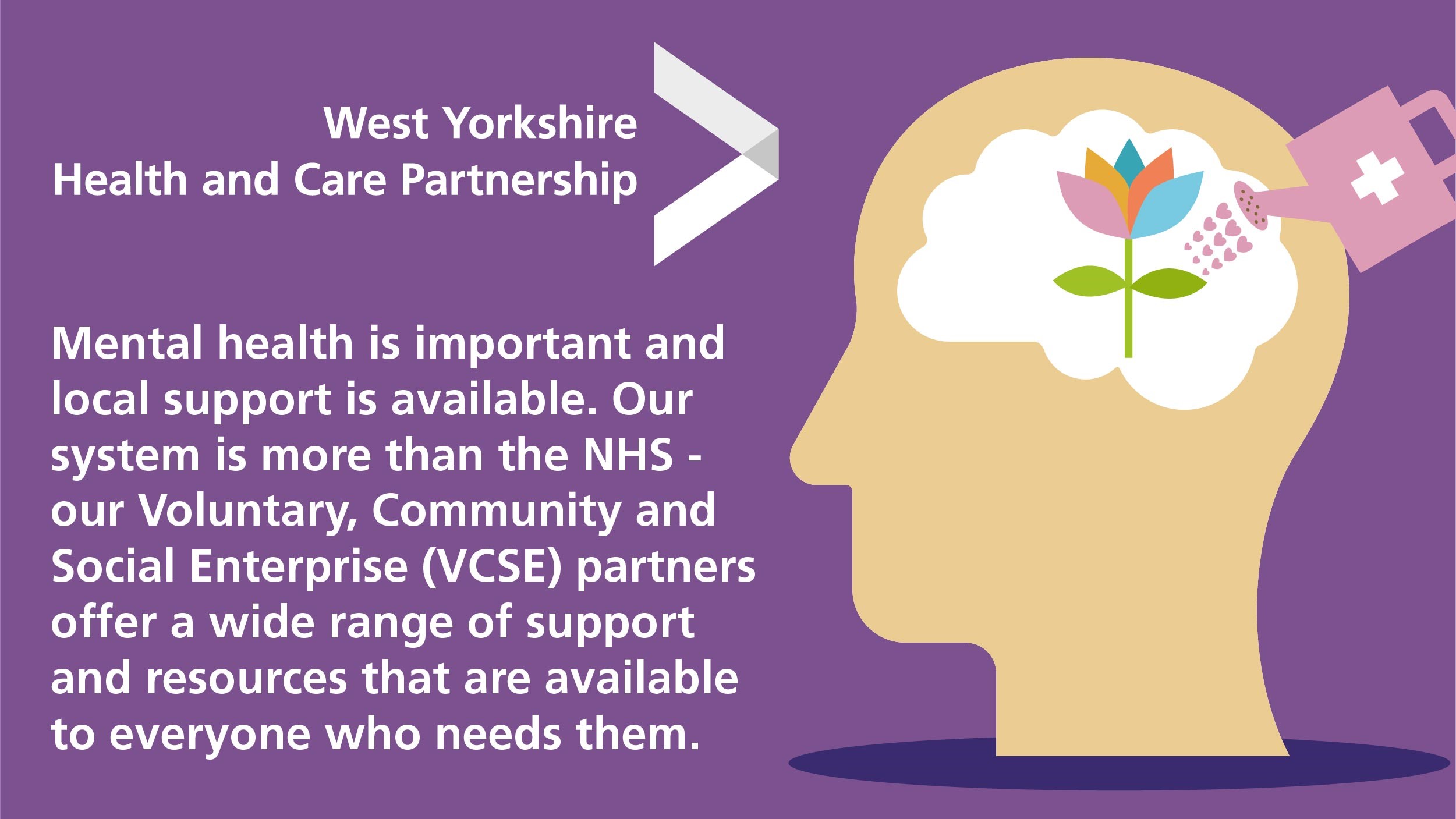 Mental health is important – local support is still available. Our system is more than the NHS – our Voluntary, Community and Social Enterprise (VCSE) partners offer a wide range of support and resources that are available to everyone who needs them. The support available from these trusted partners can keep you well and help you through all parts of your care journey.
People living in Calderdale, Kirklees and Wakefield can find help and support from Choose Well, provided by the South West Yorkshire Partnership NHS Foundation Trust.
People living in Leeds can find help and support from our trusted partners at MindWell (for adults) and MindMate (for children and young people).
People living in Bradford District and Craven can find help and support from Healthy Minds.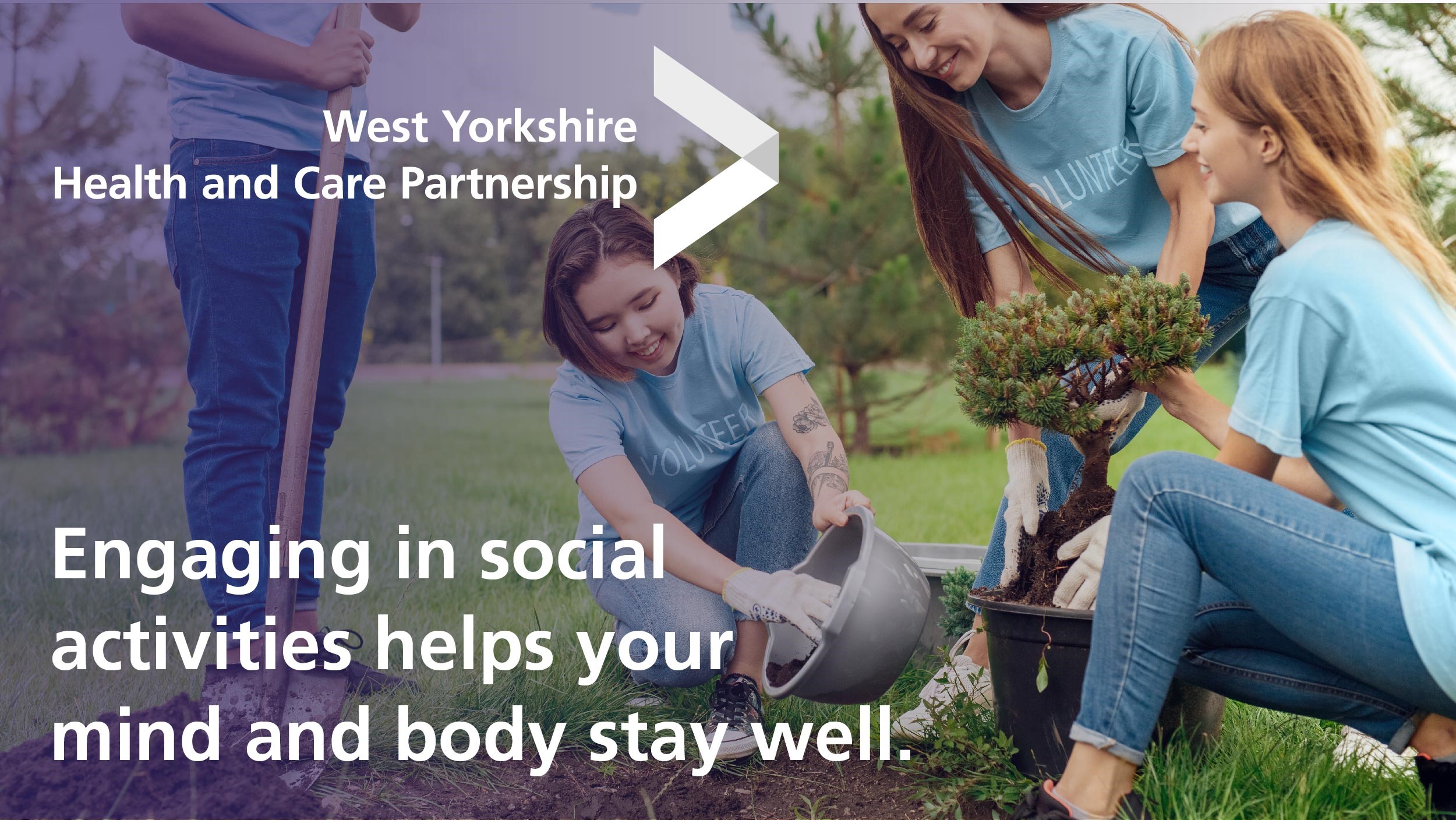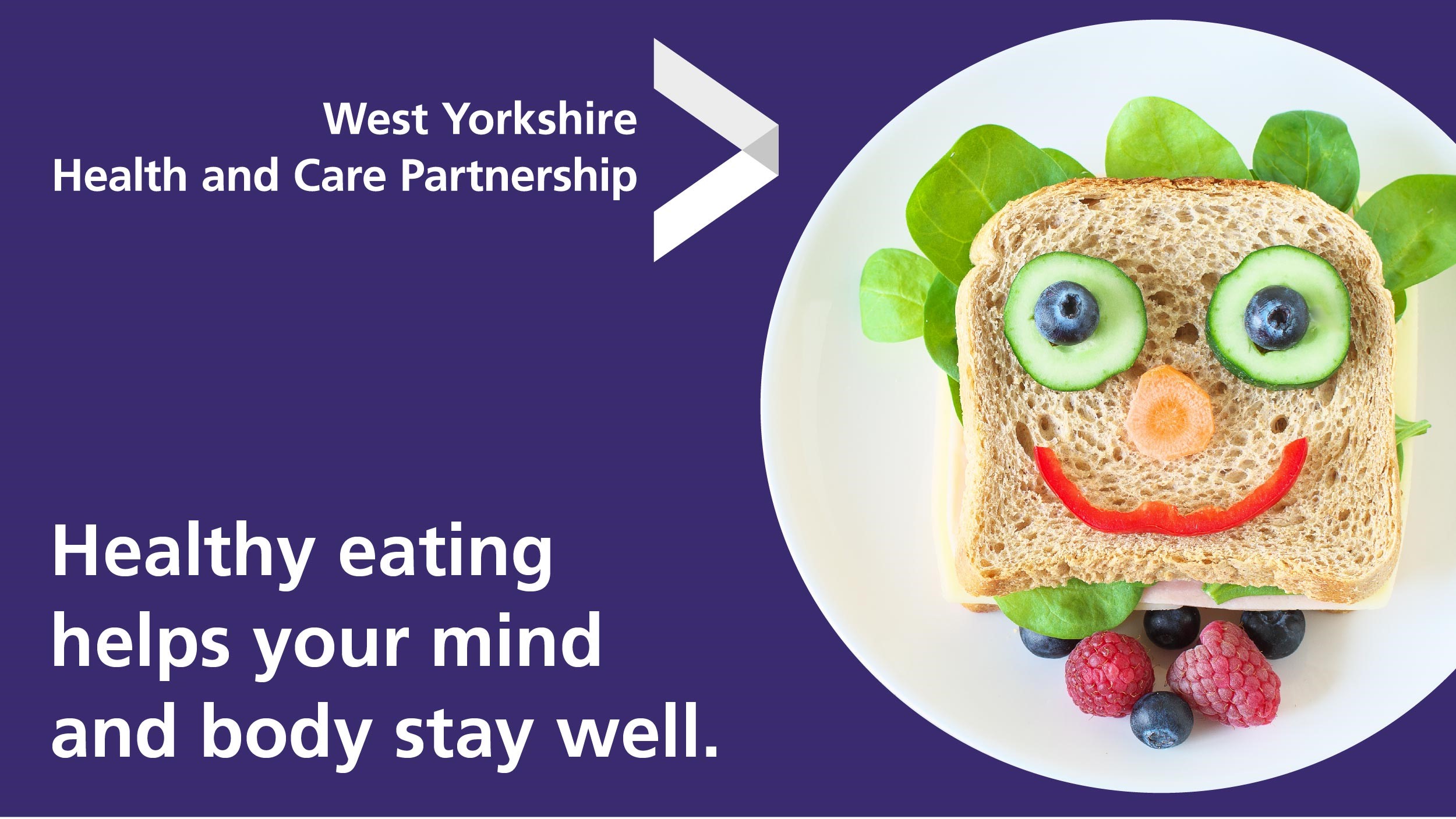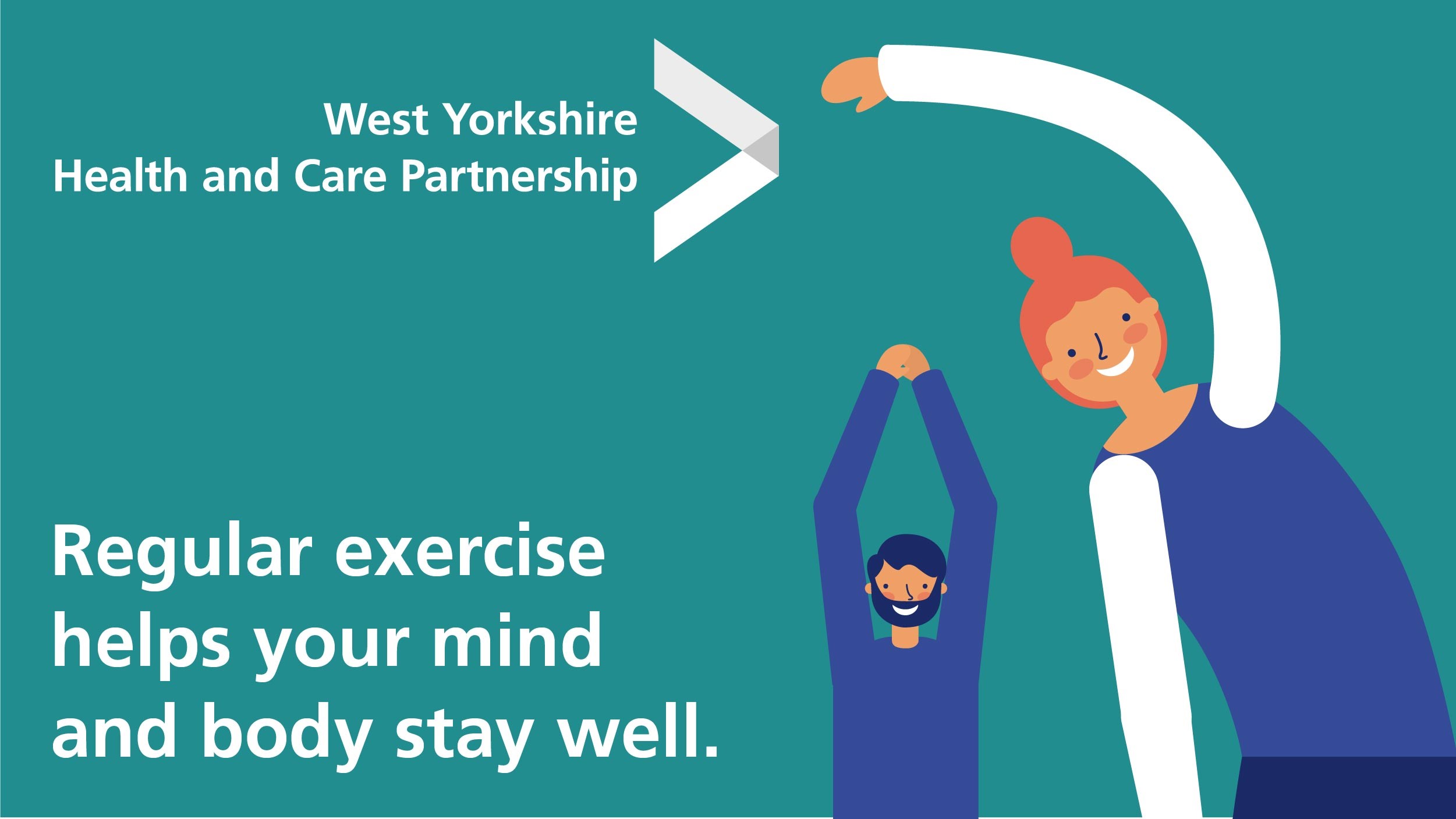 Your physical health can affect your mental health. Staying physically well is important. Simple routines around exercise and a focus on healthy eating, limiting alcohol use and engaging in social activities can all contribute to wellbeing.
Free information and support for mental health, including a self-assessment tool, can be found at Mental health - NHS (www.nhs.uk).
While the NHS is prioritising boosting the country's immunity, services are still open for those who need them urgently. Help our NHS staff be there for people who need them most by getting Covid and flu jabs and call NHS 111 free phone or online for urgent health advice.
For grief and loss support from trained listeners call 0808 196 3833, 8am-8pm every day or chat online here.
NightOWLS is for every child or young person in West Yorkshire who is experiencing a mental health crisis at night. Open 8pm-8am every day. Call free 0300 200 3900, text 07984 392700 or online chat at www.wynightowls.org.uk .
If you are experiencing a mental health crisis, you can find help from our 24/7 crisis support lines: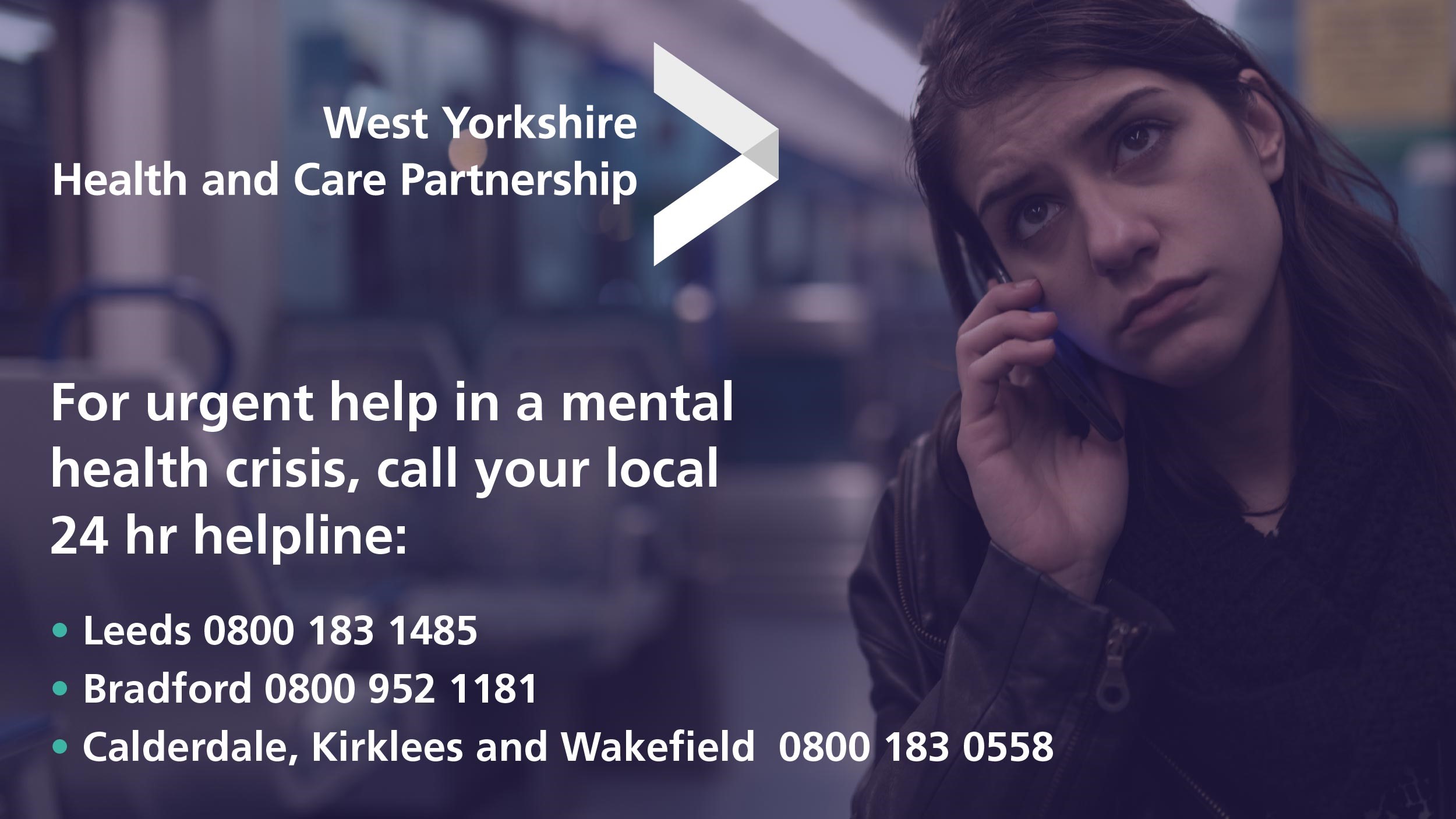 About the West Yorkshire Health and Care Partnership Mental Health, Learning Disabilities and Autism Programme
Our programme ambition is to work with the six local places (Bradford district and Craven. Calderdale, Harrogate, Kirklees, Wakefield and Leeds) within our partnership to support delivery of the Five Year Forward View for Mental Health; NHS Long Term Plan and our Partnership Five Year Plan for people with mental health, learning disabilities and / or autism.
In January 2018, a decision was made to include specific work around learning disability care and support because it made sense to work on this collectively. Recently, the West Yorkshire Transforming Care Partnership has been developed and this will be a sub group of the programme. The focus of the programme so far has mainly been on secondary, acute and specialist service provision although a by-product of the provider collaboration and because of new opportunities to collaborate has resulted in other initiatives being developed and included in the programme.
Staff mental health and wellbeing
Staff mental health and wellbeing is a top priority across our Partnership with many leaders highlighting concerns about staff stress and burnout through the pandemic.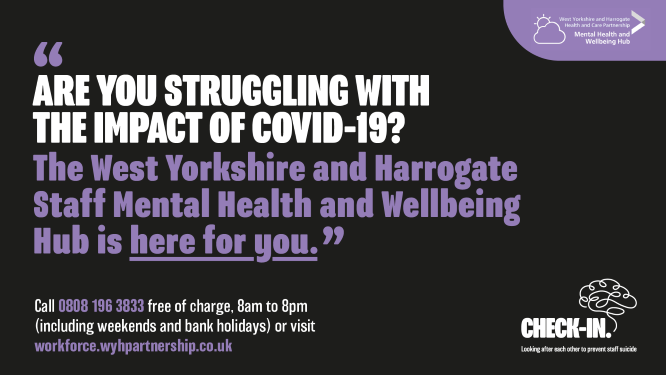 NHS England / Improvement has funded the development and ongoing delivery of a mental health and wellbeing hub to support the more than 100 000 staff who work in West Yorkshire and Harrogate Health and Care Partnership organisations until the end of March 2022.
The hub will bring together mechanisms and services that emphasise prevention and culture; support having the right conversations at the right time with the right people; work with teams and organisations to support and develop their local offers and support triaging, signposting and advocating for most appropriate support for individuals.
The services provided by the hub are free to access for anyone who works in any of the West Yorkshire and Harrogate Health and Care Partnership's partner organisations, including people who work in our voluntary and community services. We recognise that people who work in social care are often reluctant to help seek and experience barriers to help-seeking behaviour and will work to understand and break down these barriers so that people can get the help that they need.
The Hub offers a range of psychological therapies including EMDR, CBT, mindfulness, ACT, CFT. You can find out more about these therapies here.
New suicide prevention website goes live on World Suicide Prevention Day

The West Yorkshire Suicide Prevention website will launch to the wider public on World Suicide Prevention Day (Friday 10 September). This is a dedicated information portal to help people with suicidal thoughts and those concerned for the mental wellbeing of anyone who lives in West Yorkshire. It has been coproduced by a group of organisations including voluntary, NHS and local authorities who are all working to reduce death by suicide in the region.
Key content on the site includes:
Details of organisations that support people who are feeling suicidal in each area of West Yorkshire
Information about the Leeds and West Yorkshire Suicide Bereavement Services, which offer 1-to-1 and group peer support to anyone who has lost a friend, family member or colleague to suicide
News and information about suicide prevention partners locally and nationally, including specialist support for men.
You can read the full press release here and download the social media assets here to share across your networks.
Don't forget to join us in a conversation around 'Creating Hope Through Action' this World Suicide Prevention Day on Twitter using #WSPD2021 and #WYSuicidePrevention. We will be supporting the National Suicide Prevention Alliance exploring the complicated idea of 'hope' in suicide prevention.
Access to urgent and crisis care for people with Autism - new survey report (June 2021)
Our Partnership wants to ensure that urgent and crisis care services meet the needs of people with Autism spectrum conditions and has carried out a survey with Autistic people and their carers to identify the barriers autistic people face when accessing crisis and urgent health care (for both physical and mental health services). The project will identify opportunities to improve access, by sharing good practice and testing new ways of working. The survey results will inform a plan to pilot interventions in one place area, with the aim of sharing learning and reducing variation in practice across West Yorkshire.
The project is looking at the experiences of autistic people of all ages, primarily those who do not also have a learning disability.
It is focused on access to urgent and crisis care in five of the partnership areas: Bradford, Calderdale, Kirklees, Leeds and Wakefield, and includes:
NHS 111 online or phone service
Primary care (GP surgeries)
Urgent care centres

Mental health crisis services
Accident and Emergency departments
Yorkshire Ambulance Service
You can read the survey report here.
#AutismAllies report published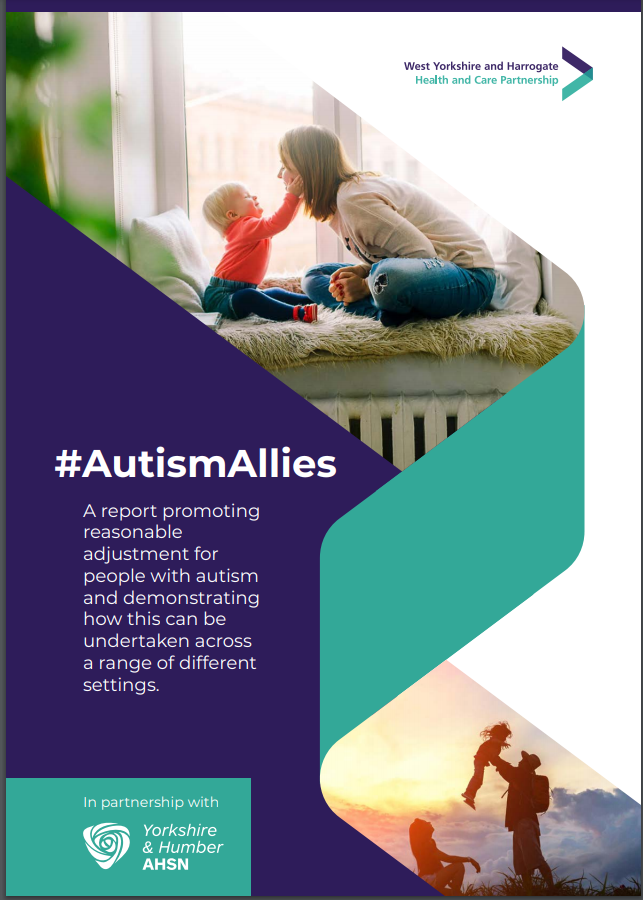 West Yorkshire and Harrogate Health and Care Partnership aims to achieve a 10% reduction in the gap in life expectancy between people with mental ill-health, learning disabilities and autism, and the general population by 2024.
Autism Awareness Week (29 March – 4 April) provided the Partnership with an opportunity to showcase the work we are doing to help reduce inequalities for autistic people with an online event to publish a new report and share details of case studies and work from organisations across the Partnership making reasonable adjustments so that autistic people can better access services, facilities and opportunities.
The report was prepared for the Partnership by the Academic Health Science Network.
---
The Child and Adolescent Mental Health Inpatient Service in Leeds - transfer of service to new provider
The Child and Adolescent Mental Health Inpatient Service (CAMHS) in Leeds has been transferred from Leeds Community Healthcare NHS Trust (LCH) to Leeds and York Partnership NHS Foundation Trust (LYPFT).
Our Trust Boards agreed in September 2020 to the safe transfer of the leadership, governance and accountability of CAMHS inpatient service to LYPFT. We're currently aiming to do this by 1 April 2021.
This will mean LYPFT taking formal contractual responsibility for managing the current eight bed inpatient service at Little Woodhouse Hall until the transfer across to the new 22 bed unit in December 2021. Catch up with the latest news about our exciting new build project, including its recently unveiled name, on the LYPFT website here.
An existing programme structure is in place for the new CAMHS unit which includes the development of an expanded clinical model and workforce requirements for the new unit, which will serve young people across West Yorkshire. Whilst this project continues to make good progress, our Trusts are working together at pace to ensure a smooth transition from one organisation to another.
---
Grief and Loss Support Service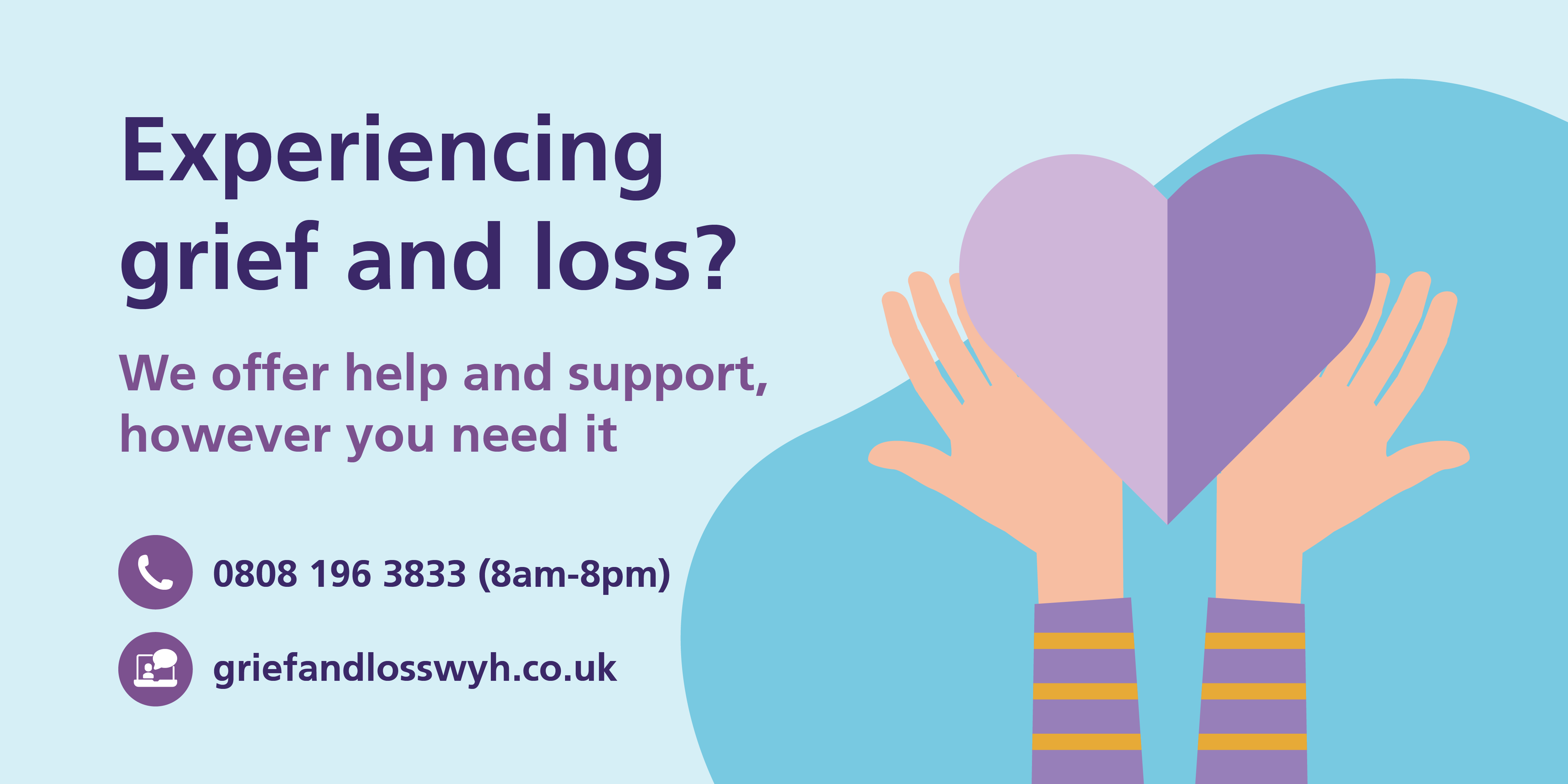 The West Yorkshire and Harrogate Health and Care Partnership Grief and Loss Service offers information and advice to anyone struggling with feelings of loss, whether as a result of bereavement or other loss such as loss of a way of life, normal contact opportunities, social and work interactions. Pandemic restrictions may also mean that the usual practical and emotional support people can physically get from family, friends, faith groups, community groups during difficult times may not be there.
The service is a free telephone helpline that operates 8am-8pm, 7 days a week and online chat facility. Specialist advisors will offer practical advice and emotional support, and where appropriate, can signpost people to local place based services for specific counselling or other support.
The service is commissioned by West Yorkshire and Harrogate Health and Care Partnership and is delivered by West Yorkshire and Harrogate Independent Hospices Consortium, Bradford Bereavement Services Consortium and Leeds Mind.
What are we going to do?
Our ambition is to make best use of collective resources, ensuring that our services provide the best value for money; releasing efficiencies through economies of scale which can be reinvested in Mental Health, Learning Disability and Autism/ADHD services as part of our commitment to the mental health investment standard.
We intend to:
Eliminate OOH placements (unless for very specialist support not available in our region)
Move to a co-ordinated bed function for some services
Ensure Access to 24/7 crisis services/Intensive Home Based Treatment
Reduce unnecessary A&E attendance
Reduce S136 Place of Safety Attendance
Adopt a zero suicide approach to prevention (10% overall reduction)
Develop new care models where it makes sense – CAMHS tier 4, Adult Eating Disorders, Forensic Services
Reduce waiting times for Autism/ADHD assessments (all age)
Deliver Transforming Care Programme trajectories (and support care close to home)
Mental Health, Learning Disability and Autism Collaborative Board
The Board met on Tuesday. It includes colleagues from across mental health trusts / providers and is chaired by Dr Sara Munro, CEO for Leeds and York Partnership NHS Foundation Trust.
Children and young people's mental health
Leeds Community Healthcare NHS Trust (LCH), in partnership with Leeds and York Partnership NHS Foundation Trust (LYPFT), has submitted a planning application for a new mental health in-patient unit for young people in West Yorkshire. The brand new, purpose-built facility proposal is to build it on the St Mary's Hospital site in Armley. It will provide 22 in-patient beds and deliver much needed improvements and facilities for young people in West Yorkshire. The funding for the building was announced as one of 12 successful bids to receive NHS England capital funds in November 2017. We will keep you updated when we know more.
New models of care
The West Yorkshire Children Adolescent Mental Health Services New Care Model (CAMHS NCM) went live on 1 April 2018. Overall the CAMHS NCM aims to reduce admissions for children and young people to inpatient mental health beds. We are doing this by ensuring that we have made use of all local offers before an admission is made. Where an admission is clinically necessary, we ensure that the young person comes back to community care as soon as it is clinically safe. This contributes to an overall reduction in occupied bed days (OBDs).
The success of the work is measured against the following performance targets:
Reduction in the use of out of area tier 4 beds

Reduction in average length of stay in hospitals

Reduction in admissions, readmissions and occupied bed days

Reduction in distance travelled for care

Positive self-reporting of the young person and family experience

Three areas were identified to drive the transformation of services for children and young people in West Yorkshire. These are:
24/7 crisis care across West Yorkshire, a flexible service that responds to children and young people's needs

Community intensive services (home treatment or outreach) offer for those who need more intensive support

'Safer spaces' in the region – to avoid crisis situations.

Colleagues updated on the progress being made in these important areas of work
Adult mental health
NHS England specialised commissioning have invited bids from Partnerships like ours (also known as integrated care systems) by the 5 July to move to steady state commissioning for CAMHS tier 4, adult eating disorder and forensics. If successful this would result in four year contracts being awarded to the provider collaborative to lead on the delivery of these services for the Partnership. This builds on the new care model pilots we have been running for 12 months. We will be submitting bids in July. We expect formal decision on the contract award in the autumn.
Suicide prevention
Our Partnership has set a target of a 75% reduction in targeted areas and 10 % reduction in overall suicides by 2020. To help achieve this, the Partnership has invested £22,000 in a basic 'train the trainers' fire and rescue service pilot.
We have also recently received notification that the Partnership has been allocated £114,000 of funding to support suicide prevention trailblazer for the area and also £173k for postvention work, which will be used to roll out the Leeds model. You can view the suicide prevention annual report here.
CONNECT: The West Yorkshire and Harrogate adult eating disorders service, launched in April 2018. It has been set up as a two-year pilot project funded by NHS England as part of their 'new models of care programme'.
CONNECT, which is part of Leeds and York Partnership NHS Foundation Trust, aims to provide equitable access to NHS care for adults with eating disorders across the West Yorkshire and Harrogate area – something that had not been in place until its launch. You can read more here.
We have also produced a case study for you to read here.