West Yorkshire Health and Care Partnership Children and Young People's Mental Health Strategic Plan
As set out in the Government select committee report Future in Mind, the Five Year Forward View for Mental Health (2016) and the NHS Long Term Plan (2018) (LTP) there is a clear need and commitment to invest in children and young people's mental health and wellbeing.
Our West Yorkshire response to this need is described in our ambition and our Plan.
Our ambition
"Children and Young People from West Yorkshire can access mental health support easily and in a personalised way. If and when specialised mental health services are required there will be seamless integrated pathways in place across community and specialist provision, with trusted assessment processes which minimise delay in accessing the right level of support required. Services will be trauma informed, inclusive and skilled in supporting individuals with diverse needs (including neurodiversity and learning disability)".
West Yorkshire Children and Young People's Mental Health Partnership Group
Our plan
The purpose of our plan is to outline the common West Yorkshire priorities, identified by each of our five geographical Places, relating to children and young people's mental health and wellbeing, that we will collaborate on across our ICS Partnership in West Yorkshire (WYICS).
The Plan is heavily influenced by what children and young people and their parent/carers have told us they want to support their mental health. It sets out why these priorities have been chosen and how working in collaboration across the ICS, and in partnership with all key services (including local authorities, Voluntary, Community and Social Enterprise (VCSE), statutory health and care services) and with children and young people themselves should add value and ultimately ensure we improve both outcomes and experience and reduce inequalities for our population.
You can read and download the Plan here.
---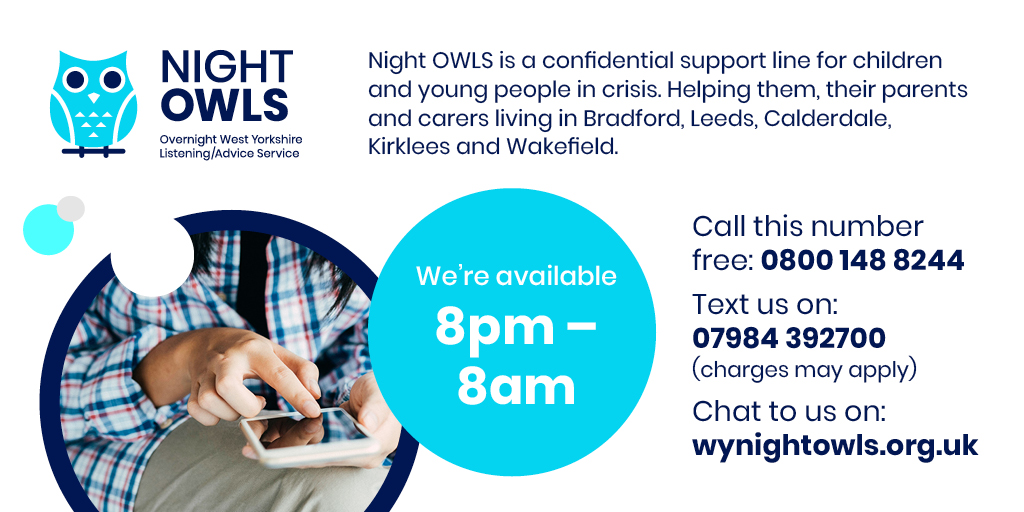 A service for children and young people experiencing a mental health crisis is operating under a pilot scheme managed by Leeds Survivor-Led Crisis Service. Night OWLS is a confidential support line for children and young people in crisis. Helping them and their parents and carers.
The service is available 8pm – 8am every day.
To access the service, call this number free 0800 1488244; text 07984 392700 (charges may apply) or chat on www.wynightowls.org.uk.
Night OWLS can help if you…
are finding it hard to cope with life
feel like you have nowhere to turn
are feeling angry, lonely, anxious or depressed
are caring for a young person who is struggling with their mental health
feel confused or find it hard to think straight
feel unsafe
feel you can't go on living
someone you know is experiencing a mental health crisis or you are concerned about their emotional wellbeing
Or simply want to talk either via phone/text or online chat
Night OWLS can offer…
Support when you need it
A safe space where someone can listen and show warmth, acceptance and understanding
A chance to look at ways of coping and ways of keeping yourself safe
Support with looking at your options and finding your own solutions to your problems
Information about other support services and services for carers
Night OWLS is a confidential service – we won't tell anyone else about your call unless you ask us to – except in exceptional circumstances.
It is for people who live in Bradford, Leeds, Calderdale, Kirklees and Wakefield.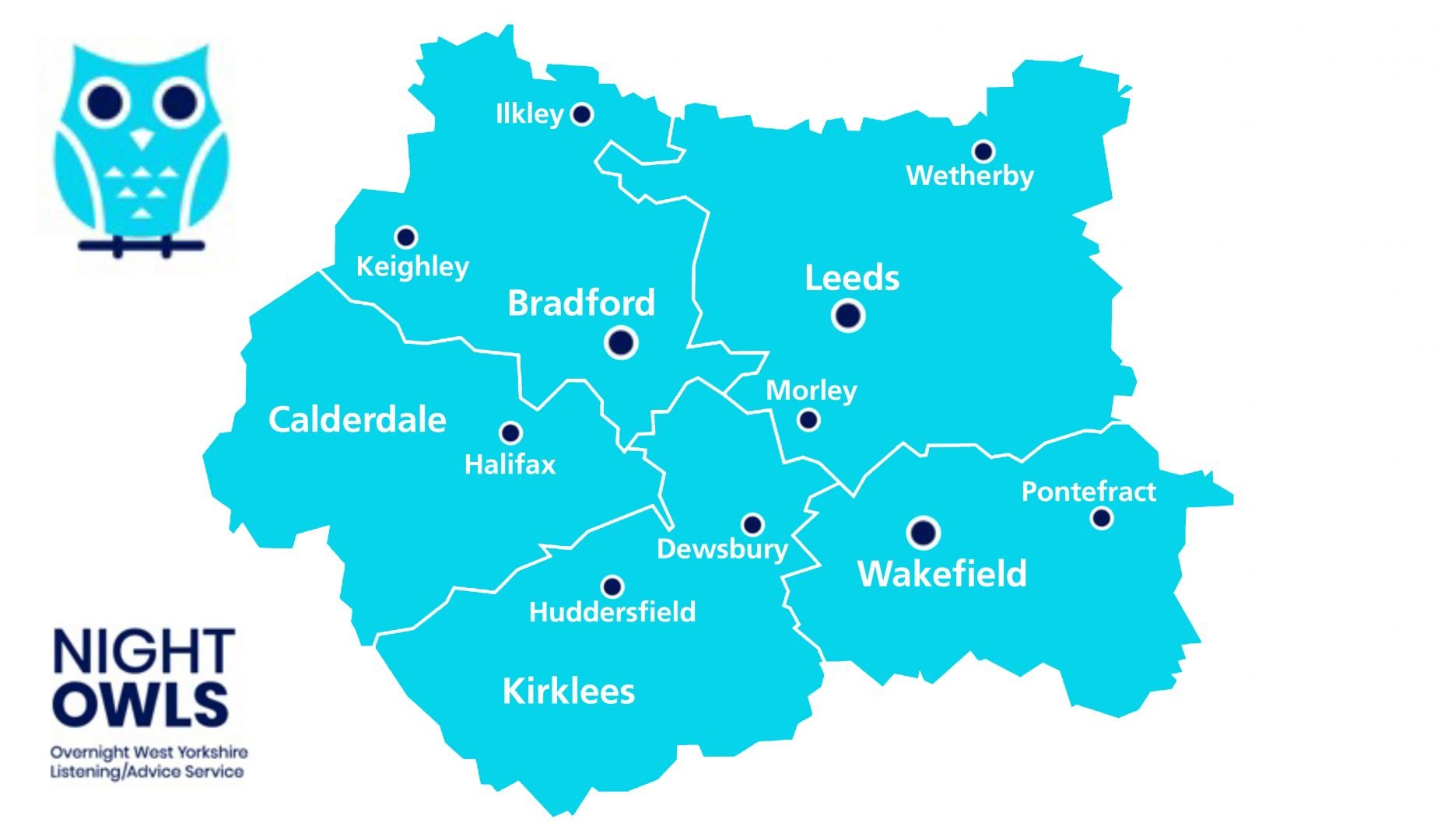 NightOWLS has been co-produced with people from these Partnership organisations: