West Yorkshire Health and Care Partnership is one of three national dementia pilot sites exploring what work can be done collectively across an Integrated Care System area to reduce non-essential hospital admissions for people living with dementia.
A key part of the work in West Yorkshire Health and Care Partnership has been focused on improving opportunities for people affected by dementia and/or frailty (including family carers) to have a conversation about their wishes for future care, to record these and to share them with staff involved in their care.
It's particularly important for people living with dementia that they are offered these opportunities in a timely way. This ensures that, if they choose to, people are able to make their wishes known regarding future care, helping the people who care for them and about them to understand what they would have wanted if they are no longer able communicate this themselves.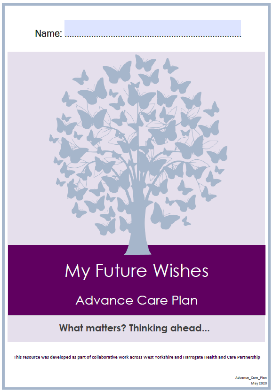 A new document, My Future Wishes – Advance Care Plan has been developed with health, social care and voluntary sector staff and with people who are affected by dementia. A guide to advance care planning is also now available and you can now watch a new film showing people from diverse backgrounds who work and live in West Yorkshire sharing their positive thoughts and experiences of making an Advance Care Plan.
The document is designed for you to write about your future wishes for care, including what, who and where is important to you.
Once you've downloaded it, you can print it off, fill it in and keep the printed copy at home. Alternatively, if you prefer typing to writing, you can complete it digitally (by typing into the response boxes) and save a digital copy on your home computer or tablet. You can also print a completed copy to keep at home if preferred.
The final two pages of the document are designed for you to tear off and return to your GP practice so that they're aware of your wishes. With your permission, the practice can record these onto their computer system and share the information with other staff who are involved in your care.
Your wishes may change over time so it's worth reviewing this document every six months, or sooner if your circumstances or wishes change.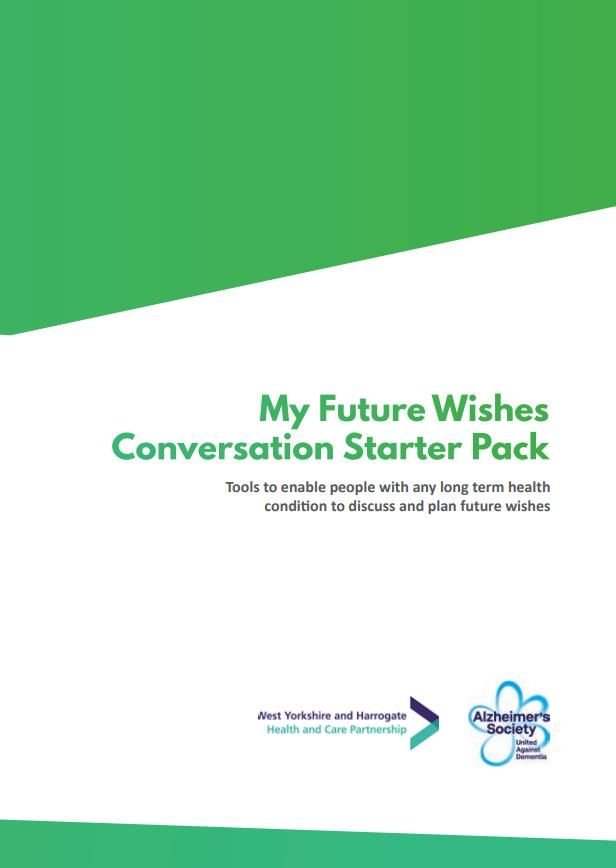 As part of work to support people to have these important conversations, the Alzheimer's Society has been working with us and with people affected by dementia to develop a resource which can help.
The resource includes a booklet with four topic areas. The topics covered are:
What's important to me?
Lasting Powers of Attorney and Wills
Medical Decisions
My Care Preferences
Resources for Delirium
This new leaflet is aimed at families, friends and unpaid carers. The leaflet has been co-produced with carers and carer support organisations and includes sections on how to identify delirium, causes and prevention of delirium and top tips on how to support someone affected by delirium. As COVID infection increases risk of delirium, particularly in older people, raising awareness of delirium has become even more importance since the outbreak of the pandemic. Delirium is also more common in people with dementia.
New delirium leaflet for carers (May 2021)