Empowering colleagues to take action on carbon emissions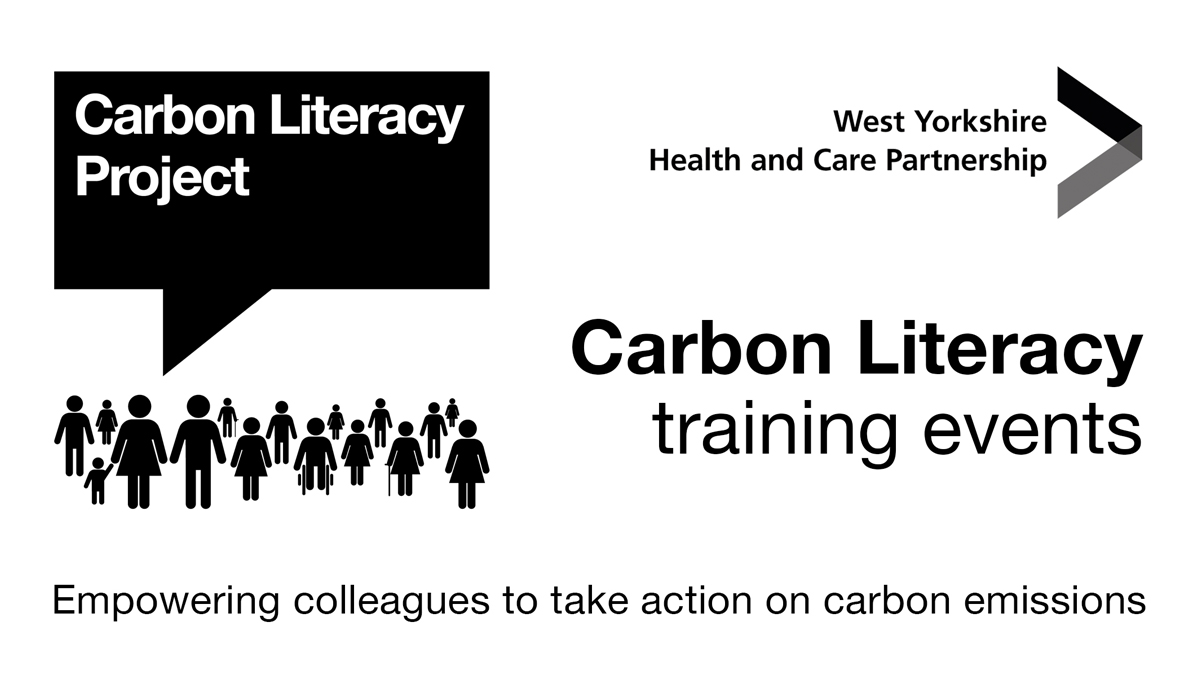 Health and care colleagues across West Yorkshire are invited to join a free all day online event around carbon literacy to find out more about the scale and urgency to meet NHS net zero and other sustainability targets. The next events are on 26 September and 26 October 2023
To book and for more information see the eventbrite pages. Places are limited so please only book for your preferred day. Upon successful assessment, you will be awarded a uniquely numbered certificate to evidence your carbon literacy, and confirm that you have met the requirements of the Carbon Literacy Standard.
---
Climate change lunch and learn events series 2
Following the success of the 2021 lunch and learns, we held a 2022 series of events to share knowledge and experience related to NHS sustainability. We heard from experts both within and outside the NHS as we work together to help address the climate and biodiversity emergencies.
If you missed any of the events or want a recap, we have posted all the recordings from the events on this page. Events took place on a Friday at 12 noon and lasted for one hour.
If you know of someone who would be interested in presenting, or have any ideas for future topics please contact Emma Clarke, Energy, Waste and Sustainability Manager on emma.clarke@bdct.nhs.uk.
Recordings from 2022
In this section we have published all the recordings from series 2.
Climate change lunch and learn events series 1
In 2021 we joined Humber, Coast and Vale Health and Care Partnership in hosting a series of hour-long educational sessions to address the challenges we face with climate change and the impact this will have on our healthcare system, as well as the populations we serve. We encouraged colleagues to join us live to delve into the challenges we face and get involved.
Recordings
Session 1:
This is an emergency! Climate change and the health impacts in Yorkshire
Friday 28 May 2021
Session 2:
Anaesthetics – it's a gas! Greening anaesthesia
Friday 11 June 2021
Session 3:
Greening the secondary care system: hospitals, emergency departments, pharmacies and perioperative care
Friday 25 June 2021
Session 4:
Greening the NHS: biodiversity, green social prescribing and rewilding
Friday 9 July 2021
Session 5:
Innovating in the NHS
Friday 23 July 2021
Session 6:
What a load of rubbish! What does waste have to do with climate change?
Friday 6 August 2021
Session 7:
Buy, buy, buy! How can procurement change our impact on climate change?
Friday 20 August 2021
Session 8:
Greening the primary care network
Friday 3 September 2021
Session 9:
Greening digital
Friday 17 September 2021
Session 10:
Climate change adaptation planning
Friday 1 October - 2021
Session 11:
Nee naw, brmmm, beep, bring bring: greening the NHS fleet
Friday 15 October - 2021
Session 12:
Nom, nom, nom: how can food choices help reduce the healthcare impact on the climate crisis as well as improve health?
Friday 29 October 2021
Session 13:
COP26
Friday 12 November 2021
The lunch and learn sessions for 2021 are also available to view on YouTube.