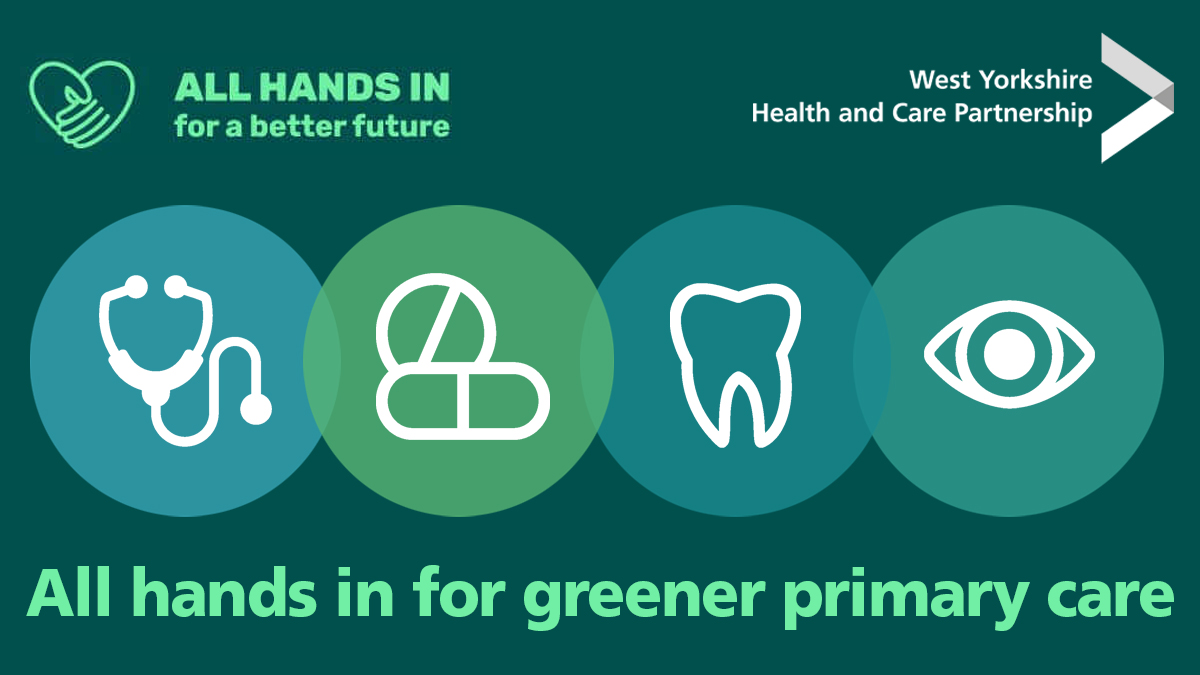 In May the WY HCP began urging over 100,000 staff and volunteers to be 'All hands in for a better future' when launching their first climate change campaign. The toolkit is an extension to this work and will provide West Yorkshire healthcare providers such as GP practices, pharmacies, opticians, and dental practices with guidance and resources to address climate change.
Climate change poses a major threat to everyone's future. For the WY HCP to lead the way in responding to the climate crisis, and to meet their vitally important goal of net zero carbon emissions by 2038, they are committed to making fundamental changes to the way they work, through increased investment, mitigation, and culture change throughout the local health and care system.
The toolkit has been put together by the West Yorkshire Primary Care Sustainability Network and covers key areas including: understanding carbon; cutting carbon; cutting costs and improving health; community regeneration and primary care in a changing climate.
It also includes simple things that healthcare providers can do that can start to make a big difference such as calculating their carbon footprint, using the green impact for health toolkit to reduce it, and taking advantage of local sustainability grants.
Much more work is planned to ensure West Yorkshire primary care providers are equipped to make sustainable swaps that are best for the environment. The WY HCP upcoming 'green plan' for primary care will outline what this looks like, as well as shining a light on some of the incredible work already underway.
Get in touch If you'd like to get involved, want any more information about anything in this toolkit, or have any ideas about how we could make this toolkit more useful, get in touch with wyicb-wak.westyorkshirepcsn@nhs.net
Case study - Leeds Greener Practice Group
In December 2021, Leeds were fortunate to hear from Dr Honey Smith, an East Sheffield GP and Chair of Greener Practice who introduced the Greener Practice : The UKs Primary Care Sustainability Group. Work by the group is guided by the four pillars of sustainable healthcare: disease prevention, patient empowerment, lean systems and low carbon alternatives.
Inspired, a small working group in Leeds including GPs lead by local GPs Sally Franks and Natasha Gordon, Practice Managers, Pharmacists and Primary Care Commissioners came together to turn understanding and enthusiasm into positive action and formed the Leeds Greener Practice Group.
The Leeds – Greener Practice has a clinical focus, for example, switching to low carbon inhalers (this also links to the IIF indicator ES-02 on sustainability), recycling inhalers through pharmacy, and green prescribing to support patients and improve mental health. However there are also very practical steps a practice can take to reduce their carbon footprint and the group has developed a Leeds Greener Practice Scheme to facilitate engagement in the planetary health agenda. The scheme encourages practice sign up to the Green Impact Toolkit and join the Leeds Greener Practice Group, sharing ideas and a platform to network.
To date, just over 30% of practices have signed up to be a part of this important agenda and it is starting to generate lots of enthusiastic conversation. An example from Colton Mill Medical Centre in Colton, East Leeds illustrated some of the simple changes that can be included.
The group continues to meet and it is hoped more practices will sign up to the Greener Practice Scheme and join the Leeds Greener Practice Group. The scheme is not onerous, but it is recognised there are competing priorities and a lot happening in primary care right now.
Next steps include sharing work with other leads in the region, aligning to the Green plans in the ICS and embed the green agenda into mainstream practice. For more information, please contact the co-chairs of the group Dr Sally Franks sally.franks1@nhs.net or Dr Natasha Gordon n.gordon@nhs.net.