About the course
The West Yorkshire and Harrogate Health and Care Partnership (WY&H HCP) will embark on a new two-year nursing associate apprenticeship course which will focus on the urgent and emergency care agenda in partnership with the Huddersfield University after the innovative idea secured £100,000 funding from Health Education England (HEE) in 2020. This new course will help to expand and transform the health service workforce
The University already delivers highly successful apprenticeship courses for the training of nursing associates. This new nursing role will be a key member of the multidisciplinary health and care team under the supervision of registered nurses to deliver flexible care across a wide variety of settings. The new course commenced in June 2021.
The Nursing Associate (NA) is an exciting and relatively new role in the nursing family with early evidence demonstrating that they are making a real and significant difference to patient experience. The new support role bridges the gap between healthcare support workers and registered nurses, and the apprenticeship route creates an alternative career pathway into nursing.
This new apprenticeship programme is proposing a unique rotational work based learning element around the urgent and emergency care pathway. This includes the formation of mutually beneficial and forward thinking partnerships between healthcare providers. This will allow trainees to 'rotate' through a variety of health and social care settings. NAs will be able to draw on the ethos 'learning together, working together', developing their skills and competencies across a breadth of services, which may include:
Emergency departments/A&E
Community-based urgent and emergency care settings
Primary care settings
Social care settings
More about the rotational trainee nursing associate apprenticeship course
What is this apprenticeship course? A rotational apprenticeship programme leading to a nursing associa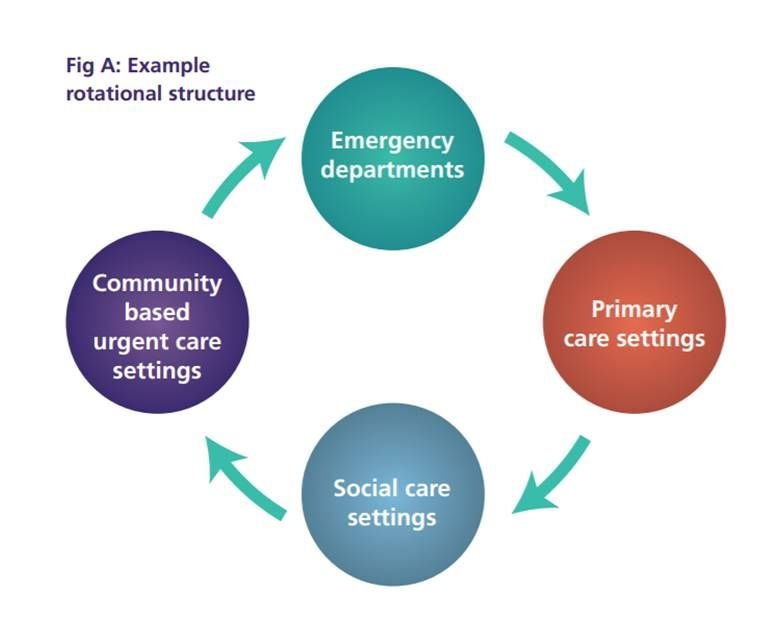 te qualification, during which TNAs (trainee nursing associates) rotate through a variety of healthcare settings. (Fig A).
How do the rotations work? For the first six month rotation, the GP practice receives the TNA that they employ. For rotations 2-4 (months 7-24), they receive TNAs employed by their partner employers.
How do employer partnerships work? Employers are grouped into partner employers between which the TNAs rotate (Fig A). Partnerships will include employers from a range of settings and take into account proximity and each TNA is employed by one employer for the duration of the two year course.
How is the TNA's time spent? TNAs work for their employer four days a week and spend one day a week at university/online learning. They spend 2-3 weeks per six month placement away from the practice on supernumerary placements.
Why was it designed? What's the point? Building on the already highly successful course at the University of Huddersfield by introducing rotational 'workbased' settings, the course gives TNAs skills, knowledge and experience across a range of healthcare settings. This benefits patient care in all settings and improves the integration of services.
Information for GP practices. Please see the flyer available to download below. Following the addition of the nursing associate (NA) role to the Additional Roles Reimbursement Scheme, NA and trainee nursing associate (TNA) salaries are now fully reimbursable for GP practices. This programme gives primary care employers the opportunity to 'grow their own' NAs, develop their workforce, and improve the service they deliver for patients.
For more information read the full proposal document and find additional supporting documents below. You can also email: tessa.hawkes@nhs.net
Supporting documents/Information
Rotational trainee leaflet for primary care
June 2021 timeline from enrolement
Rotational TNA presentation slides
Employer application form and induction pack (employers not candidates are to apply)
UEC TNA advert for employers to use within their organisation
UEC TNA information for potential candidates
Illustrative Case study for the Urgent and Emergency Care, Nursing Associate Programme (added 18.08.20)
Watch the local employers virtual stakeholder event. The session was recorded and is available to view below.