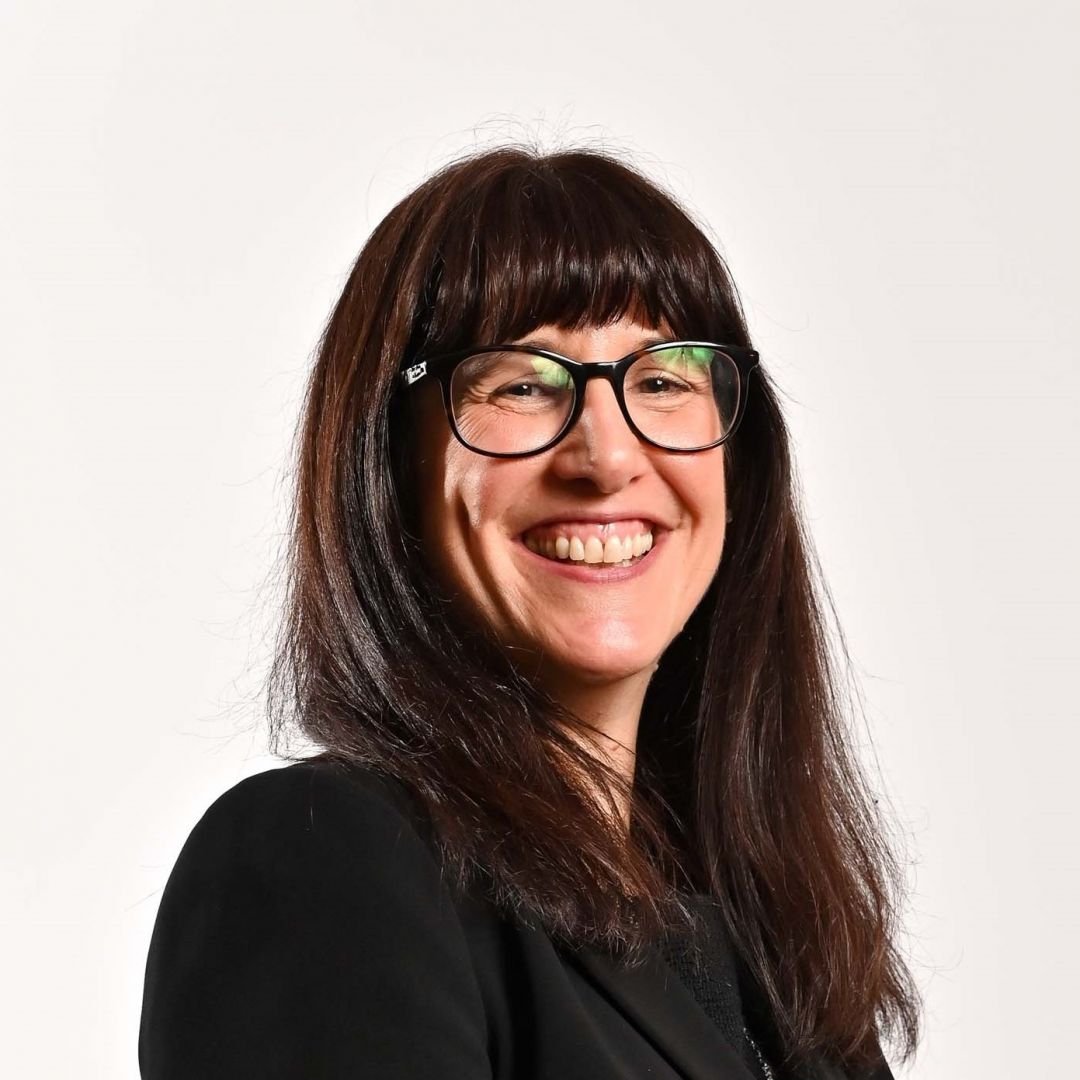 Hello, my name is Cathy
As we enter the New Year, I wanted to take the opportunity to wish you all a very happy, safe, and healthy 2022. I hope you had a good break and thank you so much to everyone who has worked over the holidays to keep people safe and well.
What we can be sure of is that this year will bring many opportunities as well as challenges for all.
We will never forget the past two years of the pandemic and the sacrifices of colleagues and the very sad loss of far too many lives. This makes the work of our Partnership, where we work together for 2.4 million people living across West Yorkshire, as important as ever. Our focus will remain to overcome the pandemic as well as tackle inequalities for our communities, and whatever else the next 12 months and beyond brings. The strength of our Partnership, our leaders, colleagues, and communities will ensure that together we will do all that we can.
As Chair-Designate for our new statutory West Yorkshire Integrated Care Board (ICB), I am looking forward to working with existing and new colleagues this year. We are currently recruiting for four directors, a medical director, chief nurse, director of people and finance director to join other senior leaders as part of the ICB. The closing date is 13 January (20 January for the director of people). We are also delighted to be recruiting for three independent non-executive member roles, with a closing date of 31 January. Please promote these important roles to people you know who may be interested and via your networks and social media channels. More information can be found on a dedicated recruitment webpage here.
For all these important Board-level roles we welcome applications from people from a variety of backgrounds and sectors who have in common a commitment to tackling health inequalities and achieving equality, diversity, and inclusion for and with residents and health and care colleagues.
Those appointed to these new roles will work alongside West Yorkshire partner and place-based system senior representatives in a new-style unitary board. In doing so, they will all role model the values of our Partnership. The independent non-executive members will particularly play a key part in working with me as the Board's Independent Chair in bringing constructive, independent, and respectful challenge to the plans, aims and priorities of the West Yorkshire Integrated Care Board (ICB), including around workforce, quality, finance, and ensuring community voices remain at the heart of all we do.
Our new Board will be operating in shadow format from this month, ready for the 1 July 2022, subject to parliamentary approval.
As soon as the ICB has been formally established, we will be holding meetings in public. I know that openness and transparency is a crucial part of the way we already work to which I am committed, and the business of this board will be no different.
We continue to involve partners and interested stakeholders on the draft of our constitution and are seeking views until 14 January 2022, so it's not too late to share your views. The constitution was discussed with the West Yorkshire Joint Health Overview and Scrutiny Committee last November and it was also an agenda item at the Partnership Board in December last year.
A key part of all our work, including that of the ICB, is addressing extreme inequalities experienced by far too many people, as well as supporting those whose health needs have been exacerbated by COVID-19. We will continue to work with all our partners to help improve people's wellbeing, doing everything we can to meet the needs of our colleagues and communities. This includes our role as an employer.
As a Partnership that delivers world class research and innovation, we have much to offer. I'm excited to hear more about this, as it not only saves lives, but also gives people new employment opportunities. The brilliance of scientific and technology advisors never ceases to amaze me.
What I hope to see this year is the delivery of realistic plans that are ambitious for all who work and live in West Yorkshire. Building on our collective approach, I'm sure we will try our utmost to make a real positive difference to everyone who lives here. On a personal level, I look forward to working with you all, and hopefully, with fingers crossed, meeting more of your face to face so that I can say 'hello' properly.
With all the very best for 2022,
Cathy
What else has been happening this week?
NHS plans new Nightingale facilities in response to Omicron
The NHS is setting up new Nightingale surge hubs at hospitals across the country as part of preparations for a potential wave of Omicron admissions. Temporary structures capable of housing around 100 patients will be erected in the grounds of eight hospitals across the country, with work starting as early as this week. These Nightingale hubs will improve NHS resilience if the record number of COVID-19 infections leads to a surge in admissions and outstrips existing capacity.
Placing the new Nightingale facilities in hospital grounds will make it easier to flex staff and equipment if there is a surge in admissions, providing access to diagnostics and emergency care if required.
The use of virtual wards, where patients get monitoring technology and regular check-ins from clinicians to allow them to return home earlier safely are also being ramped up by hospital teams, while GPs also have access to up to 250,000 pulse oximeters so that COVID-19 positive patients can monitor their own blood oxygen levels at home ensuring only those who need to be are admitted to hospital.
NHS National Medical Director Professor Stephen Powis said:
"Given the high level of COVID-19 infections and increasing hospital admissions, the NHS is now on a war footing.

"We do not yet know exactly how many of those who catch the virus will need hospital treatment, but given the number of infections we cannot wait to find out before we act and so work is beginning from today to ensure these facilities are in place.

"We hoped never to have to use the original Nightingales and I hope we never to have to use these new hubs.

"Staff across the health service are working around the clock to provide the best possible care to patients and rollout the NHS COVID vaccination programme.

"The public can play their part by following the guidance to limit the spread of infection and by getting boosted now.

"The science is clear. Two doses of vaccine do not provide enough protection against Omicron so if you have not yet had a life-saving booster do not delay any longer".
The first eight of the Nightingale surge hubs will be at the following hospitals:
North West – Royal Preston
North East and Yorkshire – Leeds, St James' site
Midlands – Solihull Hospital, University Hospitals Birmingham, and University Hospitals Leicester
East of England – Lister Hospital, Stevenage
London – St George's
South East – William Harvey Hospital, Ashford
South West – North Bristol.
You can read more about the new Nightingale plans on the NHS England website.
Health and Social Care Act legislation delay
The implementation of the Health and Social Care Act will be delayed for three months, from the 1 April 2022 until 1 July 2022. National planning guidance has been issued by NHS England and Improvement, and we will be working through the detail of this over the next few weeks.
The Health and Social Care Act introduces a new statutory body for our West Yorkshire Integrated Care System. The legal responsibilities for the commissioning of NHS services will pass from the clinical commissioning groups (CCGs) to the new West Yorkshire NHS Integrated Care Board (ICB). The CCGs will then be dissolved under the new legislation. Further information on the Health and Social Care Act can be found on our Partnership website.
Our Partnership is in an excellent position in terms of our preparatory work for moving to statutory arrangements. Our operating model is strong and well understood, built on the principle of subsidiarity and networked teams. We continue to focus on the values and behaviours that will underpin our Partnership and be critical to our future success. Crucially, we have provided certainty to all staff on their future within these arrangements, including senior staff, and made excellent progress with the appointment process for new Board level roles.
A delay in moving to statutory arrangements is very manageable. We have been risk assessing the impact of any possible delay and progress to date stands us in good stead.
We have a clear, co-produced set of proposed governance arrangements, on which we are consulting with partners and the public. If you haven't yet commented on these, then you can do so on the comments box at the bottom of the Integrated Care Board constiution page on our website before 14 January 2022.
Our view remains that the changes set out in the Bill are a positive step towards our core purpose of improving outcomes, reducing variation in care, and tackling inequalities. I am confident that we will manage successful transition to these arrangements.
Our Partnership is investing £1millon to help keep people warm this winter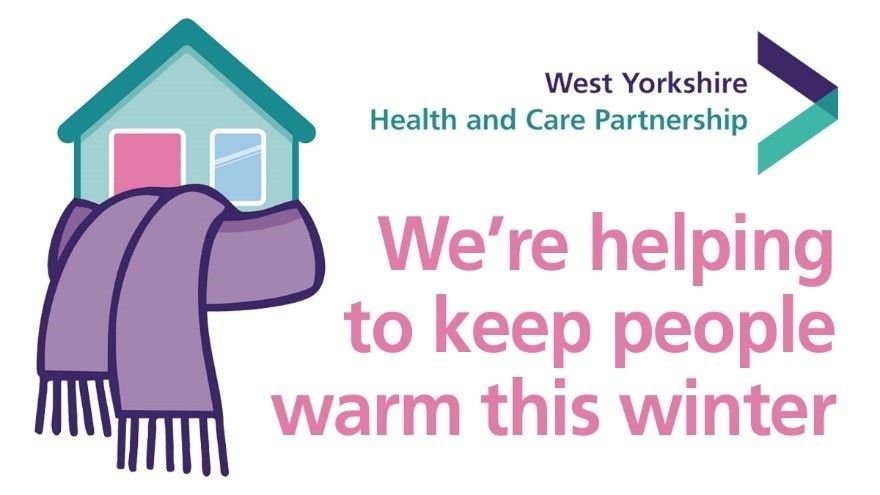 Our Partnership is investing £1millon to help keep people warm this winter, so they can live a long, healthy life. The funding will support affordable warmth by increasing low-income households' energy efficiency rating, giving advice on reducing their energy bills, and helping people access additional support they are entitled to.
The Partnership of NHS, local councils, housing associations and the voluntary community social enterprise sector is working across Bradford district and Craven, Calderdale, Kirklees, Leeds, and Wakefield. The funding aims to benefit people, through a boost to existing projects such as home insulation, boiler repairs, financial savings and benefits advice and heating grants, with the aim of reducing health risks associated with poor housing and cold homes.
Across West Yorkshire 169,000 households, 18% of the 2.4 million people (Source Gov.UK Sub-regional fuel poverty data 2021), are having a difficult choice to make on whether to spend money on fuel or food - all influenced by a household's income, energy efficiency and costs.
The impact of cold homes is estimated to cost the NHS £2billion every year in England and Wales, with people needing extra care from their GP and hospitals for illnesses such as heart attacks and stroke, respiratory illness, falls, hypothermia and influenza during - for example, hospital admissions for COPD are four times more likely in winter months.
Whilst the greatest impact of winter deaths is in the elderly, it happens across all ages, with people living in poorer communities more likely to be affected. It impacts on their mental health and wellbeing, as well as their children's health, for example asthma and bronchitis. You can read more on our website.
South West Yorkshire Partnership NHS Foundation Trust - stop smoking services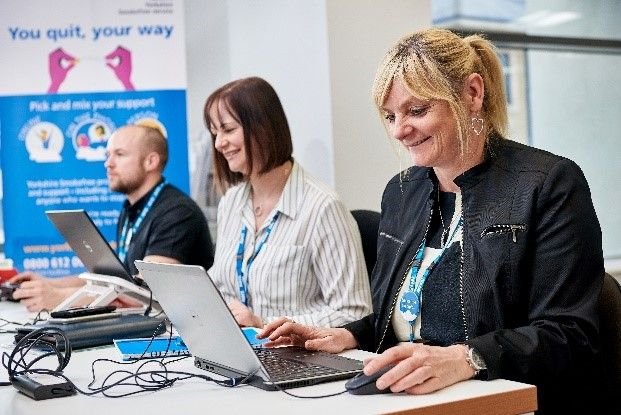 South West Yorkshire Partnership NHS Foundation Trust, who manage smokefree services in Barnsley, Calderdale, Wakefield, Sheffield, and Doncaster, has achieved the top five places in the Yorkshire and Humber region for helping people quit smoking within four weeks.
Yorkshire Smokefree has a team of dedicated professionals who provide a mix of support for people who want to quit smoking, including telephone support, face to face sessions, and an online quit program.
More information on Yorkshire Smokefree and the services available can be found on the Yorkshire Smokefree website.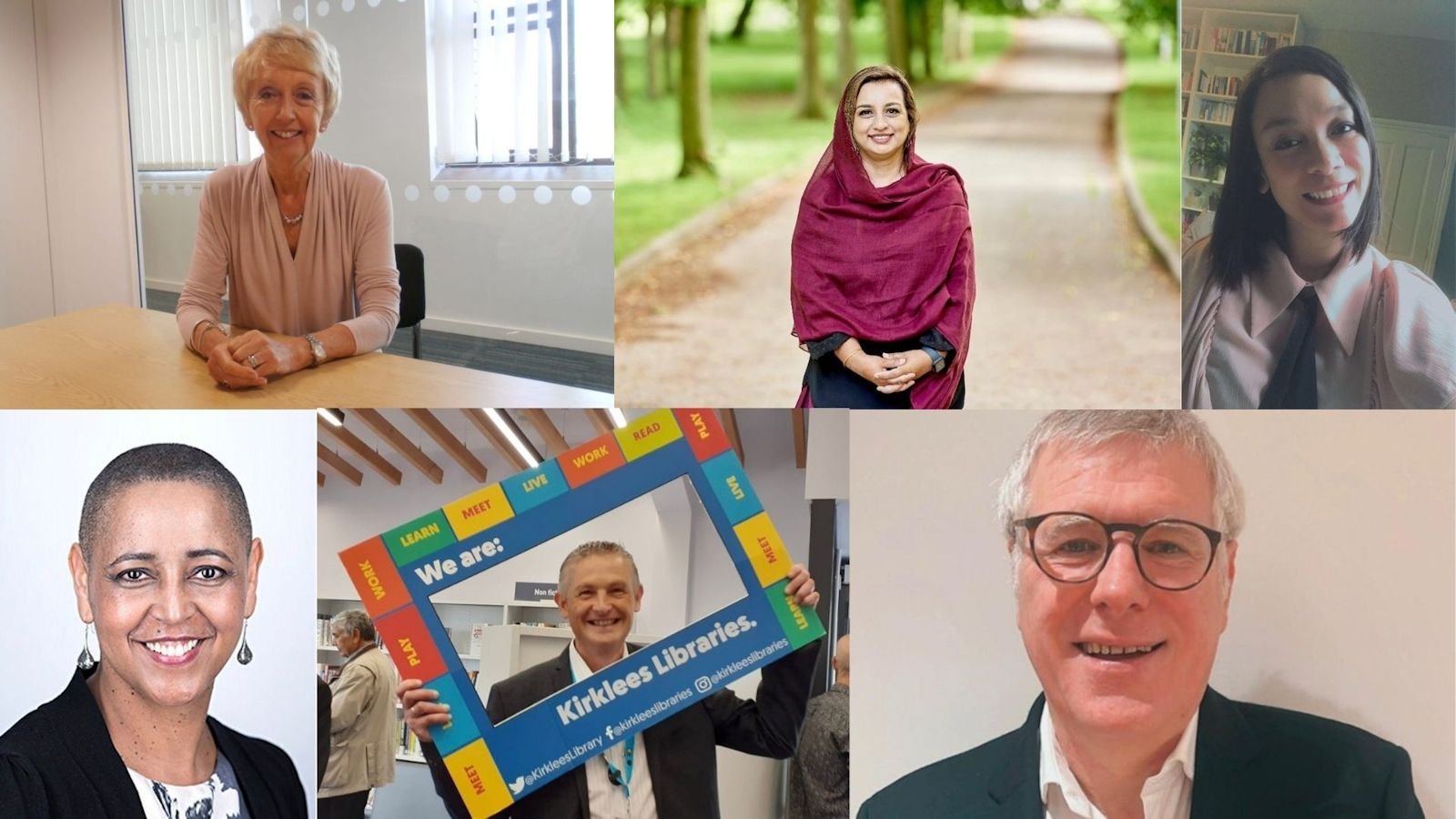 Congratulations to all who have been recognised in the New Year's Honours, including…
Pamela Essler, who has/had a lay role with Bradford and Craven Clinical Commissioning Group and West Yorkshire Partnership was awarded The British Empire Medal (BEM) for services to the NHS in the New Year Honours list
South West Yorkshire Partnership NHS Foundation Trust, former director of people, Alan Davis, was awarded a Member of the Order of the British Empire (MBE)
Alison Lowe for services to Mental Health and Wellbeing during COVID-19 (OBE)
Professor Mahendra Gulabbhai Patel. Pharmacist For services to Pharmacy (OBE)
Sofia Buncy. Founder, Muslim Women in Prison Project. For services to Prisoners and the community in Bradford, West Yorkshire (OBE)
Kaneez Khan. Coordinator, Near Neighbours, West Yorkshire. For services to Interfaith Relations, particularly during COVID-19 (OBE)
Kim Shutler. Chief Executive Officer, The Cellar Trust. For services to People with Mental Health Issues (OBE)
Dr. Julian Mark. Executive Medical Director, Yorkshire Ambulance Service. Queen's Ambulance Service Medal (QAM)
Kirklees Libraries staff receive New Year's Honours recognition three years in a row with a British Empire Medal in the 2022 Queen's Platinum Jubilee New Year's Honours list.
Heroes Unmasked - Staff Stories from Leeds Teaching Hospitals NHS Trust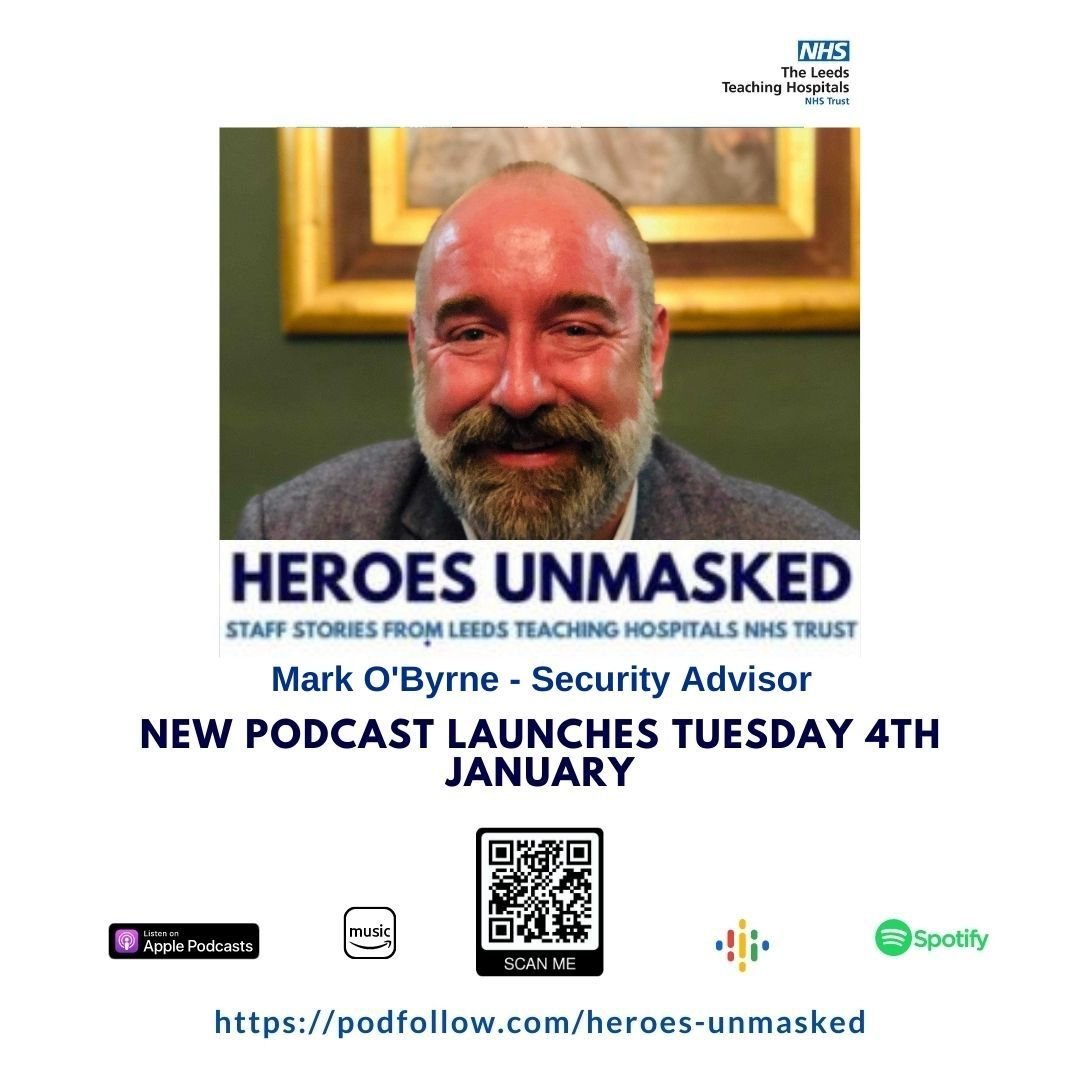 This series goes behind the mask and the uniform to find out about what makes the staff from Leeds Teaching Hospitals NHS Trust tick.
A doctor isn't just someone who makes people better. A porter isn't just someone who moves people around a hospital. As staff across Leeds Teaching Hospitals NHS Trust have been hailed heroes for their work during Covid, we go deeper to find out who they actually are, to hear their stories, what makes them tick, what their passions are and why they do the jobs they do.
This series of nine episodes involves professional rugby players, champion fencers, leper colonies and even submarines. Some will make you cry; some will make you think, all will give you an insight into the person behind the mask.
The first two episodes launched on Tuesday 4 January on all your normal podcast channels and feature Security Adviser and former submariner Mark O'Byrne and Consultant Neurologist, Dr Agam Jung.