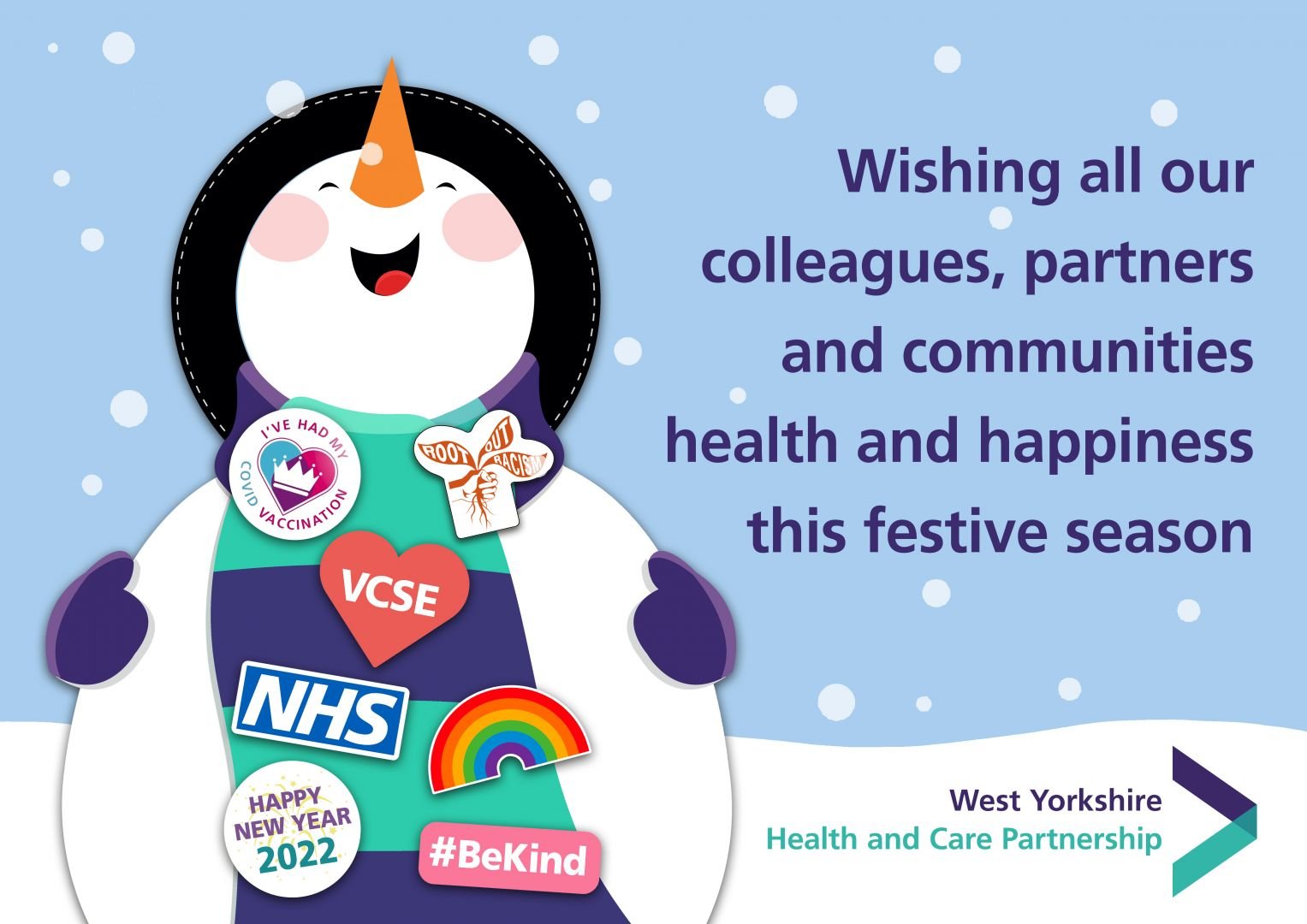 Checking in with our mental health over the festive season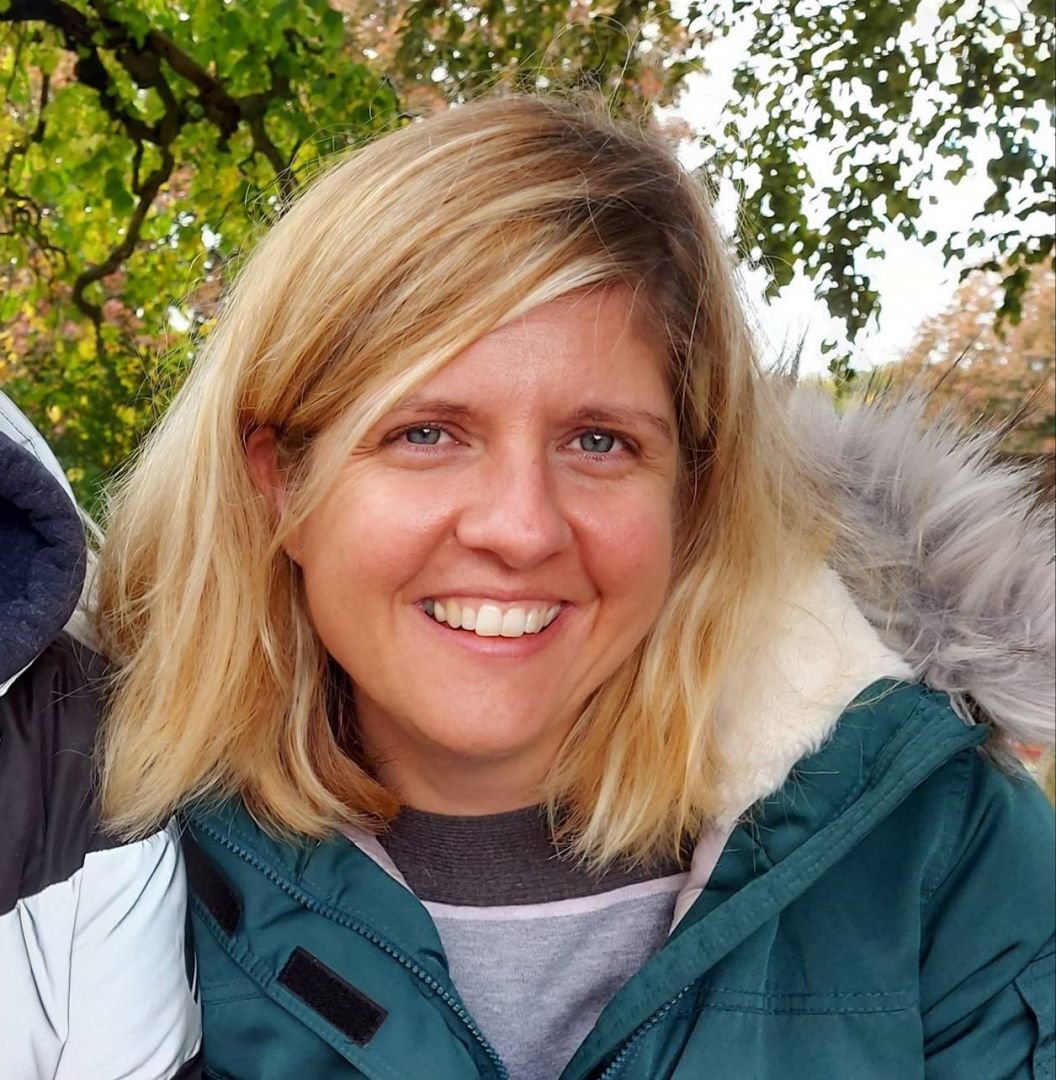 With Christmas and New Year fast approaching, it's important to check in with those around us, especially our colleagues, many of whom will continue to work under considerable pressure on the front line over the festive period.
The increased pressure and loneliness of this time of year can be significant triggers for those struggling with their mental health and experiencing suicidal ideation. And this applies to staff just as much as the people they care for. A 2015 survey by Mind* showed that more than a third (36 per cent) of people with mental health problems have self-harmed to cope with the pressure of Christmas. Of the of 1,100 people surveyed, more than half (52 per cent) considered harming themselves at Christmas, while nearly half (45 per cent) considered taking their own life.
Spot the risks
Understanding who might be at risk can help us have conversations where they are needed and could save someone's life. When speaking to colleagues consider:
Are they spending Christmas alone?
Are they having financial worries?
Are they having relationship difficulties, or spending Christmas away from children?
Have they witnessed a death or experienced trauma at work?
Have they been bereaved?
Are going through HR processes at work, or in a longer-term sickness absence?
Our support and crisis lines are open as normal throughout the Christmas and New Year period
The staff support line is open every day, 8am – 8pm including all bank holidays – call 0808 196 3833 or chat online.
If you or someone you know is experiencing a crisis, our crisis lines are open 24 hours a day, every day:
Leeds 0800 183 1485
Bradford 0800 952 1181
Calderdale, Kirklees, and Wakefield 0800 183 0558
*Mind warns that people with mental health problems struggle with self-harm and suicidal feelings due to the pressure of Christmas | Mind, the mental health charity - help for mental health problems
What else has been happening this week?
Booster roll-out speeds up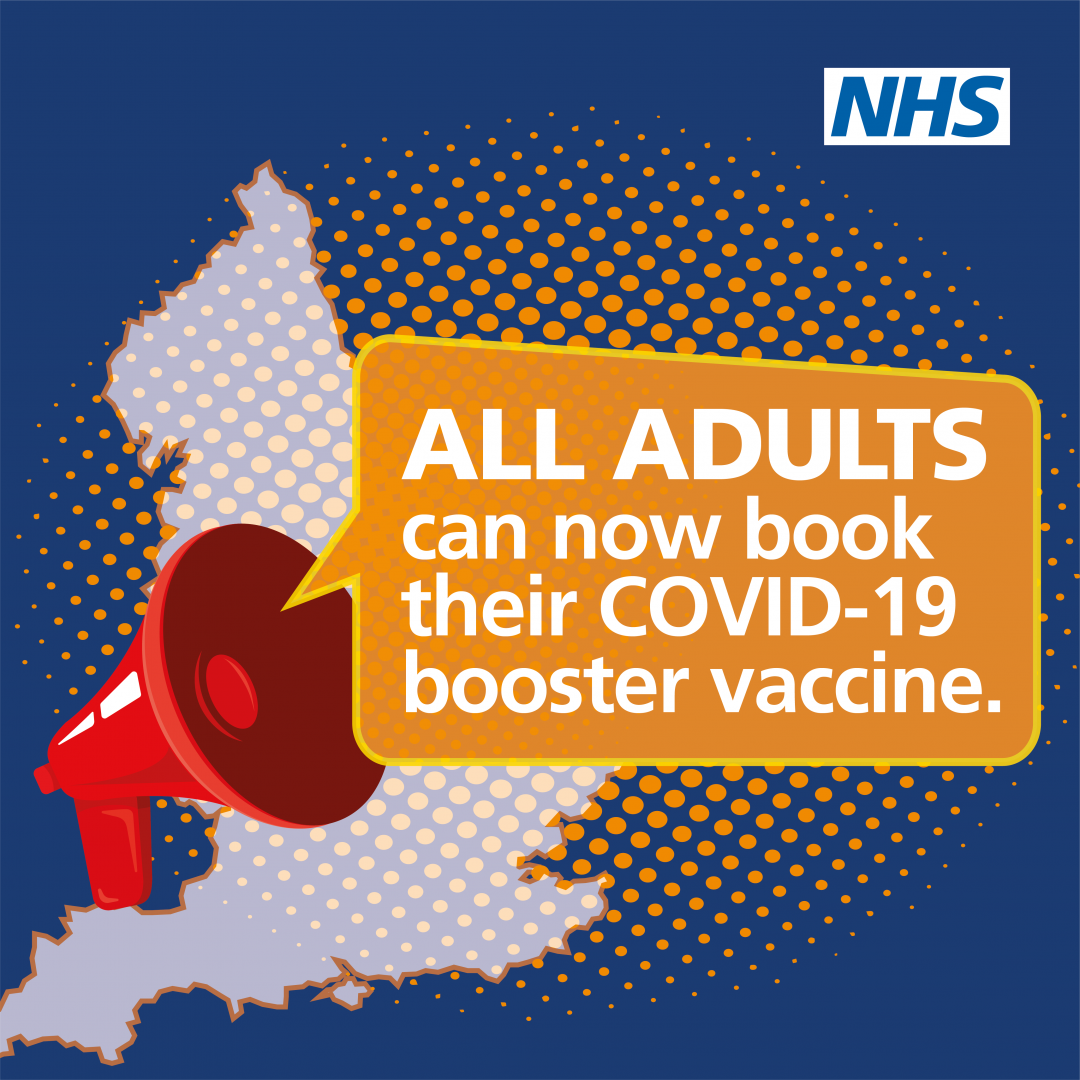 n response to the national effort to protect people against the Omicron variant, the NHS is working to offer everyone aged 18 and over the chance to book a COVID-19 booster vaccine by the end of December.
Online bookings opened on Monday 13th December for people aged 30 and above and will open up to everyone aged 18 and over from Wednesday 15th December.
Extra appointments are being made available at centres across West Yorkshire with staff working round the clock to get people jabbed as quickly as possible. We are asking people to help us vaccinate as many people as possible by booking an appointment rather than walking in - and this will also help to reduce the time you may have to wait at centre. You can book online at www.nhs.uk/covidvaccine or by calling 119. The service is currently very busy, but more appointments are being added all the time so please keep checking back if you can't get an appointment as quickly as you would like.
Please do not contact your GP practice for an appointment or information on the booster rollout. Practices are working together to offer vaccinations and will contact patients when it is their turn or people can choose to book an appointment at a different centre through the National Booking Service. You can read more about the boosters on the Partnership website.
Learning Disability Health and Care Champions
The Health and Care Champions have shared an update about their recent work on behalf of the Partnership Programmes that they support. You can read it here.
The Champions have also been busy making films for UK Disability History Month 2021 . They have made these short films about their hidden disabilities.
The Champions received a briefing from local social workers about the Human Rights Act 1998.
This is a quote from a short film they have made about the Act: "The Human Rights Act lets me know that I have the freedom to live my life the way that I want to"
Mental health crisis lines open over the festive period
All the Partnership's mental health lines are operating as normal throughout the Christmas period. Our Staff Mental Health and Wellbeing Hub online self-referral is available at all times for people to send through their form for assessment, however, the Hub is not a crisis service so we have updated the Hub website to reflect this and signpost people to those crisis services.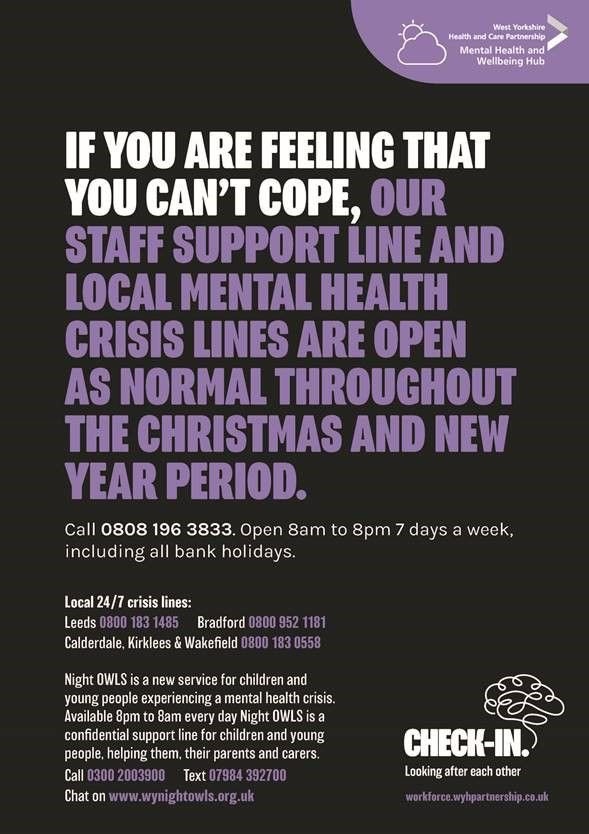 Together We Can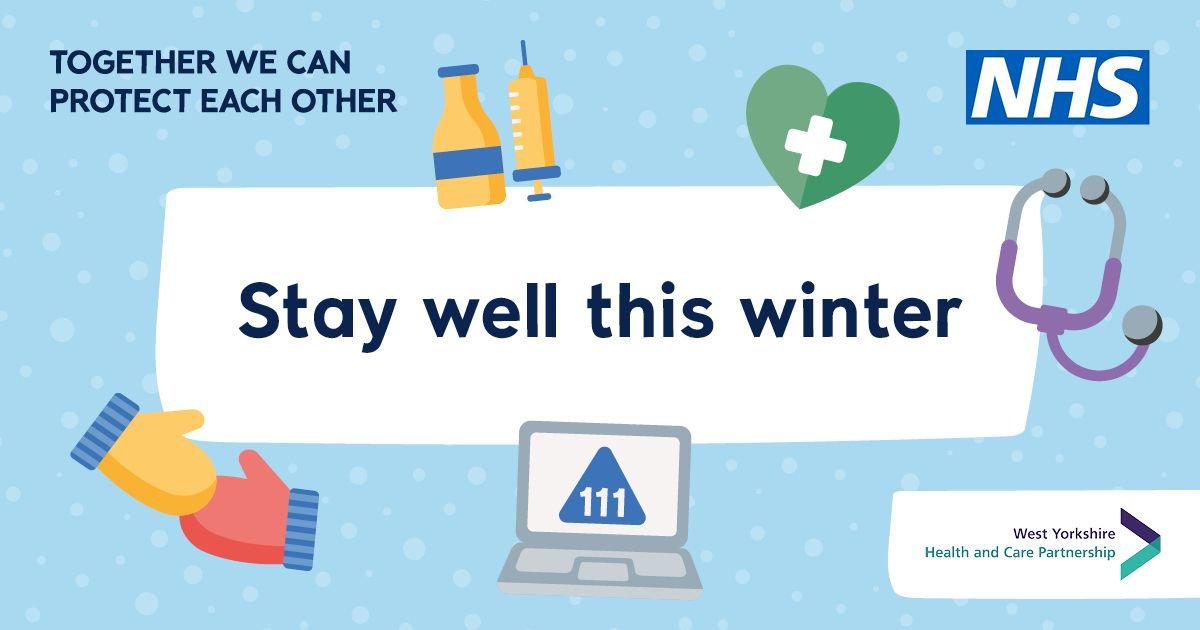 This week we launched an area wide 'Together We Can' campaign that will run throughout the winter. The campaign started in Calderdale and Kirklees is being rolled out across West Yorkshire to help people access health and care services at the right time and place. The campaign encourages people to choose well and to opt for convenient self-care, where safe to do so during the winter months.
The campaign has an easy to navigate website: togetherwe-can.com. Here you will find help and advice and tips for keeping well this winter, as well as other useful information on how to stay healthy.
As the NHS deals with the busiest winter in its history, we can all play our part to protect ourselves and those around us. You can read more about the Together We Can campaign on the Partnership website.
Seven steps we can all take together
Health and care services across West Yorkshire are asking for your support during the busiest and most challenging period the sector has experienced. Here are seven simple steps we can take together so we can face and overcome a winter like no other.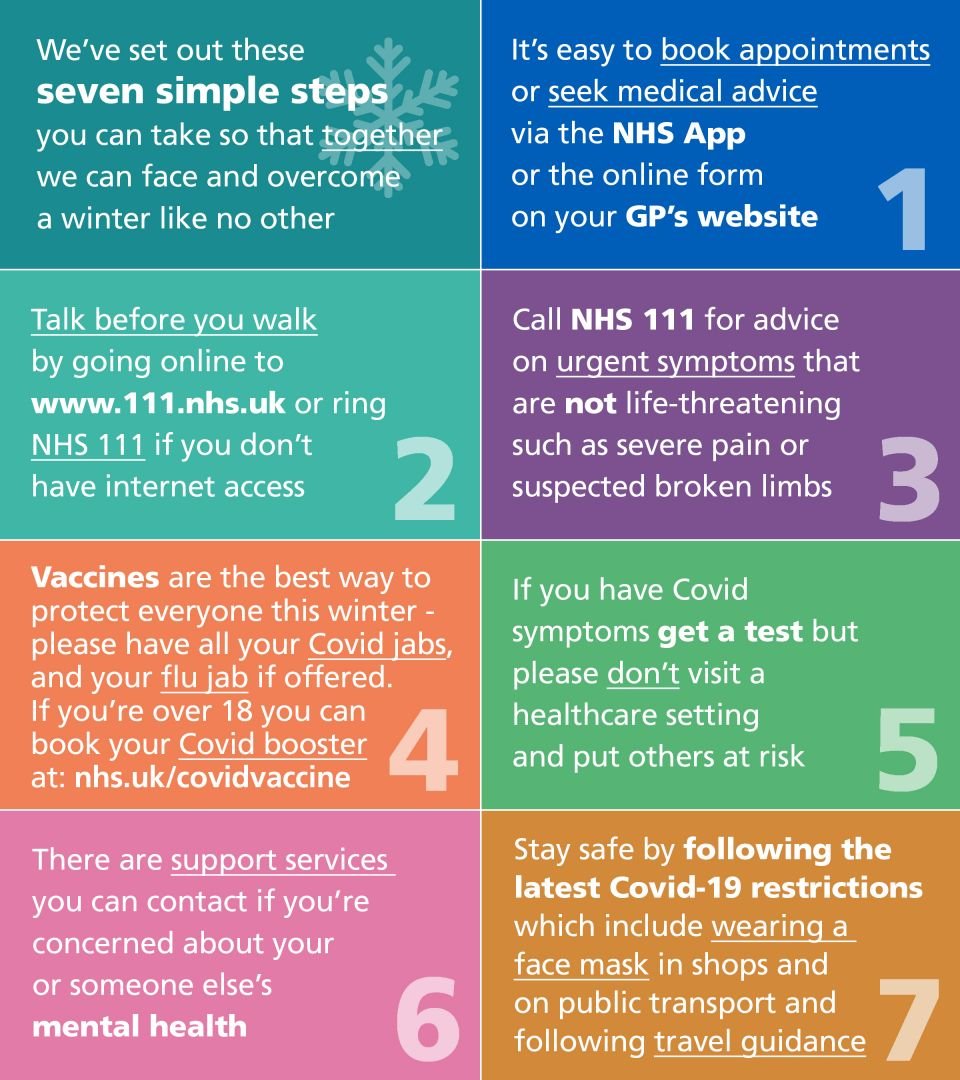 Men's mental health – Staff Mental Health and Wellbeing Hub
£100k investment in 'supporting men in healthcare' pilot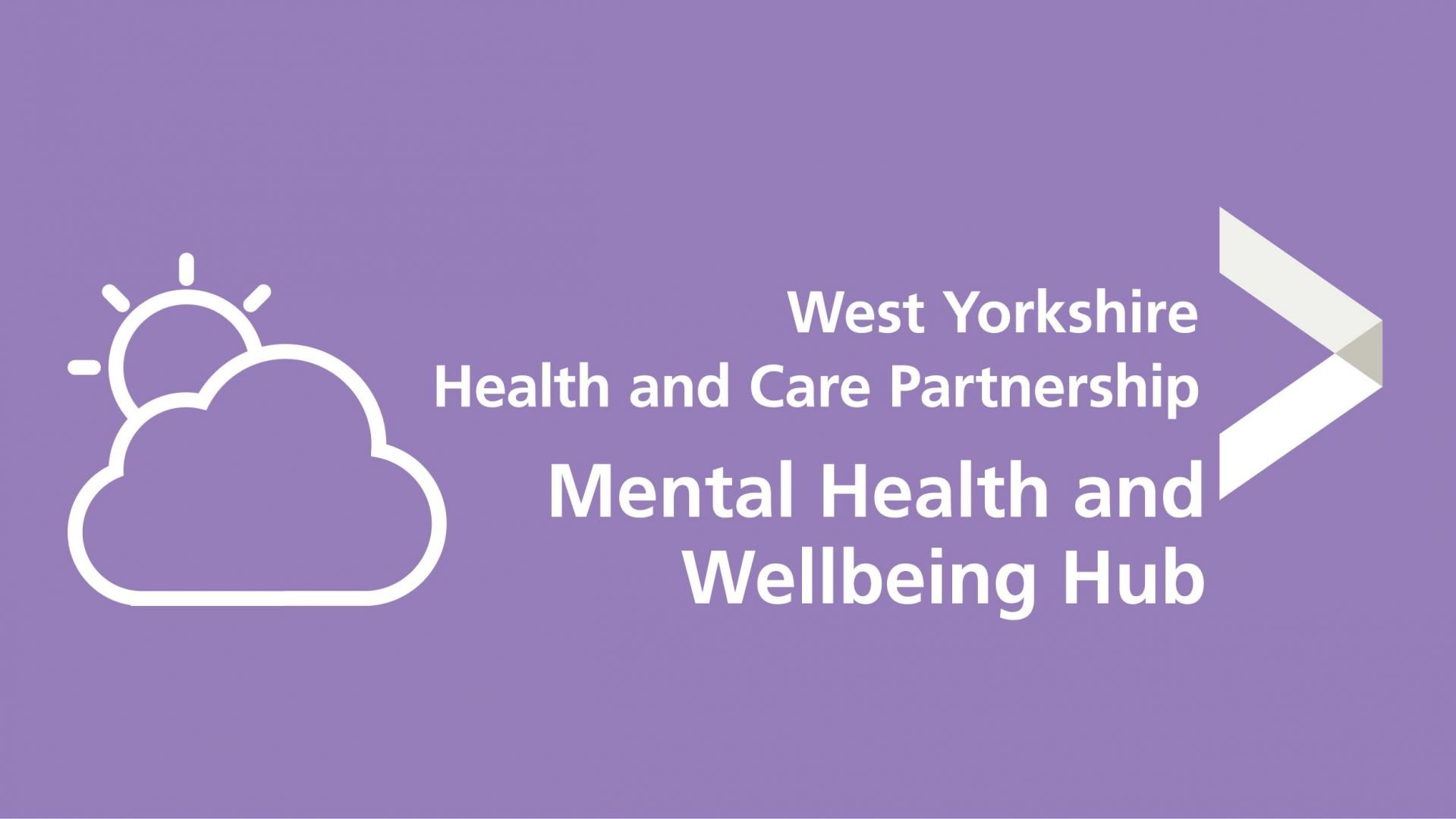 The Partnership is investing £100k in the voluntary and community sector to pilot new provision to improve the mental health and wellbeing of men who work and volunteer in healthcare within the region.
This is an opportunity for a sole voluntary, community, and social enterprise (VCSE) organisation or group of organisations, to tender for a contract from the West Yorkshire Mental Health and Wellbeing Hub. The investment will be used to pilot new creative ways of working and engaging men, who may not access traditional workplace support. The fund application opened on 15 December and the deadline for entries is 18 February 2022. Decisions will be made by a virtual panel at the start of March.
To apply, download the PDF guidance details and return submissions to bdcccg.wyh.mentalwellbeinghub@nhs.net
Any additional questions can be emailed to Jessica.parker@swyt.nhs.uk.
City of Sanctuary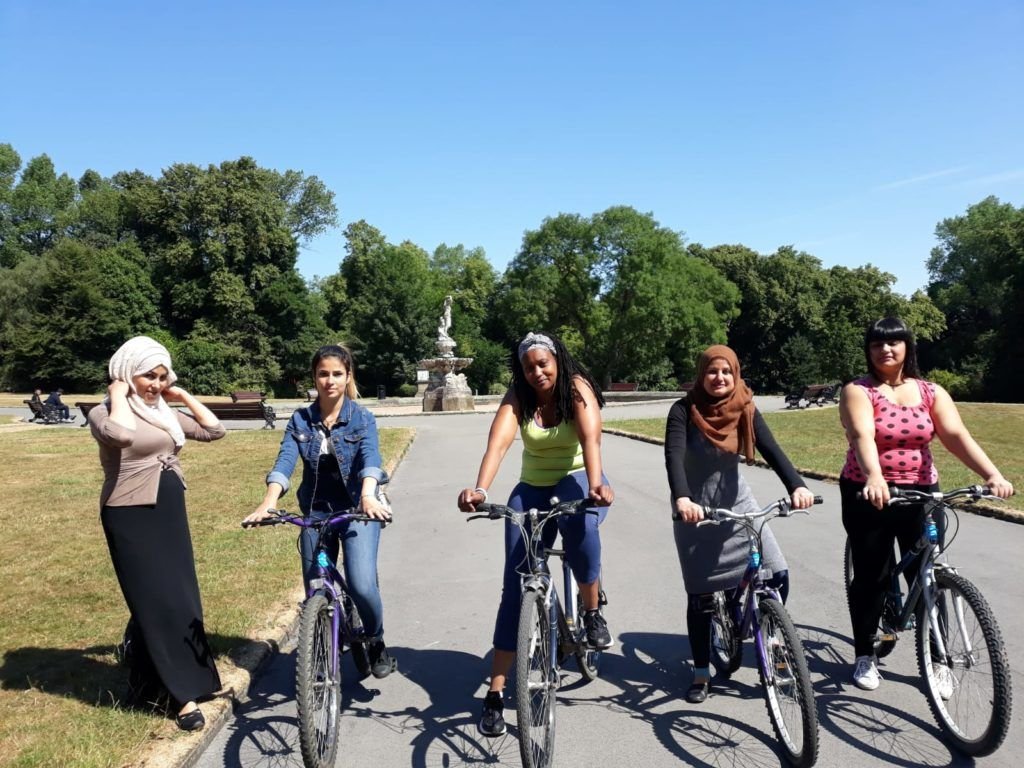 Here in West Yorkshire, we are very proud to offer a place of sanctuary to over 50% of the total number of vulnerable migrants in the North East, Yorkshire, and Humber region. We recognise and welcome how much their presence enriches our communities and our culture.
Last year, amidst harrowing images of thousands fleeing their home countries, in fear of persecution, torture and indeed their lives, a decision was taken that West Yorkshire Health and Care Partnership should aspire to become the first 'Integrated Care System of Sanctuary.' This venture, for us, was never merely about receiving a badge or an accolade, but a means of achieving sustainable and meaningful change for a population which, through no fault of their own, undoubtedly experience some of the most significant health inequalities.
We were deeply moved reading and listening to testimonies from the vulnerable migrant community describing the struggles and challenges they faced in accessing healthcare services and this helped to inform and shape our objectives, we wanted to ensure that our health and care services were safe, welcoming, and crucially, accessible to all our vulnerable migrant communities.
We are acutely aware that many asylum seekers and refugees have been exposed to traumatic experiences, may have endured life-threatening journeys to reach a place of safety and may find themselves destitute, with culture and language barriers making it difficult for them to navigate our health and social care systems. Moreover, we know that many vulnerable migrants have come from countries where a family medicine type model simply doesn't exist, so the action plan which we have devised, whilst not exhaustive L, seeks to overcome these barriers to access and redress the disparities which exist.
We acknowledged from the outset that it was crucial to achieve 'buy in' from our Senior Leadership Team and we able to attain this at an early stage of the journey. We have and continue to socialise the concept of being an organisation of sanctuary amongst our wider workforce, partner organisations and key stakeholders. A fundamental component of our strategy is meaningful engagement, working with our vulnerable migrant community not merely doing to them.
Accepting our workforce is vast we have taken steps to ensure that the needs of our migrant population are considered at every possible juncture, this is reflected in much of what we do, including meeting agendas and at our community of practice events.
Our plan is iterative and will organically evolve as we move through the implementation period. We will continue to co-produce our strategy with experts by experience and partner organisations, particularly from the VCSE sector. Ultimately, we aspire to share our vision and act as a catalyst for other ICS' and healthcare providers to consider becoming organisations of sanctuary themselves.
Supporting the refugee community
Solace - a charity specialising in providing holistic support to refugees – used their share of the Partnership's health inequalities fund to increase their provision of therapeutic services and conduct valuable research into the barriers these groups face when accessing help with their mental health. For more information see the NHS Confederation case study and the Solace video.
Personalised care end of year report 2021
Personalised Care has never been a more important tool to ensure people are given the knowledge, skills, and confidence to take ownership of their physical and mental health. With more services taking place online, more digital apps available to support conditions, and more people conscious of their mental health and wellbeing, 2021 has provided many of us with more opportunities to self-manage long term conditions, access virtual peer support, and take on more active roles within the delivery of our health and care, or the health and care of those we care for.
Within the West Yorkshire Health and Care Partnership we have been actively looking at ways to upskill our communities, and our workforce to have better conversations about what matters to them, and better connect people to their communities. Personalised care means people have choice and control over the way their care is planned and delivered. By understanding "what matters" to them it supports people to live and age well in a way which is right for them. Personalised Care is about acknowledging that health and care is not a one size fits all approach, and represents a new relationship between people, professionals, and the system.
You can read more about our work this year to embed the personalised care agenda on the Partnership website.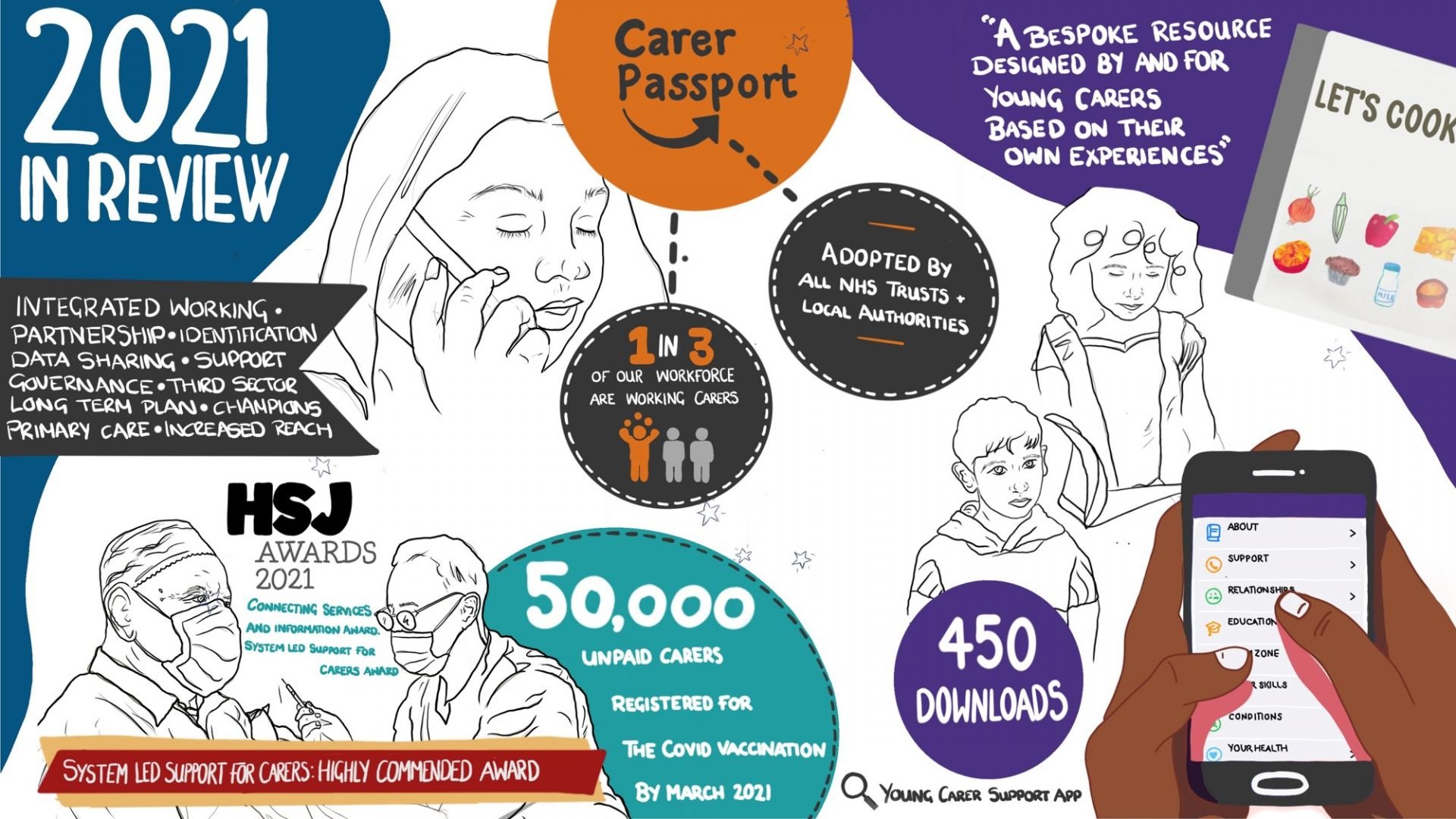 Unpaid carers end of year report 2021
For the majority, 2021 has been the year of social isolation, increased system pressures, low resilience, and burnout. We estimate that 1 in 8 of adults are unpaid carers, with an additional 6000 people taking on caring responsibilities daily. Within our workforce, 1 in 3 people are balancing work with additional caring responsibilities due to a disability, health condition, frailty, mental health problem, addiction or other health and care needs. As a direct result of Covid-19 Carers UK estimates there are around 13.6 million people caring through the pandemic, and that in March 2020 overnight an additional 4.5 million people became unpaid carers overnight.
For the West Yorkshire (HCP) unpaid carers programme, 2021 has been the year to challenge and push boundaries, engage with our communities, and ensure appropriate support is available to meet the diverse and ever-changing needs of the communities we serve. Our primary ambition for the year was to address the existing health inequalities gap widened by the pandemic and encouraging carers to step forward for the Covid 19 vaccination, thereby increasing recognition and support for carers across West Yorkshire.
You can read more about our work this year to support unpaid carers on the Partnership website.
Managing and preventing diabetes - new posters available
We have developed two posters, one for GPs and the other for patients summarising the national programmes available to help prevent and manage diabetes and have written to practices to let them know. Laminated versions of the patient poster are being sent to all practices to put up in waiting areas. You can also find these resources on our diabetes communication resource centre.