Read or download the Root Out Racism focus groups and insight report
Gathering the insight
We conducted six focus groups over three days, attended by 51 people and 15 different organisations represented, with colleagues from across our places, including from the community, voluntary and social enterprise sector.
The aim of these focus groups was to allow collaboration through the sharing of ideas, insights and perceptions of the anti-racism movement and subsequent campaign. The groups were qualitative 60-minute interviews conducted over online video conference.
Participants were asked a series of questions about their experiences of racism, in their particular context. Participants were then given the opportunity to share their experiences, with further follow up made available through an anonymous form. All responses in this report have been anonymised.
Read or download the Root Out Racism focus groups and insight report
Tackling health inequalities for ethnic minority communities and colleagues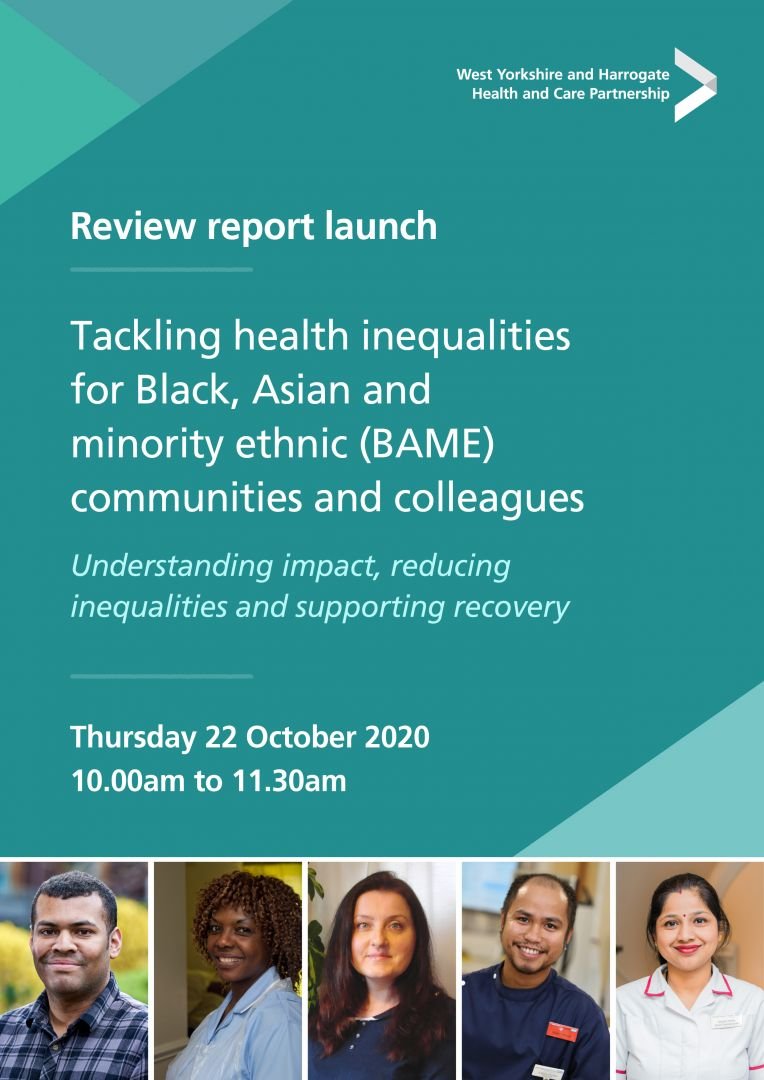 Everyone deserves the same opportunities to lead a healthy life, no matter where they live or who they are. Yet, evidence shows that people from ethnic minority communities continue to face health inequalities, discrimination in the workplace and are more likely to develop coronavirus (COVID-19) and die as a result of it.
In 2020, West Yorkshire and Harrogate Health and Care Partnership undertook a review to understand the impact of COVID-19 and health inequalities on ethnic minority communities and staff. The aim was to review existing work, to explore if this work was sufficient to address this impact and to identify recommendations for action to reduce this impact.
More information about the review, including a report into its findings
Infographic: summary of review report recommendations
Click on the infographic to see the full, larger image

Our 10 Big Ambitions
In our Five Year Plan, 'Better health and wellbeing for everyone', we listed 10 ambitions, with one of them being:
"We will have a more diverse leadership that better reflects the broad range of talent in West Yorkshire and Harrogate, helping to ensure that the poor experiences in the workplace that are particularly high for ethnic minority staff will become a thing of the past."
The Root Out Racism movement is part of our commitment to this ambition.