These resources and guidance, collated by the West Yorkshire and Harrogate Health and Care Partnership Root Out Racism project team, include links to anti-racism organisations and resources to help people tackle racism and racial discrimination in the workplace and in their communities. This page also includes a selcetion of suggested reading, watching and listening materials.
Useful reading
Amplifying Voices Mending Divides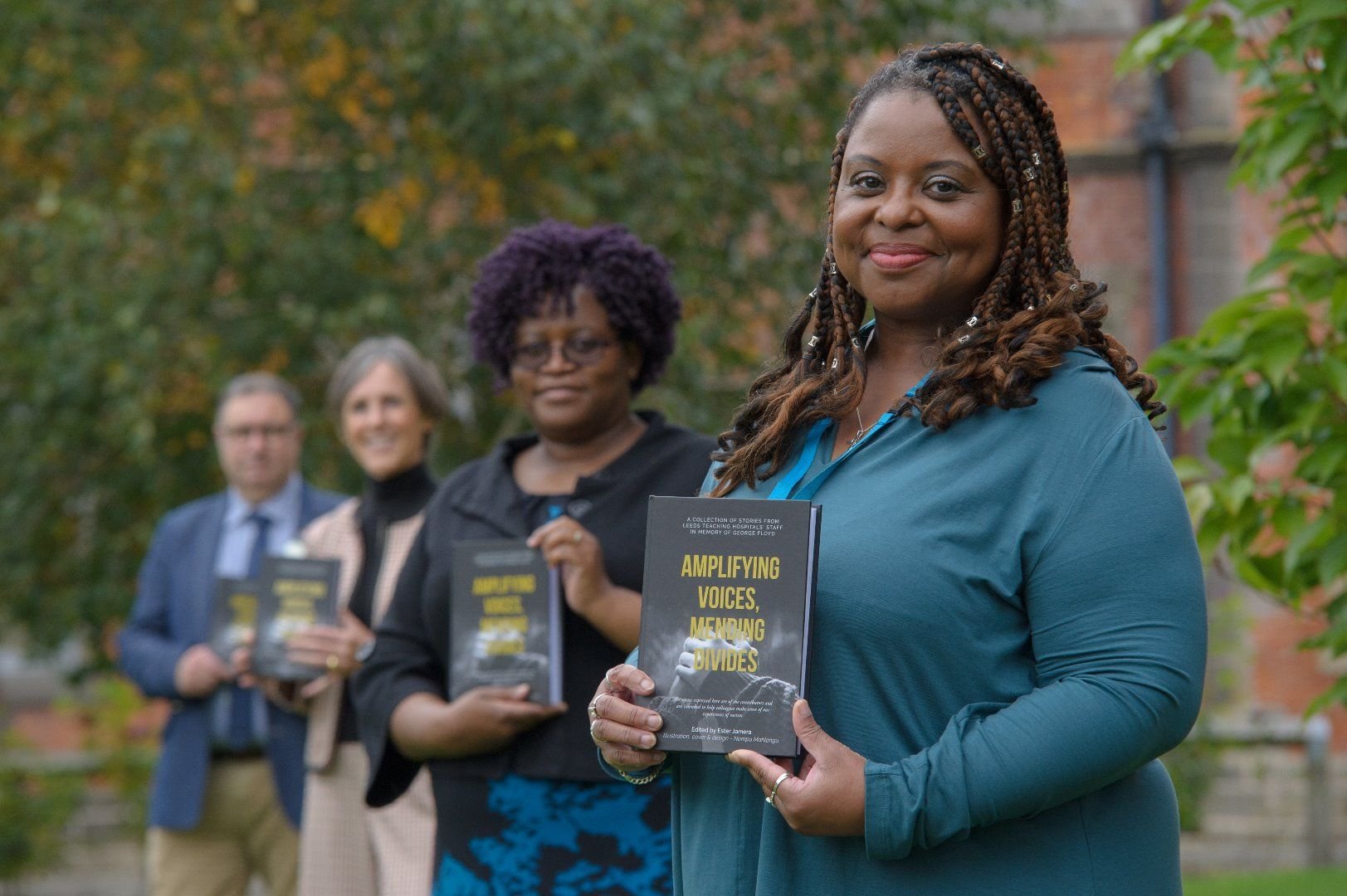 We are committed to confronting inequality and creating an inclusive organisation where all our staff and patients can thrive, no matter their background. In August 2021 we joined 450 organisations across the region in committing to Root Out Racism. Amplifying Voices, Mending Divides is a new book from LTHT staff that takes a significant step along this path to achieving our vision. This new anthology brings together fourteen contributors from across the Trust and beyond, featuring a diverse range of voices from ethnic minority and white backgrounds, speaking about their lived experiences of racism.
Useful watching - a selection of films and TV series
The story of a team of female African-American mathematicians who served a vital role in NASA during the early years of the U.S. space program.
A chronicle of Dr. Martin Luther King, Jr.'s campaign to secure equal voting rights via an epic march from Selma to Montgomery, Alabama, in 1965.
13th (2016)
An in-depth look at the prison system in the United States and how it reveals the nation's history of racial inequality.
Five teens from Harlem become trapped in a nightmare when they're falsely accused of a brutal attack in Central Park. Based on the true story.
The extraordinary tale of Harriet Tubman's escape from slavery and transformation into one of America's greatest heroes, whose courage, ingenuity, and tenacity freed hundreds of slaves and changed the course of history.
World-renowned civil rights defense attorney Bryan Stevenson works to free a wrongly condemned death row prisoner.
A young African-American visits his white girlfriend's parents for the weekend, where his simmering uneasiness about their reception of him eventually reaches a boiling point.
Fact-based drama set during the 1967 Detroit riots in which a group of rogue police officers respond to a complaint with retribution rather than justice on their minds.
Historian David Olusoga explores the enduring relationship between Britain and people whose origins lie in Africa.
Anthony Bryan and his personal struggle to be accepted as a British Citizen during the Windrush immigration scandal
Two London drug dealers ply their lucrative trade at a public housing estate in East London.
In the New York of the late 80s and early 90s, this is a story of ball culture and the gay and trans community, the raging AIDS crisis and capitalism.
At a predominantly white Ivy League college, a group of black students navigate various forms of racial and other types of discrimination.
Writer James Baldwin tells the story of race in modern America with his unfinished novel, Remember This House.
From background actors to centre stage, Gone With the Wind to Black Panther. Stars including Harry Belafonte, Whoopi Goldberg and John Boyega share stories of prejudice and success.
Documentary series examining the murder of Stephen Lawrence.
Documentary exploring the Black Panther party, its culture and political awakening for black people, which weaves archival footage with the voices of the people who were there.
I may Destroy You (2020)
The question of sexual consent in contemporary life and how, in the new landscape of dating and relationships, we make the distinction between liberation and exploitation.
12 Years A Slave (2012)
In the antebellum United States, Solomon Northup, a free black man from upstate New York, is abducted and sold into slavery.
Small Axe (2020)
Small Axe is based on the real-life experiences of London's West Indian community and is set between 1969 and 1982.
Rocks (2019)
15-year-old Rocks fears that she and her little brother Emmanuel will be taken into care and forced apart if anyone finds out that their mother has left them. Against all odds, and with the help of her loyal friends, she evades the authorities and navigates the most defining days of her young life.
Black Power Mixtape: 1967-1975 (2011)
Footage shot by a group of Swedish journalists documenting the Black Power Movement in the United States is edited together by a contemporary Swedish filmmaker.
Clemency (2019)
As she prepares to execute another inmate, Bernadine must confront the psychological and emotional demons her job creates, ultimately connecting her to the man she is sanctioned to kill.
Fruitvale Station (2013)
The story of Oscar Grant III, a 22-year-old Bay Area resident, who crosses paths with friends, enemies, family, and strangers on the last day of 2008.
If Beale Street Could Talk (2018)
A young woman embraces her pregnancy while she and her family set out to prove her childhood friend and lover innocent of a crime he didn't commit.
Moonlight (2016)
A young African-American man grapples with his identity and sexuality while experiencing the everyday struggles of childhood, adolescence, and burgeoning adulthood.
King In The Wilderness (2019)
A look at the final years in the life of Martin Luther King, Jr.
See You Yesterday (2019)
Two Brooklyn teenage prodigies, C.J. Walker and Sebastian Thomas, build makeshift time machines to save C.J.'s brother, Calvin, from being wrongfully killed by a police officer.
The Black Panthers: Vanguard of the Revolution (2015)
This documentary tells the rise and fall of the Black Panther Party, one of the 20th century's most alluring and controversial organizations that captivated the world's attention for nearly 50 years.
The Hate U Give (2018)
Starr witnesses the fatal shooting of her childhood best friend Khalil at the hands of a police officer. Now, facing pressure from all sides of the community, Starr must find her voice and stand up for what's right.
Boyz n the Hood (1991)
Follows the lives of three young males living in the Crenshaw ghetto of Los Angeles, dissecting questions of race, relationships, violence, and future prospects.
She's Got to Have It (1986)
Story of a woman and her three lovers.
Do the Right Thing (1989)
On the hottest day of the year on a street in the Bedford-Stuyvesant section of Brooklyn, everyone's hate and bigotry smolders and builds until it explodes into violence.
Sorry To Bother You (2018)
In an alternate present-day version of Oakland, telemarketer Cassius Green discovers a magical key to professional success, propelling him into a universe of greed.
Ma Rainey's Black Bottom (2020)
Tensions rise when trailblazing blues singer Ma Rainey and her band gather at a recording studio in Chicago in 1927.
Sitting in Limbo (2020)
A shocking drama inspired by the Windrush scandal. After 50 years in the UK, Anthony Bryan is wrongfully detained by the Home Office and threatened with deportation.
The People vs OJ: American Crime Story (2016)
This dramatization traces the twists and turns of O.J. Simpson's murder trial, examining behind-the-scenes gambits on both sides of the court.