Health Inequalities Fund: helping communities tackle the effects of COVID-19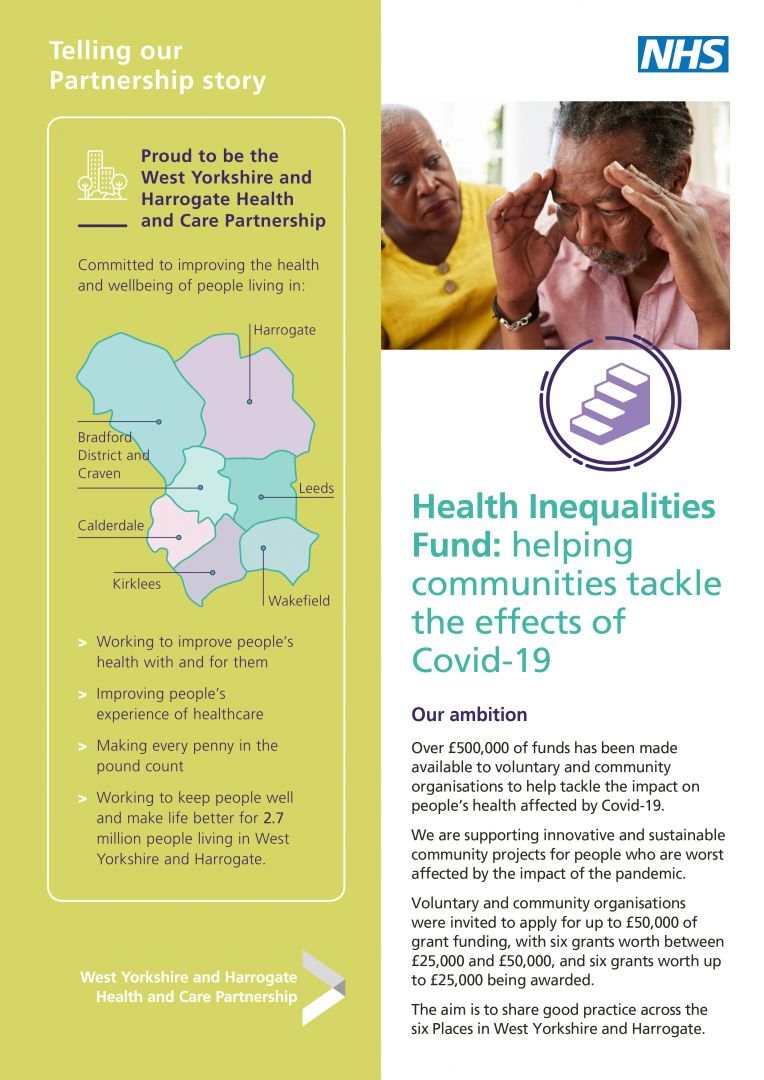 West Yorkshire Health and Care Partnership are delighted to allocate over £500,000 to thirteen voluntary and community organisations across the area.
The funds will be used to support community organisations, working together with health partners, to support those that have been disproportionately affected by COVID-19.
Case study: DIAL Leeds
DIAL Leeds is led by people with lived-experience of long-term conditions who go that step further to sustain support and help people navigate the system, for example supporting families and individuals who are waiting for a tribunal hearing where waiting times currently stand at 49 weeks.
They are providing tailored, peer-led support for people with disabilities and/or long-term conditions who are relying on foodbanks in North Leeds and are an over-represented group among foodbank users. 
Many people of the people they support are in crisis and coping with income shocks (benefits-related issues, Universal Credit and financial difficulties) which negatively impact on their health and wellbeing.
Support from the Harnessing Power of Communities Grants grant has enabled this weekly, trusted and valued peer-led support service to be re-established at the Moortown foodbank following a 7-month gap.
As a result of this grant, 33 people have been supported around their physical, emotional and financial health including 24 disabled adults, 1 disabled child and 2 carers.
This support has been life-changing for a number of their beneficiaries. For example, a man who had moved into an empty council flat with no furniture or household items, following the breakdown of his marriage, was supported by DIAL Leeds to obtain basic furniture (bed, sofa, dining table and chairs) by raising £20 to pay for a local furniture services' admin and delivery fees.
This has improved his general and mental health allowing him to not get worked up and angry because "no-one was listening to him".