The contribution of the VCSE sector in Yorkshire and the Humber - research report
Understanding and celebrating the role of charities in health and care across West Yorkshire
75 years ago, our National Health Service (NHS) was established. A ground-breaking change which made health and care services free at the point of access to the entire population. Charities were a fundamental building block on which the new NHS was established.
Today we launch new research which sets out the shape, size, and economic and social value of our voluntary, community and social enterprise sector (VCSE) 75 years on, here in Yorkshire.
The contribution of the VCSE sector in Yorkshire and the Humber - report
The contribution of the VCSE sector in Yorkshire and the Humber - summary report
The VCSE and Primary Care - working together to improve population health
The reports present some of the outcomes and insights resulting from collaborative pathways to alternative therapies for people with MSK conditions between two PCNs and their respective VCSE partners , in addition to insights and lessons that have been learnt along the way.
Independent outcomes evaluation
The evaluation showed the pathways improved the physical and mental wellbeing of patients. There were also signs that increased self-confidence, adoption of self-help techniques and some reduction in the use of GP time would help to reduce pressure on clinicians. It also demonstrated the benefits of integrated care, with the confidence that comes from a GP referral improving uptake of alternative provision that created opportunities to invest time in building relationships with potential participants, that in turn led to better reach into the target populations.
Click here for the evaluation.
Please find further information regarding the evaluation on our engagement and consultation pages here.
Transferable service model
This reflects the learning from six pathways and offers a generic approach that can be adapted to PCN-VCSE pathways for different cohorts of patients. The factors that improved the likelihood of success included co-production of the pathway, simple pathway design with bespoke selection criteria, GP engagement, clinicians' recognition of VCSE potential, mature working relationships, and VCSE experienced in working with Health. An integrated Place-level Social Prescribing service also helped.
Click here for the service model.
VCSE/PCN Evaluation
Final report access to Primary Care in central Halifax
Kirklees voluntary, community and social enterprise (VCSE) primary care network (PCN) evaluation
Third Sector Trends 2022 first report: structure, purpose, energy and impact of the voluntary, community and social enterprise sector in England and Wales
Third Sector Trends has been running since 2008. The study has been surveying the sector every three years since 2010 and as such is the largest survey of the voluntary, community and social enterprise sector in England and Wales.
In 2022, 6,071 responses were received across England and Wales (an average of ~600 responses in each region). Designed to complement NCVOs UK Civil Society Almanac, it is the only fully representative longitudinal survey which can produce robust and detailed comparative analysis at a regional and national level.
This is the first of five reports from Third Sector Trends 2022.
We will be receiving a more focused report for West Yorkshire early in 2023.
Third Sector Trends in England and Wales 2022: Structure, purpose energy and impact.(PDF)
Working with Mums and Dads and health and care staff to strengthen how we deliver maternity services in West Yorkshire
Harnessing the Power of Communities and LMNS working alongside Thrive by Design, have produced a report based on conversations with a range of stakeholders around Maternity services in West Yorkshire and Harrogate.
This work emerged following conversations between the Local Maternity and Neonatal System (LMNS) and Harnessing the Power of Communities (HPoC) around how to better engage with the voluntary, community and social enterprise (VCSE) sector and people using maternity services to
understand and tackle barriers and challenges faced by women and their families and identify how we might work together to improve outcomes and reduce health inequalities.
This report brings together the views and experiences of Mums and Dads, VCSE and health and care colleagues, and identifies points on the maternity journey which could be changed to make everyones experince a more positive one.
West Yorkshire Maternity Services Development Workshop Findings Report (PDF)
Report: the structure, dynamics and impact
of the VCSE in West Yorkshire and Harrogate
West Yorkshire Health and Care Partnership (WY&H HCP) and North Yorkshire and Health and Care Partnership, West Yorkshire Combined Authority, Yorkshire Sport Foundation, and Community First Yorkshire commissioned research led by Professor Tony Chapman, Durham University, on the structure, dynamics, and impact of the Voluntary, Community and Social Enterprise (VCSE) sector, including across the WYH geographic area.
The commissioners of the report were of the view that the economic and social value and scale of the sector has been hiding in plain sight and wanted to bring this much more clearly into view. The particular interest of the commissioning HCPs has been to align the work of the sector more systematically with the energies of the public and private sectors, and in recognising its inherent and unique shape, dynamics and value, invest in the sector to enhance health and well-being outcomes for communities and individuals in the region. The report also aids understanding of the investment and support required by the VCSE in order to strengthen its ability to respond as part of the system as a whole.
The research highlights the contributions made to the economy and the health and well-being of people who live in West Yorkshire and Harrogate, which are bigger and more varied than might have been imagined.
Please click on this link for the executive summary and report in full. Click on the infographics to enlarge.
The voluntary and community enterprise sector (VCSE) working through COVID-19 (September 2021 update)
"The entire charity sector has stepped up as part of our national effort to tackle coronavirus – from helping our NHS heroes to ensuring the most vulnerable among us are cared for properly"

Matt Hancock, Secretary of State for Health and Social Care
This follow up survey and report follows on from the first resilience report published in July 2020 'Third Sector Resilience: Before and during COVID-19' which highlighted the impact of the first wave of COVID-19 on the sector. The second survey conducted in September/October this year was completed by 215 Voluntary and Community and Social Enterprise (VCSE) sector organisations delivering services in West Yorkshire.
Following on from the previous two VCSE sector surveys: looking at how the sector has managed in our region during the pandemic, a third and final survey can be found here.
Third Sector Resilience: Before and during COVID-19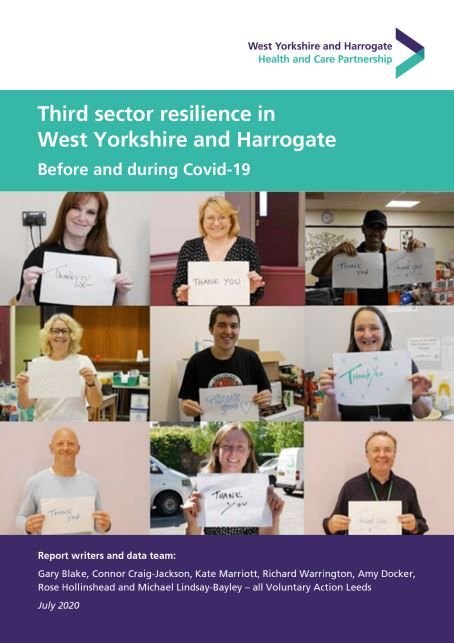 The West Yorkshire Health and Care Partnership's Harnessing the Power of Communities Programme have published their latest report, titled 'Third Sector Resilience: Before and during COVID-19'.
Working closely with over 300 voluntary and community organisations across Bradford district and Craven; Calderdale, Harrogate, Kirklees, Leeds and Wakefield, the report sets out the impact of COVID-19 on the sector and the communities they support. A life line too many of the 2.7million people living across the area; community groups, charities and voluntary organisations have been delivering vital services for years, including the renewed focus in recent months to those in need of vital help, including the 111,000 people who are shielding.
Building on the long term work of the VCS across communities, the report highlights that for many charities and community organisations their future is now uncertain. Financially they are under pressure and for many digital capacity is a barrier to their work.
Over 300 VCS organisations employing over 7000 members of staff and thousands of volunteers, responded to the WY&H survey. Of these organisations 55% do not expect to be financially sustainable beyond the end of 2020. Many of the organisations who took part in the survey also cited digital exclusion as a challenge in their work, impacting on their ability to reach some of the most at risk and isolated communities. Positives highlighted in the report include the fast tracking and flexibility of service commissioning and delivery between health, local authorities and the VCS, meaning services can respond quickly and everyone works together to make things happen at greater pace.
The Partnership has also enabled its priority programmes of work to align funding for VCS provider collaboration, for example the new Grief and Loss Support Service and 'Keeping people with a learning disability or autism connected to vital support during Covid-19'. £500,000 of funding has also been made available to voluntary and community organisations to help tackle the impact on people's health affected by Covid-19, with funds being announced also to support Black, Asian and Ethnic Minority Communities.
West Yorkshire and Harrogate Health and Care Partnership report: Third Sector Resilience - Before and during COVID-19
Calderdale VCSE resilience report
NHS Long Term Plan and Harnessing the Power of Communities showcase event, 2019
West Yorkshire Health and Care Partnership held an event on Tuesday 21st May 2019 at Kala Sangam in Bradford to discuss the impact of the NHS Long Term Plan on our communities and, specifically, how the Voluntary and Community Sector (VCS) can work in partnership with other parts of the system to support some key actions within the Long Term Plan around mental health, social prescribing, admission avoidance at A&E and VCS delivery as part of the primary care network model.
We will also be sharing the work from the Harnessing the Power of Communities workstream within the West Yorkshire Health and Care Partnership and how each of our 6 places (Bradford District and Craven, Calderdale, Harrogate, Kirklees, Leeds and Wakefield) have invested money in VCS-led activities. And an update on the peer support workforce development programme and the Building Health Partnerships projects taking place in Calderdale and Wakefield.
Community Power and the NHS
An NHS that harnesses the power of communities, and recognises and builds on existing community assets will bring greater connection, trust and help identify and deliver local solutions to tackling health inequalities and improving population health.
A stronger connection with communities would bring a greater understanding of their health and wellbeing needs. It would give insight into simple and effective community based solutions – often delivered at primary care level and by voluntary and community groups rooted in communities – bringing cost effective and simple solutions to the range of therapies for long term conditions, mental health issues, pain management and so on and reducing demands on GPs and primary care services. Community power can enhance the engagement of those communities least likely to access mainstream health services and boost trust and confidence.